Reporting from Concord
Gov. Jerry Brown is making appeals to legislators for votes on his new transportation plan — one district at a time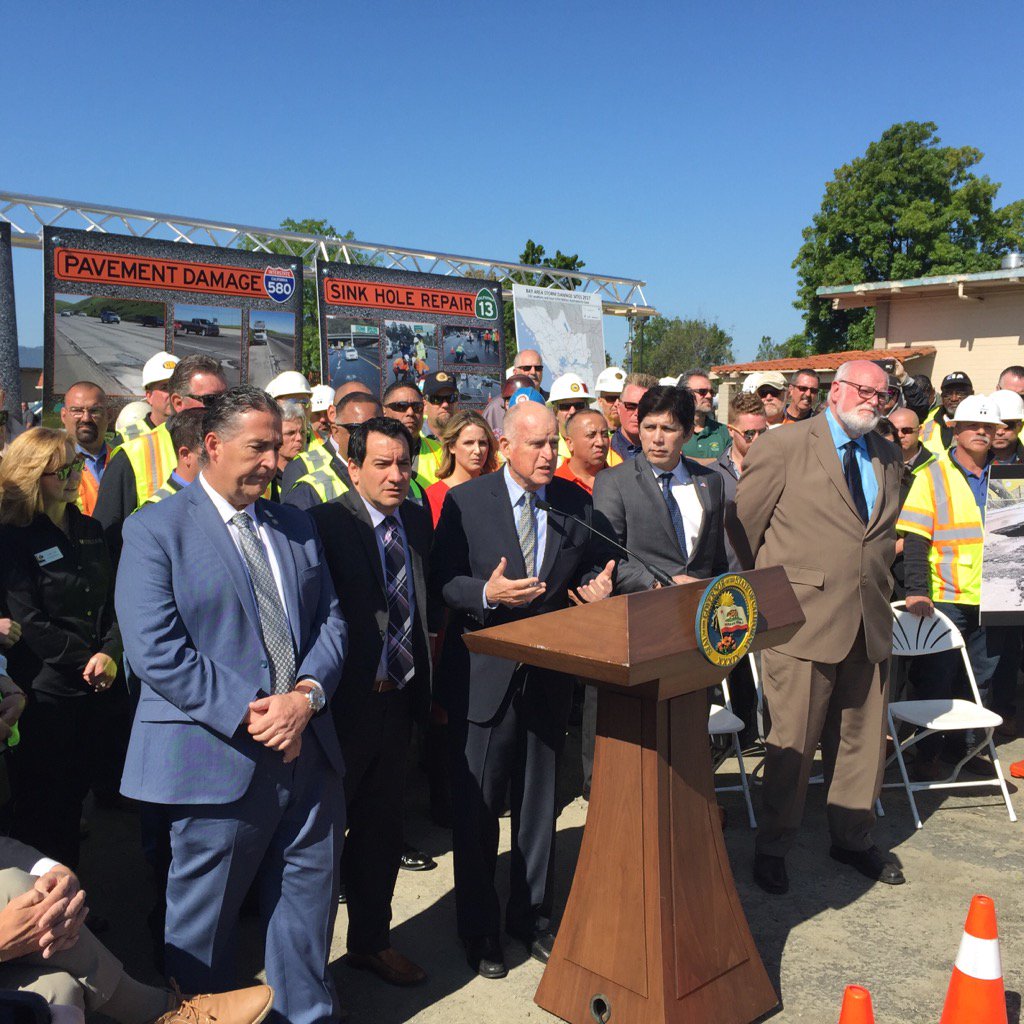 Gov. Jerry Brown and legislative leaders on Thursday took their campaign for higher transportation taxes and fees to the Bay Area district of state Sen. Steve Glazer (D-Concord), one of the holdouts in the state Senate who has not yet committed to vote for the package. 
Surrounded by dozens of construction workers, Brown warned that if the transportation bill unveiled on Wednesday isn't approved this year, it may not happen in the foreseeable future. 
"There is nothing more fundamental in the business of government than making sure the roads and bridges don't fall apart, and they are falling apart," Brown said. 
Glazer recently withheld his vote from a bill proposing a similar plan for repairing state bridges, roads and highways, and on Wednesday, a spokesman said he had still not committed to any plan but wanted to review the detailed proposal before taking a position.
Construction workers at the rally held signs that pictured crumbling roads and said, "Senator Glazer Fix This Now. Vote for SB 1."
Brown said Glazer, his former senior advisor, does not disagree with the intent of the bill.
"He loves this plan, but he has another idea on his mind and he wants to marry the two and see if he can get some outcomes that I don't want to get into at this particular place," Brown told reporters. 
Sen. Jim Beall, chairman of the Senate Transportation Committee, said Glazer wants the transportation funding bill to include a clause barring employees of Bay Area Rapid Transit from going on strike. 
Beall said that is a labor-relations issue that cannot be included in the bill raising taxes.
"You can't do that," Beall said. 
A spokesman for Glazer said the senator is still undecided on the bill. "The senator is continuing to have conversations with the principals," said Steve Harmon, a spokesman for Glazer. He declined to comment on Beall's statement.
Assembly Speaker Anthony Rendon (D-Paramount) said there may be similar rallies in Los Angeles and Riverside in the coming days. Two other Democrats who have not yet committed to the plan are Riverside Sen. Richard Roth and Woodland Hills Sen. Henry Stern. 
Brown acknowledged that there is work to do to secure the two-thirds vote needed in both houses of the Legislature to raise the base excise tax on gasoline by 12 cents per gallon, to a total of 30 cents per gallon, and to create a new annual vehicle fee that would average $51 based on the value of the car or truck.
Rendon said approval of the transportation bill would cost the average California motorist an extra $10 per month, which he said is a deal compared to the current cost of $720 in annual vehicle repair costs required because of running over potholes and other rough road conditions.
Hoping to force a Senate vote on the package early next week, Brown was accompanied to the Concord news conference by Rendon and Senate President Pro Tem Kevin de León (D-Los Angeles). They urged lawmakers to support the bill, which would generate $5.2 billion annually for the first 10 years for road and bridge repairs, mass transit improvements and other projects to reduce congestion.
Glazer, known as a maverick in the Legislature, was Brown's campaign manager during the 2010 gubernatorial election and remained a senior advisor to the governor before running for the state Senate in a special election in 2015.
----
1:23 p.m.: This article was updated with a statement from a representative for state Sen. Steve Glazer.
This article was originally published at 12:42 p.m.
Latest updates
Copyright © 2017, Los Angeles Times