Gov. Jerry Brown promotes his California agenda in Washington with a bit of shuttle diplomacy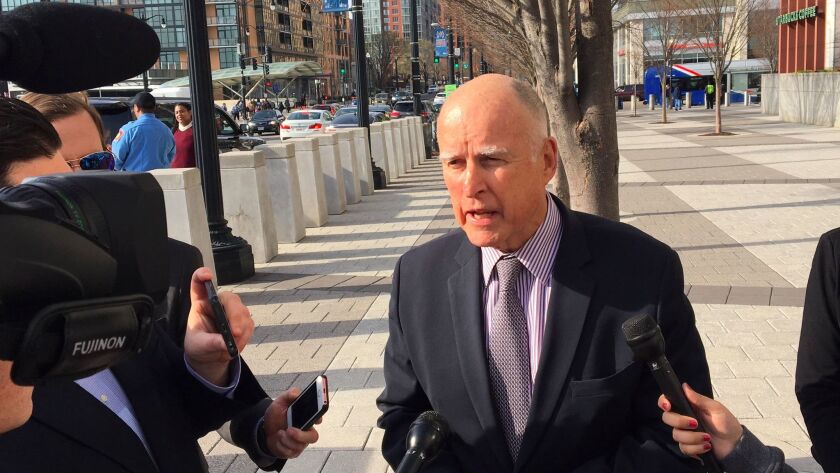 Reporting from Washington —
As the leader of a state that seems more a country of its own in its isolation from the Republican revolution, Gov. Jerry Brown saw his visit to Capitol Hill on Tuesday play out like that of any foreign ambassador to the nation's capital.
Brown played the role of diplomat, sitting with friends and foes alike to assess California's standing as decisions are made on federal funding and priorities. And like a good envoy, he carefully chose his words about the path forward.
"I do think we all have to work vigorously to defend our position, but to find as many openings with a very different kind of politics," Brown said after his final meeting Tuesday.
His caution no doubt was reinforced by a state delegation deeply divided, 53 members of the House of Representatives hunkering down for what's likely to be one of the biggest political battles of modern times.
"We appreciate the governor's thoughts, but in my estimation we're a long way from having a president who has the wisdom and understanding to be our leader," Rep. Maxine Waters (D-Los Angeles) said.
By most accounts, Brown was well received in separate, private meetings with both Democrats and Republicans. The governor, lawmakers said, did his best to listen. Democrats in particular praised the variety of topics that he discussed at length, including education and the shrinking Salton Sea.
"He took every member of Congress' question," freshman Rep. Ro Khanna (D-Fremont) said.
The governor and his top advisors worked hard to limit expectations for the trip. They frequently pointed out that Brown is merely trying to plug in to Washington this week, not take it by storm.
Even so, the governor acknowledged the enormous challenges California faces in adapting to the evolving politics ushered in by President Trump. That includes a substantial rollback in environmental enforcement, a pause on expected funds that are a building block for California's high-speed rail plans, and the threat of losing at least $16 billion in healthcare funding.
A bevy of prominent state officials, including Lt. Gov. Gavin Newsom and Democratic leaders of the Legislature, have made it clear where they stand in the early days of the Trump presidency. For months they have taken aim at Trump's statements on social media and in public, and even his legitimacy as president. That reality may not sit well with some Republicans, and one lawmaker said it could be remembered when it comes time for Trump and Congress to divvy up federal dollars.
California gives at least as much as it gets from the federal government when it comes to money »
"If the political leaders of California are using their authority and their efforts to block President Trump's efforts to control the illegal flow of immigrants into our country, then they can't expect to get preferential treatment when it comes to other issues of government," said Rep. Dana Rohrabacher (R-Costa Mesa) as he made an early exit from the meeting with Brown.
House Majority Leader Kevin McCarthy (R-Bakersfield), who met with the governor privately after the group gathering, was more upbeat. A spokesman said the two men "discussed issues important to California and the country — including infrastructure, healthcare and innovation."
The governor also dived in to conversations on climate change and transportation. A private meeting with Sen. Edward J. Markey (D-Mass.) included a discussion of this month's action by the Environmental Protection Agency to back away from strict enforcement against climate-changing pollutants produced by vehicles. Markey, a strong advocate for the environment in Congress, spent more than an hour mulling over the issues with Brown, later tweeting out a photo of the two taken in his Capitol office.
"We're going to fight as hard as we can for efficient cars that pollute less, cause less asthma, less respiratory disease and deal with climate change in the way we think it should be," Brown told reporters Tuesday.
And the veteran governor ended his second day in Washington with perhaps the most real-world lobbying effort of his trip so far: a meeting with Transportation Secretary Elaine Chao, who in early March delayed a $647-million grant to expand commuter rail in the Bay Area.
The project, designed as an integral link to the state's high-speed rail construction, was targeted by California Republican lawmakers to possibly kill the train project they have long opposed.
After the meeting with Chao, Brown said he was hopeful the president's team will take a second look.
"We don't have a deal yet," he told reporters. "But I'd say we're opening doors…. It's difficult; we're not there yet."
Brown, who will spend much of Wednesday at a board of directors meeting for the nonprofit Nuclear Threat Initiative, also made time to meet separately with Sens. Kamala Harris and Dianne Feinstein. He and Feinstein dined together on Tuesday night.
If the governor seemed to settle on anything, it was that he won't close off any political doors in the weeks and months ahead.
"I'm not going to say, 'Oh no, we don't talk to the president, we don't talk to Republicans,'" Brown said. "I'm here to negotiate, to make friends and to advance the cause of California."
Follow @johnmyers on Twitter, sign up for our daily Essential Politics newsletter and listen to the weekly California Politics Podcast
ALSO:
Gov. Jerry Brown talks about dangers at home and around the world as he arrives in Washington
Updates on California politics
---
Get our Essential Politics newsletter
The latest news, analysis and insights from our politics teams from Sacramento to D.C.
You may occasionally receive promotional content from the Los Angeles Times.