Trump team was swept up in surveillance, House leader says as inquiry into Russian meddling takes dramatic turn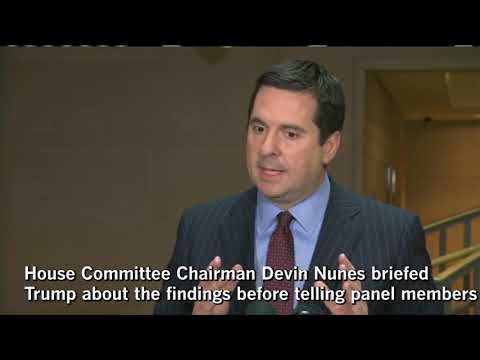 Rep. Devin Nunes (R-Tulare) said he had learned of "dozens" of classified reports that recounted communications between members of Trump's transition team
Reporting from Washington —
U.S. intelligence agencies inadvertently intercepted communications involving the Trump transition team late last year, the chairman of the House Intelligence Committee said Wednesday, a disclosure that President Trump said "somewhat" vindicated his claim that he was wiretapped by President Obama.
But Democrats immediately disputed that claim, asserting that the intercepts appeared to be court-authorized intelligence gathering that did not target Trump or his aides and may not have disclosed their names even in classified intelligence reports.
Rather than confirming Trump's claims, the disclosures by Rep. Devin Nunes (R-Tulare), chairman of the House committee, sparked a political uproar that threatened to obliterate attempts to conduct a bipartisan congressional investigation into whether Trump campaign aides coordinated with Russian intelligence agencies during the 2016 presidential race.
Nunes said he had learned of "dozens" of classified reports that recounted communications between members of Trump's transition team — and possibly the then-president-elect himself — and individuals who were legally targeted for government eavesdropping for foreign intelligence.
When asked by a reporter whether he felt vindicated by the disclosure, Trump responded, "I somewhat do. I must tell you, I somewhat do. I very much appreciated the fact that they found what they found."
Although Nunes said the surveillance had picked up Trump transition officials inadvertently and appeared to be authorized by the Foreign Intelligence Surveillance Court, he said he was alarmed that "details about U.S. persons involved in the incoming administration with little or no apparent foreign intelligence value were widely disseminated in intelligence community reports."
In response, Rep. Adam B. Schiff of Burbank, the top Democrat on the House committee, blasted Nunes for going to the White House and briefing Trump on the material before he shared it with other members of the committee.
"The chairman will either need to decide if he's leading an investigation into conduct which includes allegations of potential coordination between the Trump campaign and the Russians, or he is going to act as a surrogate of the White House. Because he cannot do both," Schiff said at a Capitol Hill news conference.
He called Nunes' actions a "profound irregularity," adding, "I have expressed my grave concerns with the chairman that a credible investigation cannot be conducted this way."
The unusual brawl between the two Californians came two days after they led a nationally televised House hearing that showed an unusual degree of comity and bipartisan cooperation. That goal now appears in jeopardy.
"Chairman Nunes is deeply compromised and he cannot possibly lead an honest investigation," said House Minority Leader Nancy Pelosi (D-San Francisco).
During Monday's hearing, FBI Director James B. Comey and National Security Agency Director Michael S. Rogers said they had "no information" to confirm Trump's claims on Twitter that he was wiretapped.
Comey also disclosed that the FBI was conducting a counter-intelligence investigation into whether Trump's aides coordinated with Russian authorities. That investigation began last July and officials said Wednesday it was separate from the surveillance Nunes disclosed.
Nunes and other Republicans used the five-hour hearing to argue that leaks of classified information, especially those involving U.S. surveillance, were a threat to national security and should be prosecuted.
The actual targets of the surveillance that picked up the Trump team's conversations were not disclosed. It could have involved foreign diplomats based in the United States or other foreign government officials.
Nunes implied that unidentified sources who provided him the information came from within the intelligence community. Former congressional aides disputed Nunes' claim that intelligence officials had acted improperly in conducting the surveillance or circulating the reports.
"Without knowing exactly what was brought to Nunes, it's hard to know whether or not this is serious or the normal course of business of our intelligence community trying to figure out what foreign governments are up to," said Mieke Eoyang, a former House Intelligence Committee staffer who is now with Third Way, a Washington think tank.
Essential Washington: Updates on the Trump administration and the rest of Washington »
Under the law, identities of Americans whose communications are picked up by intelligence eavesdropping of foreign targets are supposed to be kept confidential unless the conversations relate to espionage or some other potential crime that warrants further investigation.
Details about Americans picked up by surveillance can also be included in intelligence reports circulated within the government — a step known as "unmasking" — if senior officials decided that the information is necessary to understand the intelligence.
The FBI is required to get a warrant under the Foreign Intelligence Surveillance Act, a federal law governing eavesdropping, in order to intercept telephone conversations, emails, texts and other types of communications involving foreign intelligence operatives and Americans suspected of espionage.
As long as the identities of Trump transition officials were properly masked, intelligence agencies would have few qualms about circulating intelligence reports about what a foreign leader said, especially if the conversation seemed to touch on possible policy changes by the foreign government, the former officials said.
U.S. intelligence agencies are always trying to gather information about possible policy shifts by foreign governments, and their conversations with transition officials would be a possible source of such information, former officials say.
It is also possible that such reports were written to leave little doubt that the foreign officials' conversations had been with a Trump transition official, they said.
In some cases, intelligence officials may have decided to unmask transition officials involved in the conversation to make the significance of the intelligence report clear.
"The president needs to know that these intelligence reports are out there," said Nunes. He said "it appears" the surveillance was authorized by FISA warrants.
Trump's decision during his transition to shun many briefings from U.S. government officials and to use his own channels to reach out to foreign leaders may have contributed to an increased flow of intelligence reports about what foreign leaders were saying, the former officials said.
On Dec. 2, for example, Trump spoke with Tsai Ing-wen, the president of Taiwan, in a conversation that at least temporarily threatened to upset delicate relations between the U.S. and the Chinese government.
It was believed to be the first call between a president or president-elect with a Taiwanese leader since 1979, when the U.S. recognized Chinese governance and cut ties with Taiwan.
Nunes said he wants to know who wrote the classified reports, and "who ordered the unmasking of additional names."
Schiff said that Nunes had told him the Trump transition officials were not identified in the intelligence reports, but that Nunes said "he could still figure out the probable identity" from other information in the reports.
During Monday's hearing, Republicans repeatedly cited the case of Michael Flynn, who was ousted as Trump's national security advisor last month after news reports disclosed that he had misled Vice President Mike Pence about phone conversations with the Russian ambassador, Sergey Kislyak.
The calls were picked up by U.S. surveillance targeting the Russian envoy, and a description of the contents was leaked to the Washington Post after the Justice Department warned the White House that Flynn could be subject to blackmail.
On Wednesday, the House Oversight Committee asked for records related to whether Flynn had fully disclosed his foreign business dealings as required by law.
Flynn received a fee for speaking at a 2015 Moscow event for RT, the Russian news agency that U.S. intelligence considers a propaganda arm of the Russian government.
The committee sent letters seeking the records to the FBI, the White House, the Defense Department and the Office of the Director of National Intelligence.
Such surveillance was likely how Flynn's communications with Kislyak came to light, the former officials said.
david.cloud@latimes.com | @davidcloudLAT
michael.memoli@latimes.com | @mikememoli
brian.bennett@latimes.com | @ByBrianBennett
ALSO
David Horsey: Most Republicans are in denial about the probe into Trump-Russia ties
Gov. Jerry Brown promotes his California agenda in Washington with a bit of shuttle diplomacy
Paul Manafort had an ambitious plan to benefit the Putin government, report says
Sign up for Essential California for news, features and recommendations from the L.A. Times and beyond in your inbox six days a week.
You may occasionally receive promotional content from the Los Angeles Times.