Schwarzenegger fathered a child with longtime member of household staff
Mark Sanford, with his wife, Jenny, and their four sons, takes the oath of office in January 2007 after his reelection as South Carolina governor. Their divorce followed his admission in 2009 of an affair with an Argentine woman.
(Mary Ann Chastain / Associated Press)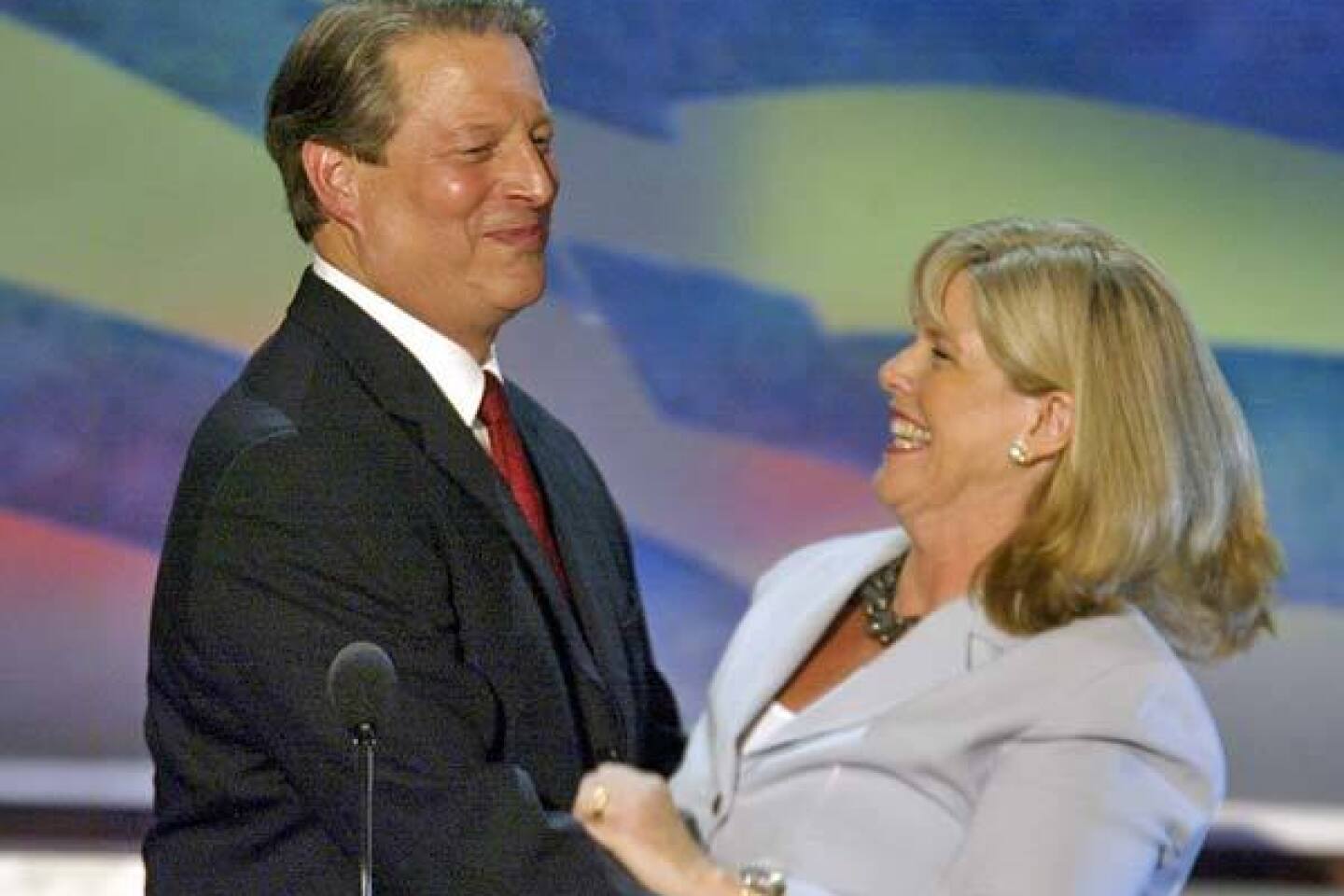 Tipper Gore greets former Vice President Al Gore at the Democratic National Convention on July 26, 2004. Their June 2010 announcement that they were splitting up after 40 years surprised even close friends.
(Mark Boster / Los Angeles Times)
Former North Carolina Sen. John Edwards and wife Elizabeth arrive for the memorial service for Sen. Edward Kennedy in Boston on Aug. 28, 2009. The couple separated early in 2010 after it became known that he'd fathered a child in an affair with campaign videographer Rielle Hunter. Elizabeth died of breast cancer in December 2010.
(Michael Dwyer / Associated Press)
Former California Gov. Arnold Schwarzenegger and his wife, Maria Shriver, separated after she learned he had fathered a child more than a decade ago — before his first run for office — with a longtime member of their household staff.
Shriver moved out of the family's Brentwood mansion earlier this year, after Schwarzenegger acknowledged the paternity. The staff member worked for the family for 20 years, retiring in January.
"After leaving the governor's office I told my wife about this event, which occurred over a decade ago," Schwarzenegger said Monday night in a statement issued to The Times in response to questions. "I understand and deserve the feelings of anger and disappointment among my friends and family. There are no excuses and I take full responsibility for the hurt I have caused. I have apologized to Maria, my children and my family. I am truly sorry.
Photos: A political marriage with star power
"I ask that the media respect my wife and children through this extremely difficult time," the statement concluded. "While I deserve your attention and criticism, my family does not. "
A spokesman for the former first lady said she had no comment.
Since leaving office, Schwarzenegger has maintained a high public profile, meeting with world dignitaries, attending a White House summit on immigration and working to revive his movie career.
To protect their privacy, The Times is not publishing the former staffer's name nor that of her child. In an interview Monday before Schwarzenegger issued his statement, the former staffer said another man — her then-husband — was the child's father.
She said she voluntarily left her position with the couple earlier this year after reaching a longstanding goal of working for them for two decades. "I wanted to achieve my 20 years, then I asked to retire," she said, adding she received a severance payment and "left on good terms with them."
Later Monday, The Times informed the woman of the governor's statement and she declined to comment further.
Schwarzenegger took financial responsibility for the child from the start and continued to provide support, according to a source who declined to be identified because of the former governor's request for privacy.
The former first couple of California announced their separation in a joint statement issued last week. The two have been married 25 years. There was no mention of a cause for the separation.
In keeping with their very public — and political — lives, two distinctly different portraits of the marriage and its status have emerged in the days since the breakup became public.
Schwarzenegger, 63, suggested that the split was temporary and the couple were working toward reconciliation. "We both love each other very much," the former governor said at an appearance last week at the Skirball Cultural Center in Los Angeles. "We are very fortunate that we have four extraordinary children and we're taking one day at a time."
Friends of Shriver, 55, offered a grimmer assessment, saying she had been unhappy for years but made no move until after her parents died and Schwarzenegger finished his term as governor. Her father, Sargent Shriver, died Jan. 18, nearly a year and a half after the death of her mother, Eunice Kennedy Shriver.
The marriage between Shriver and Schwarzenegger — pairing one of Hollywood's top box office draws and a member of one of America's most storied Democratic political clans — has long been a subject of public interest.
As an actor, Schwarzenegger reveled in his macho image. But his behavior became an issue during his first campaign for governor, in the 2003 recall election, when more than a dozen women said he had groped them over a period of many years.
Schwarzenegger at first denied the allegations, then apologized. Shriver offered a timely and politically crucial defense of her husband, vouching for his personal integrity.
After his landslide election, she emerged as one of the most visible first ladies in California history, maintaining a high profile as she promoted volunteerism and directed a wildly popular annual conference on women.
Although friends of the couple speak of difficulties in their marriage throughout Schwarzenegger's governorship, any tensions were kept out of public view. The couple's four children range in age from 13 to 21.
Once Schwarzenegger left office in January, the two effectively began leading separate lives. Schwarzenegger has been jetting around the world, heading to Brazil's Xingu River with director James Cameron, to London for Mikhail Gorbachev's 80th birthday party, to Val d'Isere in France for skiing.
Schwarzenegger, who had to put aside acting and his business interests while serving in Sacramento, quickly plunged back into those pursuits.
Last week, a bidding war took place at Cannes to make two more installments of the "Terminator" franchise starring Schwarzenegger, and the former governor also signed to star in a third movie. He is working on an animated children's series based on his life and also exploring real estate and other business investments.
He has traveled the globe — apart from Shriver — delivering high-priced speeches and also participated in a White House summit on immigration reform. He is expected to pen his memoirs soon.
Shriver, a longtime television journalist who gave up her job at NBC when Schwarzenegger took office, has worked on her women's empowerment website, guest-edited an issue of Oprah Winfrey's magazine and promoted causes such as Alzheimer's research (her father suffered from the disease). She also took her son Patrick and some of his friends on an East Coast college tour in April.
Last Friday, after the couple's separation was made public, Shriver sent a Twitter message to her followers, which number more than 750,000: "Thank you all for the kindness, support and compassion. I am humbled by the love. Thank you."
Photos: A political marriage with star power
Times staff writers Seema Mehta, Nathaniel Popper, Maeve Reston, Harriet Ryan and Abby Sewell contributed to this article.
Sign up for Essential California for news, features and recommendations from the L.A. Times and beyond in your inbox six days a week.
You may occasionally receive promotional content from the Los Angeles Times.