California's state and local leaders strike a defiant tone on Sessions' call to end 'sanctuary cities'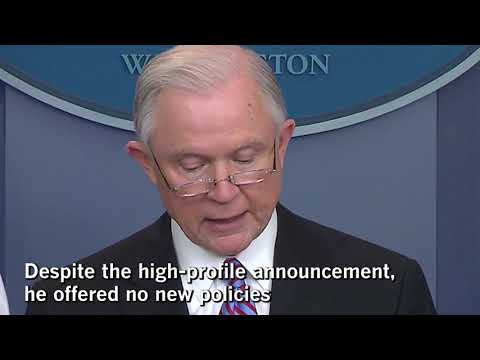 California leaders say they will continue to protect people in the country illegally despite an announcement by U.S. Atty. Gen. Jeff Sessions that the U.S. Department of Justice would soon cut federal grants from so-called sanctuary cities.
Reporting from Sacramento —
State and local leaders in California struck a defiant tone Monday, saying they would continue to protect people in the country illegally despite an announcement by U.S. Atty. Gen. Jeff Sessions that the U.S. Department of Justice would soon cut federal grants from so-called sanctuary cities.
During an appearance in the White House briefing room, Sessions repeated previous statements from the Trump administration decrying the danger of sanctuary cities, which limit cooperation between local and federal authorities on immigration enforcement. He did not offer new policies, and Justice Department officials said any new measures would be "weeks or months" in the future.
But in Sacramento the swiftest reaction came from state Senate President Pro Tem Kevin de León (D-Los Angeles), who is championing legislation that would effectively make California a sanctuary state by prohibiting state and local police from enforcing federal immigration laws. He called Sessions' statements "nothing short of blackmail."
"Instead of making us safer, the Trump administration is spreading fear and promoting race-based scapegoating," De León said in a statement. "Their gun-to-the-head method to force resistant cities and counties to participate in Trump's inhumane and counterproductive mass-deportation is unconstitutional and will fail."
Through an executive order in January, President Trump first put cities and counties on notice that they would lose federal funding if they didn't cooperate with immigration agents. The move has broad implications for California, a state that aggressively protects its immigrant population from deportation.
Sessions reiterated old policy during his appearance Monday. The administration of former President Obama issued instructions last July that required any cities applying for Justice Department grant programs to comply with a federal immigration law that requires local, state and federal agencies respond to requests from the U.S. Immigration and Customs Enforcement agency.
Although many municipalities have policies that could qualify them as "sanctuary cities," those policies do not necessarily mean they are violating the law.
Still, officials in sanctuary cities across California scrambled to touch base on Monday with attorneys to explore their legal options. For most cities, the move to declare themselves sanctuary jurisdictions largely serves as a message of political support for immigrants in the country illegally.
But some cities have adopted specific sanctuary policies, most notably San Francisco, which took steps to cut ties with federal immigration officials and refused to fully cooperate with them.
The city's stance has come under criticism from Trump and was revisited Monday during Sessions' briefing. The attorney general cited a high-profile case in San Francisco, where a 32-year-old woman was killed by man who had been previously deported multiple times despite a request by immigration authorities to continue his detention.
"Countless Americans would be alive today and countless loved ones would not be grieving today if these policies of sanctuary cities were ended," Sessions said.
San Francisco Mayor Ed Lee could not be reached for comment, but he sent a tweet soon after Sessions' announcement.
"#SF knows that #SanctuaryCities are safer, more productive, healthier places to live. We work for all our residents. #SFStandsAsOne," he said.
Sessions' comments also stirred opposition from leaders in California still calculating the fiscal impact of federal funding cuts on the state. And the move could further fuel tensions over a bill from De León that would prevent state and local law enforcement agencies from using resources to enforce federal immigration laws.
Law enforcement officials have said they are torn on whether the proposed state law, Senate Bill 54, would hinder public safety. But it has attracted a long list of supporters who say the state must ensure tax dollars are not used to assist mass deportations under the Trump administration.
The tension over immigration enforcement will take center stage in the state capital Tuesday night as Sacramento County Sheriff Scott Jones, a former Republican candidate for Congress and staunch critic of illegal immigration, is scheduled to host a community forum with Thomas Homan, the acting ICE director.
On Monday, Lt. Gov. Gavin Newsom took to Twitter to rebuke Sessions, citing statistics showing that sanctuary cities have lower crime rates.
State Atty. Gen. Xavier Becerra, a strong supporter of sanctuary cities, said Sessions is overstepping his authority.
"In California, we respect the Constitution and abide by federal law; we expect the federal government to do the same," Becerra said in a statement. "The Trump administration should rethink its plan to force state and local governments to do the federal government's bidding on immigration."
Becerra said he wants to make sure violent criminals who are in the country illegally are removed from the streets, but said the federal government should not undermine local law enforcement by withholding money.
Last week, he filed a friend-of-the-court brief supporting Santa Clara County's lawsuit challenging the Trump administration's threats to withhold federal funds from sanctuary cities and counties.
"I will continue to work with our federal law enforcement partners for the good and safety of all our people," Becerra said. "But it's a low blow to our brave men and women in uniform to threaten to withhold public safety funding that they have earned unless Donald Trump gets his way on immigration. We will fight to protect those policing resources, just as we will protect all the residents of our state against unconstitutional overreach by our federal government."
Gov. Jerry Brown refrained from responding to Sessions' comments Monday. But in an appearance Sunday on NBC's "Meet the Press," taped during Brown's visit to Washington last week, he forcefully defended California's acceptance of immigrants, including those who are in the U.S. illegally.
"Trump's supposed to be Mr. Religious Fellow, and I thought we've got to treat 'the least of these' as we would treat the Lord," said Brown, who trained to become a Jesuit priest in his youth. "So I hope he would reconnect with some of these conservative evangelicals, and they'll tell him that these are human beings, they're children of God. They should be treated that way."
Times staff writers Patrick McGreevy, Michael Memoli and John Myers contributed to this story.
Tensions flare as state Senate committee takes up 'sanctuary state' bill »
Twitter: @thecindycarcamo
Twitter: @latvives
ALSO:
'Nothing short of blackmail': California Senate leader denounces plan to cut funding from 'sanctuary cities'
Atty. Gen. Jeff Sessions criticizes 'sanctuary cities' but offers no new policies
Here's why law enforcement groups are divided on legislation to turn California into a 'sanctuary state'
California lawmakers advance proposals to strengthen state's protections for immigrants facing deportation
Get our Essential Politics newsletter
The latest news, analysis and insights from our politics team.
You may occasionally receive promotional content from the Los Angeles Times.