California's vow to reduce auto pollution may be setting up a full-out war with Trump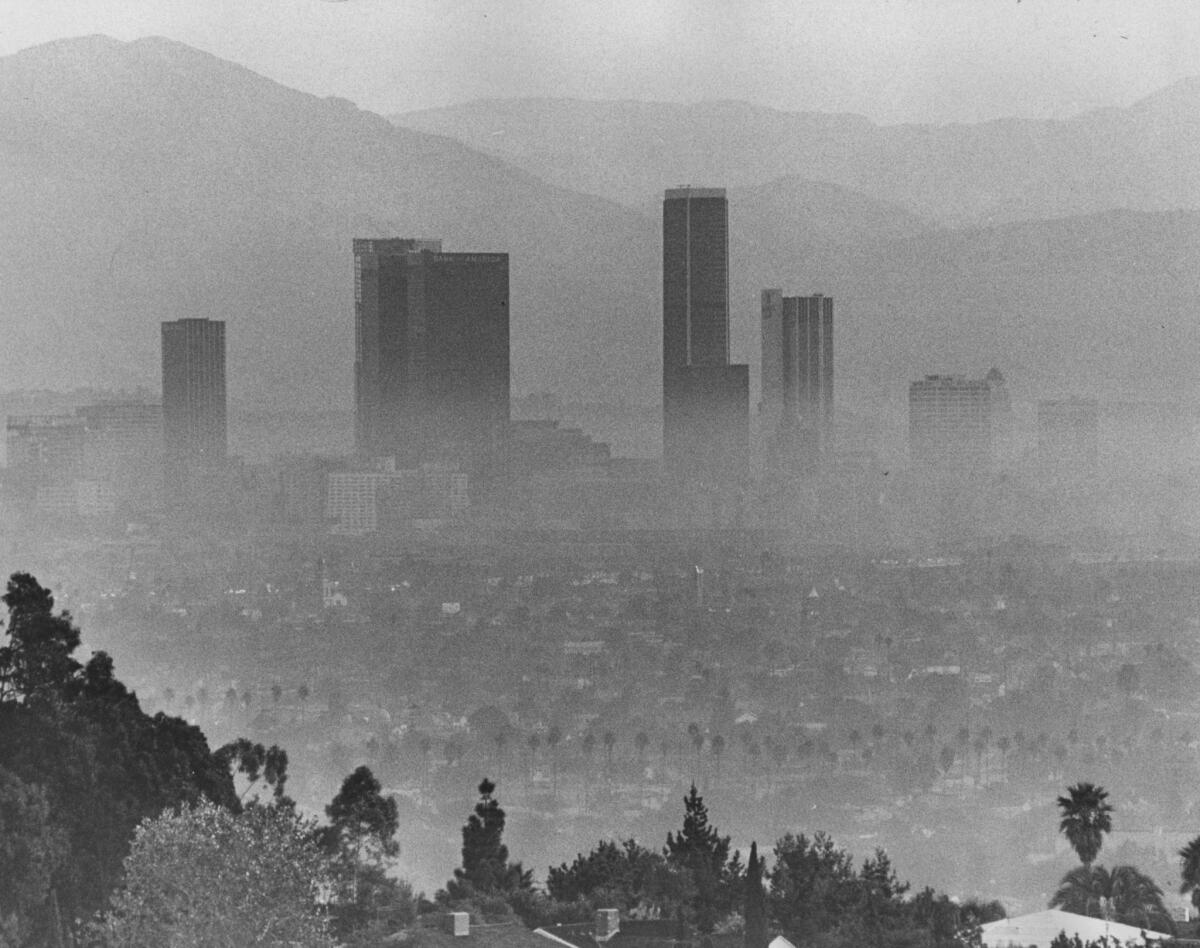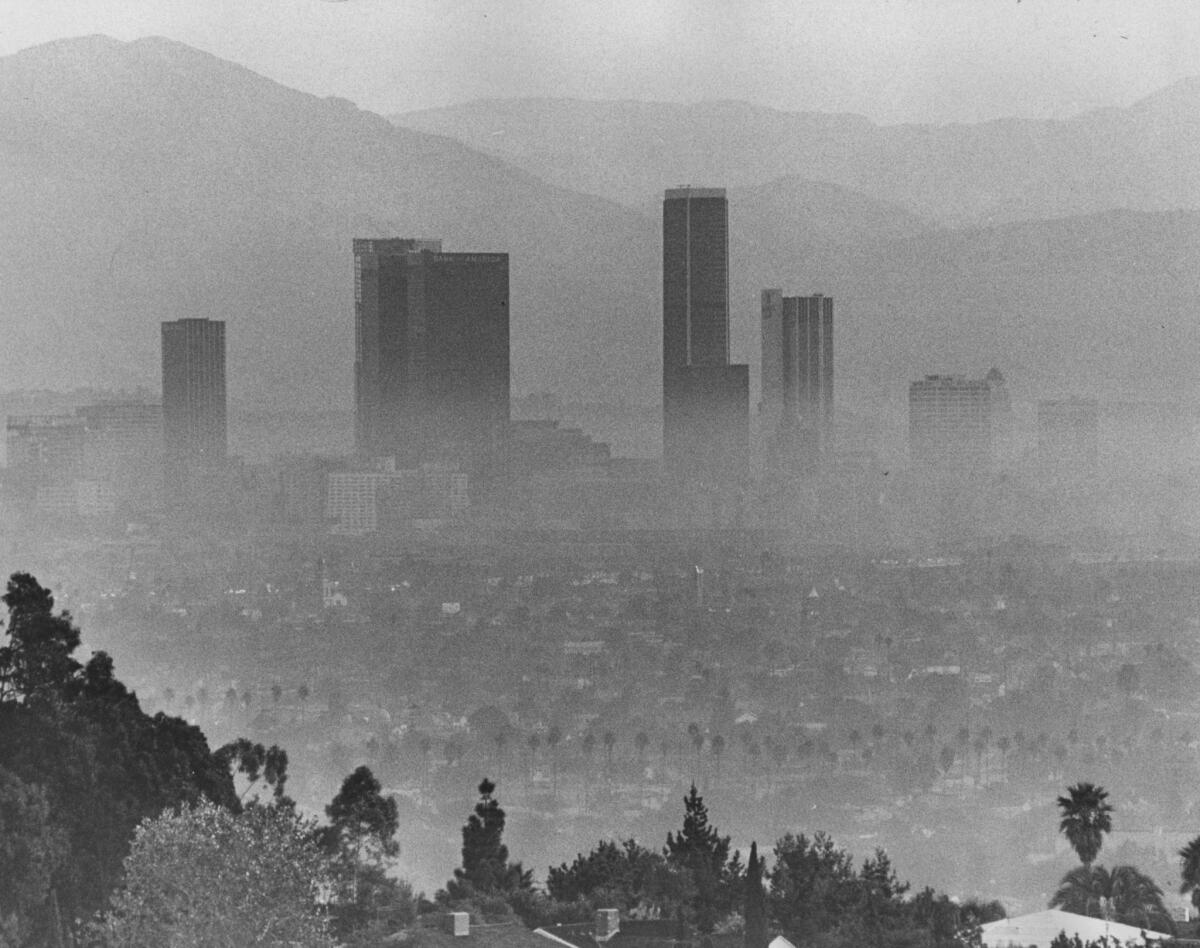 Wielding the same authority created decades ago to fight smog, California regulators on Friday moved forward with tough new pollution-reduction requirements for automakers selling cars in the state.
The rules set escalating targets for reducing greenhouse gas emissions from 2022 through 2025, and officials are planning tougher steps after that. There's also a requirement for automakers to sell more zero-emission vehicles and plug-in hybrids in the state, with a goal of more than 1 million on the road by 2025.
The decision to push ahead with cuts to greenhouse gas emissions came even as President Trump has begun rolling back federal rules intended to battle global warming over the next several years.
California has a long history of pushing the envelope to reduce tailpipe pollution, and the latest move signals the state is prepared to do battle with Trump's White House.
"We're going to press on," Mary Nichols, California's top emissions regulator, said during a meeting of the Air Resources Board in Riverside.
The state's rules on greenhouse gases were written in partnership with former President Obama's administration, creating a single national standard for new vehicles.
But with Trump in the White House and conservatives in charge of the U.S. Environmental Protection Agency, state and federal regulators have started drifting in separate directions. The divergence could reignite historic conflicts that once raged in Sacramento, Washington and Detroit.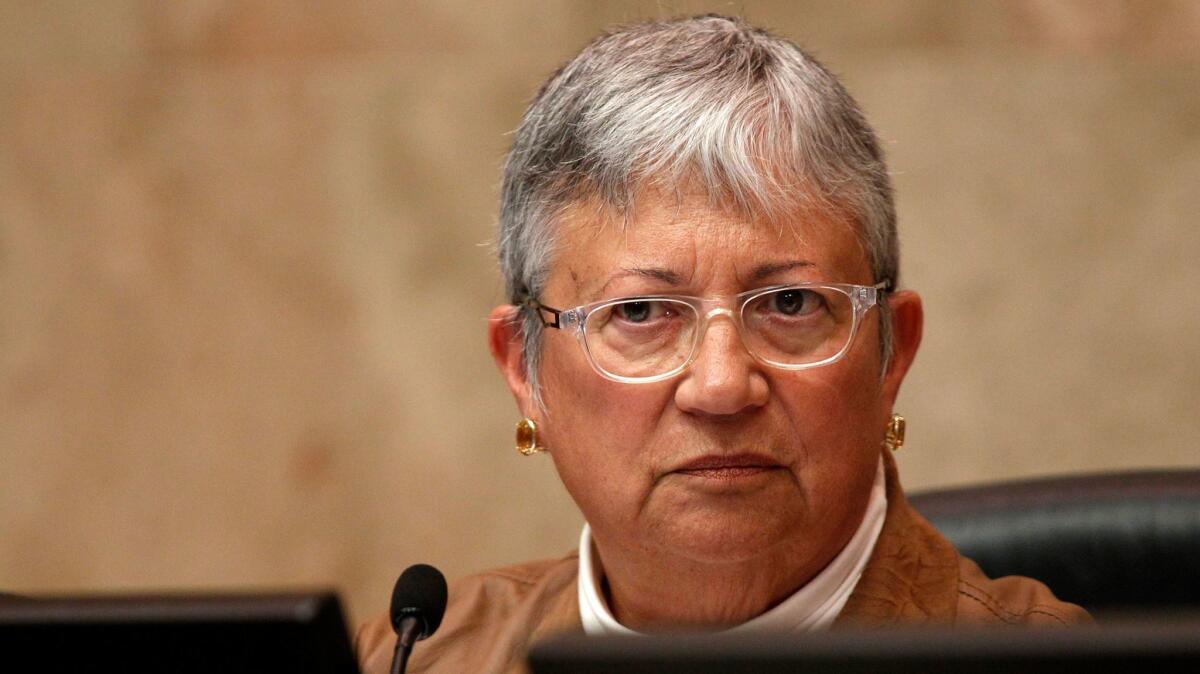 Automakers have chafed at the rules imposed by the Obama administration. However, they fear returning to an era where they needed to build two versions of their vehicles — a cleaner, more expensive one for sale in California and a standard model available everywhere else.
"We should all be getting back to work on this," John Bozzella, who advocates for international car companies at the Assn. of Global Automakers, said at Friday's hearing.
Trump's Environmental Protection Agency has until next year to decide whether to loosen federal regulations, which would require passenger cars to average about 54 miles per gallon by 2025, up from 36 miles per gallon today.
But California has the unique ability to set tougher rules than federal standards under a waiver program that recognizes the state's long struggle with pollution. In addition, a dozen other states have adopted California rules as their own, giving regulators here an outsize influence on the national marketplace.
ALSO: Historical photos of pollution in California »
Over the years they've shown little hesitance about setting higher benchmarks for emissions, steps that often eventually become federal requirements. The rules approved Friday could force automakers to build more efficient engines, use increasingly lightweight materials and develop more electric vehicles.
Ann Carlson, an environmental law professor at UCLA, said negotiations still could resolve disagreements and preserve a single national standard.
And if they don't?
"The other possibility is it's full-out war," Carlson said.
---
War over vehicle rules would not be new for California, where thick smog decades ago made tougher regulations a necessity. In Los Angeles, motorcycle riders wore gas masks and children were kept inside during school recess.
"My eyes would sting. Sometimes you couldn't see a block," said Tom Quinn, who was appointed to lead the Air Resources Board when Gov. Jerry Brown took office for his first term in 1975. One of his fellow board members was Nichols, who returned to the agency in 2007 and remains in charge today.
The board quickly ran into opposition from automakers, who said higher standards would be impossible to meet. Quinn remembers turning to Bob Sawyer, another board member and a mechanical engineering professor, during a break in a meeting.
"I said, 'Bob, what's going to happen? They insist they can't sell cars,' " Quinn recalled. "Bob said, 'They're lying.' "
The board passed the rules, Quinn said, and "of course they sold cars."
Sometimes regulators clamped down on individual manufacturers, barring sales of certain cars or instituting financial penalties. Regulators issued a $328,400 fine, the largest at the time, against Chrysler for violating smog rules. A company representative dropped off a check at Quinn's house on a weekend.
The state's clout has only grown since then. An update to federal law in 1990 allowed other states to adopt California's higher standards; New York and Massachusetts are among the dozen that have taken that step.
"California has set itself as an example, and other states are following behind," said Michael Harley, an Irvine-based automotive analyst at Kelley Blue Book. "We don't have a 'rogue state' syndrome."
---
The latest round of battles began in 2002, when California enacted the country's first rules for greenhouse gases from tailpipes to fight global warming.
Fran Pavley, the former lawmaker who wrote the legislation, recalled bitter opposition.
"One person threatened to come over with a baseball bat," she said of a threat to her office. "This got really, really heated."
Automakers sued the state, and President George W. Bush's administration rejected California's request for a waiver to move forward with the regulations, the only time such a request has been turned down.
A potential legal battle dissipated, however, once Obama took office. His administration granted California's waiver and worked toward a single national policy for reducing greenhouse gas emissions.
High gas prices and political pressure to reduce the country's reliance on foreign oil — not to mention Obama's desire to address climate change — led to additional fuel efficiency regulations finalized in 2012.
It was a period of relative harmony, but the circumstances that fostered cooperation and ambitious national regulations no longer exist. With gas prices lower, consumers have proved more interested in pickup trucks and sport utility vehicles than hybrids and electric cars.
Automakers argue that Obama improperly rushed to finalize the rules before he left office, and Trump does not share California's commitment to fighting climate change.
The unraveling consensus on vehicle regulations has concerned advocates.
"There's no reason for environmentalists, automakers and conservatives to risk a nuclear war over these rules, which will result in zero progress for all sides," said Robbie Diamond, who leads Securing America's Future Energy, a group of business and former military leaders that wants less dependence on foreign oil.
Now that California has recommitted itself to reducing greenhouse gas emissions, the next steps are up to Trump. If the administration's review leads to only slight changes, automakers might be able to balance California and federal regulations without much trouble.
"They could just shuffle cars around," Harley said, ensuring the mix of vehicles available for sale meet California's benchmarks. Consumers here already buy more electric cars and fewer pickup trucks than national averages.
But there's still the potential for a dramatic change, or even an unprecedented legal assault on California's cherished ability to set higher standards. Although automakers insisted they weren't calling that into question, Nichols expressed skepticism about their commitment because they asked Trump to review federal rules.
"What were you thinking when you threw yourself upon the mercy of the Trump administration?" she said.
At this point, state leaders seem unwilling to yield to any pressure on regulating emissions.
"I don't like to say anything is nonnegotiable," said Brown on Monday during a visit to Washington.
But to fight climate change, he said, "we have to intensify, not fall back."
Times staff writer Evan Halper contributed to this report.
Twitter: @chrismegerian
ALSO
Trump wants to shelve fuel mileage rules, inviting a fight with California
Trump's EPA pick poised to survive Senate fight, but his brewing battle with California will be harder to win
Get our Essential Politics newsletter
The latest news, analysis and insights from our politics team.
You may occasionally receive promotional content from the Los Angeles Times.