Orange County legislator takes star turn at state GOP convention after being silenced by Democrats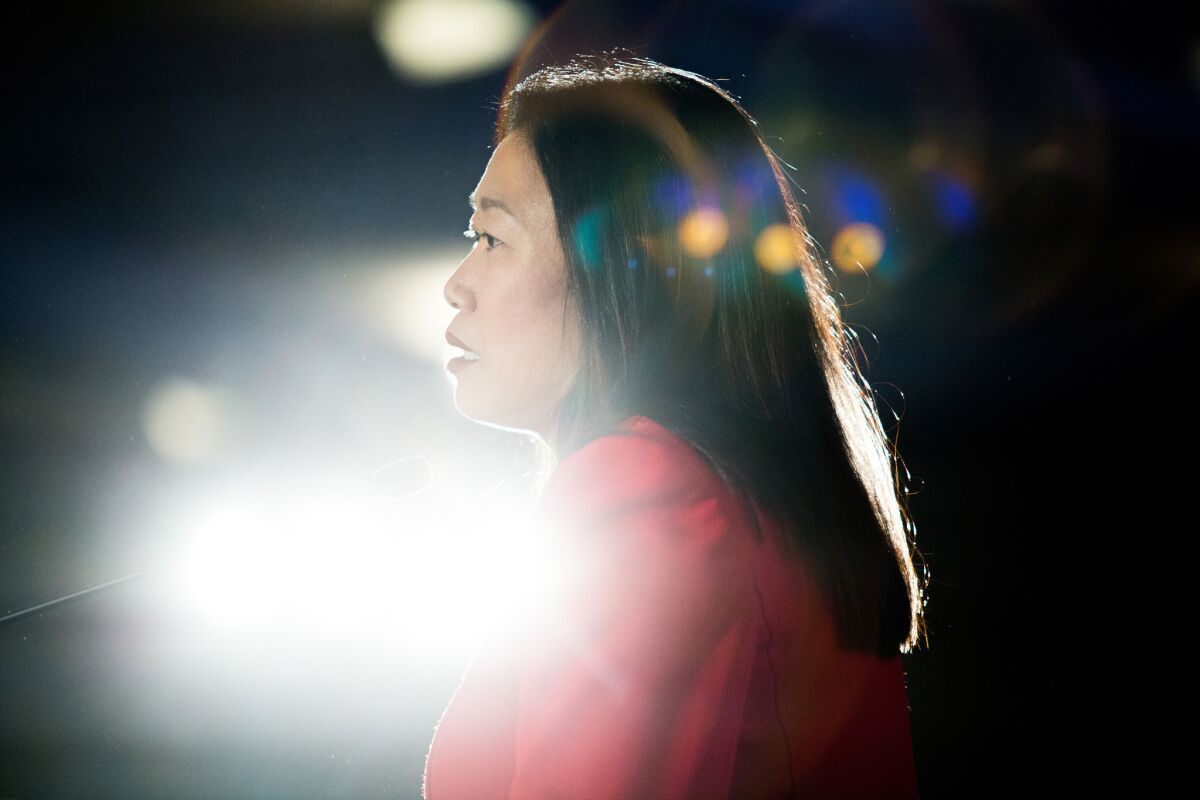 The silencing of Janet Nguyen, a Republican state senator and Vietnamese refugee, became a rallying force at the California GOP convention Saturday.
The annual gathering was largely expected to be a sleepy affair this year, but a decision by Democrats on Thursday to physically remove Nguyen from the Senate floor energized the event. Nguyen was removed as she spoke about her family's struggle during the Vietnam War, a response to lawmakers memorializing the late state Sen. Tom Hayden, a vocal critic of the conflict.
Attendees sported "I stand with Janet" stickers. A video describing the plight of Nguyen's family in South Vietnam and their escape to the United States when she was a child was screened. Nguyen, 40, received a hero's welcome and a standing ovation before she led the Pledge of Allegiance. And the Republican Party — long on the slide in California — seized upon the incident as an opportunity handed to them by Democrats, using it as a retort to criticisms of its stands on immigration, refugees and the treatment of women.
"It's an extremely strong, galvanizing moment for the party, and obviously she's the focal point. It's big for both of them," said Mike Madrid, a GOP strategist. "Her profile is certainly raised statewide, and she's gotten a heck of a lot of media attention. It's also an opportunity to reframe what's happening in the party — this is an immigrant, this is a refugee, this is a woman of color who was clearly put down here."
The moment is also a potential boon to the political career of Nguyen, the only California Republican state legislator who is a woman of color. The senator, who represents parts of Orange County and Long Beach, is one of the highest ranking Vietnamese American politicians in the country. And Nguyen has raised her immigrant story throughout her tenure in Sacramento, such as during a 2015 effort to stop state-funded colleges and universities from banning display of the American flag.
"A lot of it depends on how she reacts going forward. My hope is she uses this political capital to start driving an agenda," Madrid said. "She's got a bullhorn — whether it's 15 minutes of fame or 15 months of success depends on how she handles it."
For the weekend, at least, Nguyen was a star.
"We don't silence people simply because they disagree with us or because they have something to say that doesn't fall within our preconceived view of the world," Rep. Darrell Issa (R-Vista) told hundreds of delegates and guests at a luncheon on Saturday. Turning to Nguyen, he said, "Don't be silenced. Don't ever be silenced, and we as a party won't silence those who disagree with us. Not now. Not ever."
Democrats argued that Republicans were being hypocritical. They noted that some GOP members of Congress have failed to hold town halls or limited who was allowed to attend. And they also raised the recent incident in which Republican leaders stopped Massachusetts Sen. Elizabeth Warren as she read a letter written by Coretta Scott King on the U.S. Senate floor during the confirmation hearing for Jeff Sessions, now the U.S. attorney general.
But some also conceded that the episode involving Nguyen was an unforced error by their party.
"It was a boneheaded move," said Steve Maviglio, a Democratic strategist who ran a union-funded campaign against Nguyen in the 2014 election. It was among the most expensive legislative races that year, and her victory was viewed as an upset. "Whether that resonates a year and a half from now when she's on the ballot again, that's hard to say. [But] it was certainly a gift, and she didn't need a gift from the Democrats.
"Republicans are doing a good job trying to make her a martyr," he added. "If I were them, I would be doing the same thing."
The dust-up occurred on Thursday, two days after the state Senate held a ceremony to honor Hayden. Nguyen tried to make a statement about Hayden's outspoken opposition to the Vietnam War and how it affected her and other refugees. She was told she was out of order, and after she kept speaking, the presiding officer for the day, Sen. Ricardo Lara (D-Bell Gardens), instructed the Senate's sergeants at arms to remove her from the floor.
Democrats said at the time that Nguyen inappropriately tried to use what's known as a "point of personal privilege" to close the session, and that she had been offered the chance to speak at a different time. Nguyen disputed their statements.
Lara later said he was following the advice of the Senate parliamentarian, and that he apologized to Nguyen after the incident.
"I fully respect her ability to speak her mind," he said in an interview.
Senate President Pro Tem Kevin de León (D-Los Angeles) later told reporters he planned to look into the incident.
At the convention, delegates, elected officials and state party leaders rushed to embrace Nguyen.
At a table for the California Federation of Republican Women, a young woman handed out #IStandWithJanet stickers, a play on the #IStandWithLiz hashtag created after the Warren incident.
Two young men in suits stopped to ask what they were about. After the woman explained how Nguyen was removed, David Morgan, 25, shook his head.
"That's ridiculous," he said.
Nguyen said she was honored by the response and that she was merely trying to give voice to her constituents, who include a large number of Vietnamese refugees and their descendants.
"We've had an outpouring of support across the state, across the nation," she said Saturday.
The question is whether the incident has any long-term effects, said Dan Schnur, a political communications professor at USC.
"The state party organization has been saying all the right things about the need to rebuild for some time. Now this is going to be a test of how far they have come," he said. "It's clear they have identified an energizing moment. The question becomes is it the first step in something bigger, or is it just a political sugar high?"
Times staff writer Melanie Mason contributed to this report.
seema.mehta@latimes.com; christine.maiduc@latimes.com
For more on California politics, follow @LATSeema and @cmaiduc.
ALSO
After being removed from state Senate floor, Orange County legislator becomes folk hero of the California GOP convention
A state senator is removed from the chamber for her comments about Tom Hayden and Vietnam
---
Life is stressful. Our weekly mental wellness newsletter can help.
You may occasionally receive promotional content from the Los Angeles Times.