There's a problem with sample ballots in L.A.'s congressional race, and it could have affected thousands of voters
An unknown number of voters who received Korean-language voting materials in the 34th Congressional District race may have received incorrectly printed sample ballots.
The incorrect pamphlets list the 23 candidates on the ballot in the wrong order. If Korean-language voters used the erroneous sample ballots to cast their vote, they may have inadvertently voted for the wrong candidate.
The sample ballots, booklets that list each candidate's name and the corresponding number to fill in on the actual ballot, were mailed to some 8,200 Korean-language speakers ahead of the April 4 election. It's not clear how many of them were affected.
According to the L.A. County Registrar's office, an error made by its printing and mailing vendor caused some Korean-language voters to receive sample ballots that shift the order of candidates. 
Campaign staffers for Korean American Robert Lee Ahn said that in some cases the Korean ballot materials differed from English-language ballots mailed to other voters in the same home or apartment building.
A supporter told Ahn about the error, said campaign consultant Darby Levin.
"We're reaching out to the people who may have been affected," said L.A. County registrar spokeswoman Brenda Duran.
All voters in the 34th district have received English-language sample ballots. Voters who request Korean-language election materials were also sent sample ballots in Korean. And those who vote by mail receive yet another sample ballot, in their language of choice, with their actual ballot.
Voting officials have stressed that the Korean-language sample ballots included with the actual ballots were not affected. No other translated ballot materials were affected either, Duran said.
Ballot order is supposed to rotate but by state law should only vary from one Assembly District to another. The 34th Congressional District, for example, contains Assembly Districts 51 and 53, and voters in one district should receive a ballot with names listed in a different order from voters in the other.
At some point, officials say, voters in the 53rd Assembly District, which includes Koreatown, received Korean-language sample ballots printed for Assembly District 51.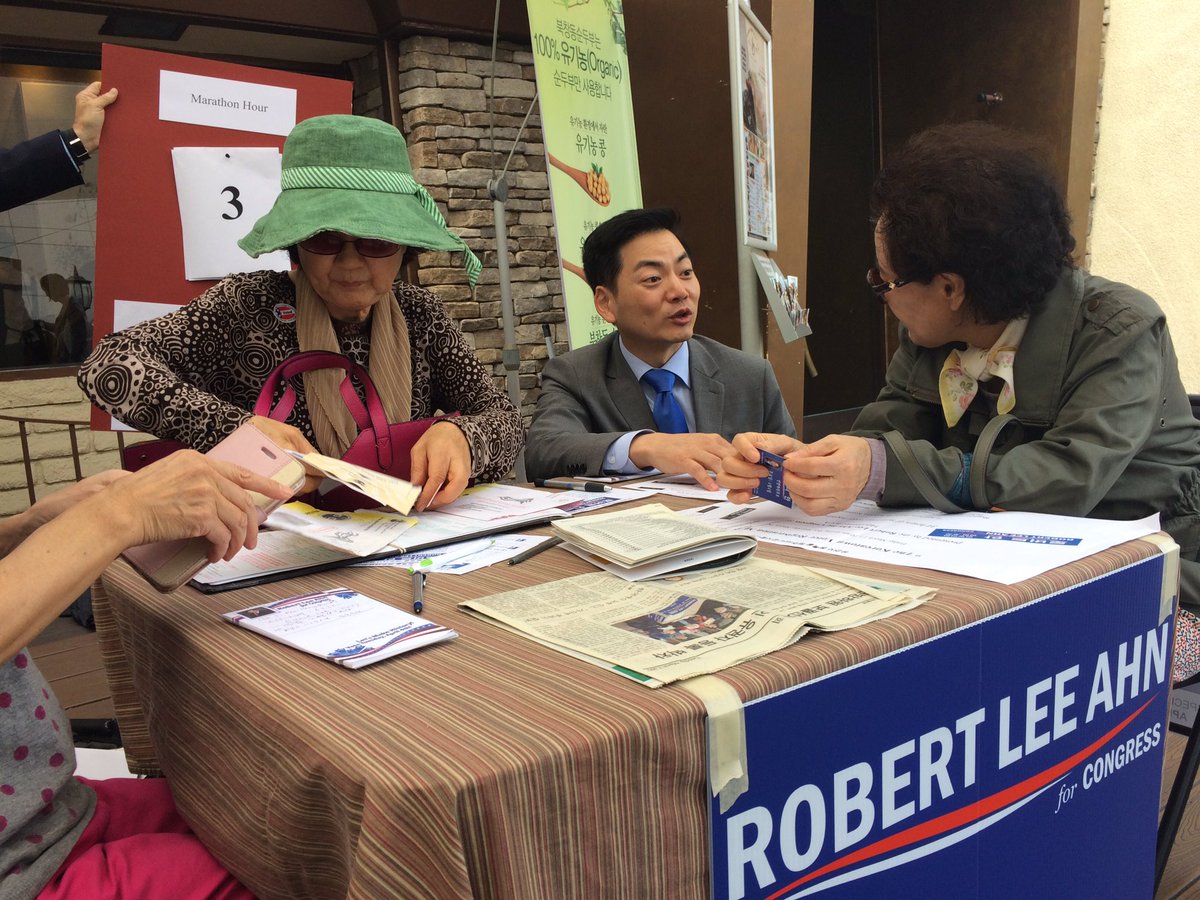 Ahn's campaign is crying foul. "This is voter suppression," Levin said. "They are trying to confuse Korean voters."
Ahn, who has been gaining momentum as Korean Americans have appeared to mobilize for him, would be the only Korean American in Congress if elected. He has received attention from the Korean American press and his campaign says it has registered more than 600 new voters in the Korean community.
Nearly 9,000 votes have already been mailed in and an estimated 1,000 of those are Korean-language voters. For voters concerned they may have already submitted incorrect ballots, it's unclear whether anything can be done for them. "We have to still look into that. We're not sure yet what can be done," Duran said.
Officials know of at least two voters who received the incorrect materials, but they still don't know the magnitude of the problem. 
"The vendor can't tell us exactly where the problem happened," said Debbie Martin, chief deputy of the L.A. County registrar-recorder. 
They are sending notices to all Korean-language voters informing them of the anomaly. The letter, which will be mailed out Wednesday in English and Korean, asks voters to check their sample ballot and includes a corrected sample to help them compare. It also tells voters that a corrected sample ballot will be sent out "within a few days," Duran said.
Until then, officials say Korean-language voters who have not yet mailed their ballots should hold on to them until they receive the corrected materials.
Anyone who encounters voting problems or has questions can call the registrar at 800-815-2666; Korean speakers can call 800-481-8683.
Latest updates
Copyright © 2017, Los Angeles Times