To Hurray for the Riff Raff's Alynda Segarra, the personal is political
Given her tumultuous history, Hurray for the Riff Raff's Alynda Segarra probably couldn't be an apolitical musician even if she wanted to. Which she admittedly doesn't.
Born in the Bronx and largely raised by her aunt and uncle in nearby Marble Hill, she was equally inspired by the street poetry of hip-hop and the adolescent angst of punk rock. She was also affected by seeing up close the devastation wreaked on New York City after the terrorist attacks of Sept. 11, 2001.
After squatting on the Lower East Side, she then hit the road and made her way to New Orleans just in time to witness the apocalyptic aftermath of hurricanes Katrina and Rita in 2005.
To the 32-year-old artist, speaking out with her music is as much a part of her DNA as her Puerto Rican heritage and her ingrained affection for New York and New Orleans.
All of these life experiences informed her band's exceptional 2017 album "The Navigator," in which she explored her Puerto Rican heritage as it intersects in a world roiled by debate over immigration, income inequality, and gender and sexual identity bias, among many other topical issues.
"I felt from a very early age that the personal is political," she says recently via phone from her home in New Orleans, which she left for a time for Nashville to see how, or if, she might fit into that city's musical community while doing much of the work on "The Navigator."
COMPLETE COVERAGE: The new sounds of protest
"This is very real to me," she says. "Politics was never something I felt was far away from me in daily life. The actions and choices made by people in power affected my future and those of the people around me. I was drawn to punk rock because I wanted to be around visionaries."
Among the group that helped shape her vision were not only New York punk and hip-hop artists, but musical predecessors including Woody Guthrie, Patti Smith, David Byrne and Bowie.
"I love people who are not afraid of being seen as naive, they're not afraid of thinking big, or worrying that things are changing too rapidly," she says. "We have to try to change things as much as possible — we can't just settle for things being the way they are."
That sentiment is central to "The Navigator's" "Settle," in which she poses that very question to herself over an expansive Ennio Morricone-influenced twangy rock track: "They raised me up, on brick and bread / Concrete jungle living, in your head/And I wonder, how long I'm gonna settle / I'm gonna settle."
She then tackles the racism behind much of the immigration debate — as well as her questioning artists' ability to confront those in the halls of power — in the stinging Latin rock-flavored "Rican Beach":
"Now all the politicians / They just flap their mouths / They say we'll build a wall to keep them out / And all the poets were dying / Of a silence disease / So it happened quickly and with much ease."
"I feel like the legacy of political music is still alive, still continuing," she says. "It really became a focus in hip-hop. When I grew up I was doing a lot of spoken word. Being around kids who were into hip-hop, and coming from the Bronx, I realized early on that this is street poetry.
"Some sing about just drinking and having a good time, others sing of trying to change the lives of your community and demanding equal treatment," she says. "And sometimes an artist will be both — we're allowed to be that complex."
She concedes that the increasing political polarization in this country leaves her frustrated, even hopeless at times.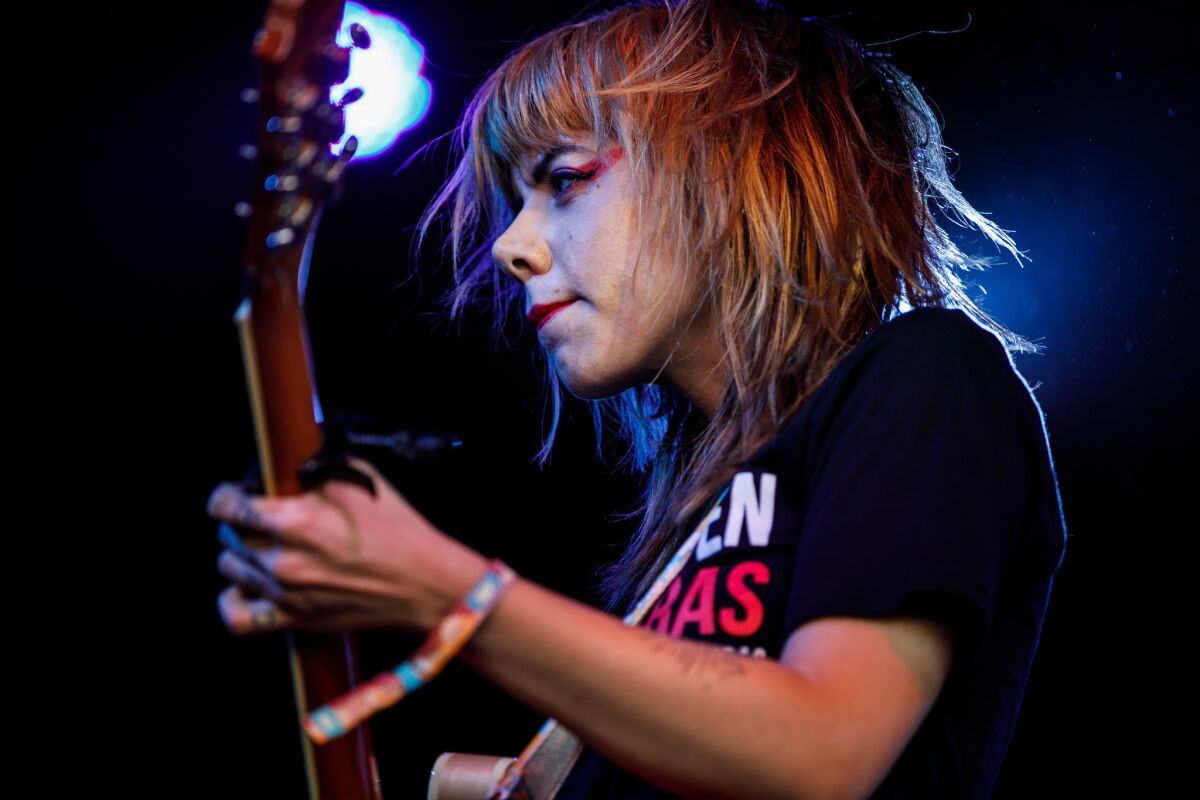 "There are times you try to be respectable, and don't want to seem too radical with your ideas," she says. "But then I think, 'Hey, I'm an artist — I'm a dreamer. That's my job.' My job is to have big beliefs about humanity, and not to let these separations, or thoughts of trying to be respectable in mainstream society, not let that affect you. It was a really freeing moment when I decided to embrace that.
"I think this has been a really challenging year for even the most idealistic people," she says. "I get very angry, and it took until I realized that I have to keep playing music to have hope."
And if not to completely change the world, at least for self-preservation.
"There are so many people filled with hate right now," she says. "I know I can't change their minds, and sometimes I don't know how I'm going to inhabit this land with them. But there's still this voice in me that says, 'You're not dead yet, you might as well really try to live.'"
ALSO
In today's divisive political climate, pop artists are shaping the new sound of protest music
Kamasi Washington's 'Heaven and Earth' proves jazz's vitality and political power
Beyond outrage: Australia's Stella Donnelly mixes the personal and political with humor
L.A. rapper JPEGMAFIA lashes out at the right and the 'fake-woke' left. Just don't call it 'trolling'
'I can't stay completely silent': Jason Isbell looks inward in examining a 'White Man's World'
California Sounds: L.A. artists rage and wrestle with politics and policy in the age of Trump
Get our L.A. Goes Out newsletter, with the week's best events, to help you explore and experience our city.
You may occasionally receive promotional content from the Los Angeles Times.