L.A. rapper JPEGMAFIA lashes out at the right and the 'fake-woke' left. Just don't call it 'trolling'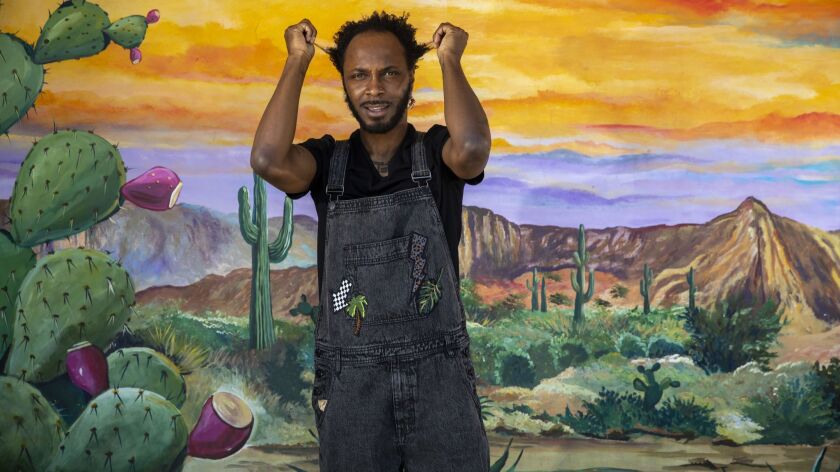 In the pantheon of current Republican government figures that Air Force veteran and hip-hop artist JPEGMAFIA despises (and it's pretty much all of them), Rudy Giuliani holds a near and dear place in his loathing.
The 28-year-old rapper (born Barrington Hendricks) was raised in New York before decamping to Baltimore and now Los Angeles, and memories of the former mayor's polices still boil Hendricks' blood.
"I used to get stop-and-frisked every time I walked out of my house," he said, adding that although he'd never encourage violence against a government figure, "I'm going to throw the biggest party when Rudy Giuliani dies."
He'd just be glad to have the former mayor out of his mind and has no compunction about saying so.
"The left has this idea about, 'They go low, we go high,' but I'd rather give the right the same aggression back. It works!" he said. "Liberals allow right-wingers on their platforms to have a 'civilized discussion,' but there's no reasoning with racists. I don't want them to have a platform that humanizes them. I want to talk down to them and meet them exactly where they are, with absolutely no respect."
COMPLETE COVERAGE: The new sounds of protest
As many Democrats rend their garments deciding whether it's ethical for restaurants to not serve Trump administration officials, JPEGMAFIA verbally attacks Republicans, as he has for years. The rapper and producer operates at the bloody edge of hip-hop and brutal noise music, savaging both right-wing ideology and what he calls mealymouthed "fake-woke" posturing on the left in his lyrics.
"Veteran," his second LP, was released earlier this year to wide acclaim on the local indie Deathbomb Arc. Given that, it might be surprising to hear that he still wants to be a mainstream star, an outlandish goal in most eras of pop music.
But maybe the #Resist movement is finally catching up to him.
"I want to be an example of a true new age artist. I want to work with Danny Brown but also Cannibal Corpse and Maroon 5," he said, relishing the unlikely prospects.
Liberals allow right-wingers on their platforms to have a 'civilized discussion,' but there's no reasoning with racists.
— JPEGMAFIA
For anyone who hasn't seen him live, Hendricks is like an unstable chemical compound on stage: You have no idea whether he'll boil over, explode or melt everything he touches. At a recent show at the Arts District club Resident, he climbed shirtless over the speakers while whipping the crowd into a knees-flying mosh pit. During songs like "Does This Ski Mask Make Me Look Fat?" or "I Cannot … Wait Until Morrissey Dies," he spat in the eye of white liberal pieties about race — "Got my reparations, bought some jewelry / I'm a left-wing Hades, 26 with a fresh 380 [pistol]."
Over tacos at a spot in the Valley near a studio where's he's tracking, Hendricks was gleefully funny and quite kind and considerate in person. But on record, he gives no quarter to any person or institution that participates in oppression (or even those that just annoy him).
He has an album drolly named "Black Ben Carson," frequently lambastes the culture of the U.S. military (for which he served in Iraq and received an honorable discharge from the Air Force) for its misogyny and racism, and has it out for vegan sad-boy-demigod Morrissey.
One thing he says he's not doing, however, is "trolling." Hendricks hates how that word undermines any use of wit or humor to rebut bad intentions.
"People who use that [word] don't actually care about the issues, the real black issues I'm talking about," Hendricks said. "To me this is way more important. Whenever I play a black city like Atlanta or Baltimore, black people will come up and say, 'Thank you for doing what you're doing.'"
JPEGMAFIA's music is bracing and perhaps a bit difficult, but his blunt message comes from experiences that few can question. He meant the album title "Veteran" literally, partly to mess with "Support Our Troops" clichés but also in the sense that he's battle-scarred from being a young black man in American institutions.
He was deeply unhappy in the military, but it did teach him a rigorous work ethic and how to assert yourself amid unaccountable power structures.
Hendricks will play this fall's Camp Flog Gnaw festival, and he's a natural heir to Tyler, the Creator's mix of provocations and introspection, imaginative noisy productions and a complicated relationship with his own stardom. He also has a hard-won empathy with peers doing similar work. After the murder of the rapper XXXTentacion, whom he had followed for years on SoundCloud, Hendricks admitted to a deep disappointment from left-leaning fans revealing a blitheness about the rapper's death on Twitter.
"He did some deplorable [stuff]. People who deserve to be 'canceled' should be. But X was good for somebody somewhere and had something that people related to," he said, slowing his rapid riffing to consider the big stakes. "It was just crazy to see white Pitchfork hipsters celebrating his death. I know I just said that about Rudy Giuliani, but as a black human being, I wouldn't wish that [death] on anyone."
JPEG doesn't fit neatly into anyone's musical polite society, and even he understands why his lyrics might anger some. But in a political era when so many feel powerless, he says it's invigorating to say what you mean.
"When I first heard 'Pearly Gates' by Mobb Deep and 50 Cent growing up, the rapper Prodigy had a line about wanting to beat Jesus up," he said. "I wasn't religious, but I'd never been introduced to something like that. I was scared and mad, but then I asked why I felt like that. He was rapping about growing up in the projects and prayer wasn't changing anything for him. I felt that way too. It changed my mind and I started questioning everything."
ALSO
In today's divisive political climate, pop artists are shaping the new sound of protest music
Kamasi Washington's 'Heaven and Earth' proves jazz's vitality and political power
Beyond outrage: Australia's Stella Donnelly mixes the personal and political with humor
To Hurray for the Riff Raff's Alynda Segarra, the personal is political
'I can't stay completely silent': Jason Isbell looks inward in examining a 'White Man's World'
California Sounds: L.A. artists rage and wrestle with politics and policy in the age of Trump
august.brown@latimes.com
Twitter: @AugustBrown
---
Your essential guide to the arts in L.A.
Get Carolina A. Miranda's weekly newsletter for what's happening, plus openings, critics' picks and more.
You may occasionally receive promotional content from the Los Angeles Times.