Perspective: Kamasi Washington's 'Heaven and Earth' proves jazz's vitality and political power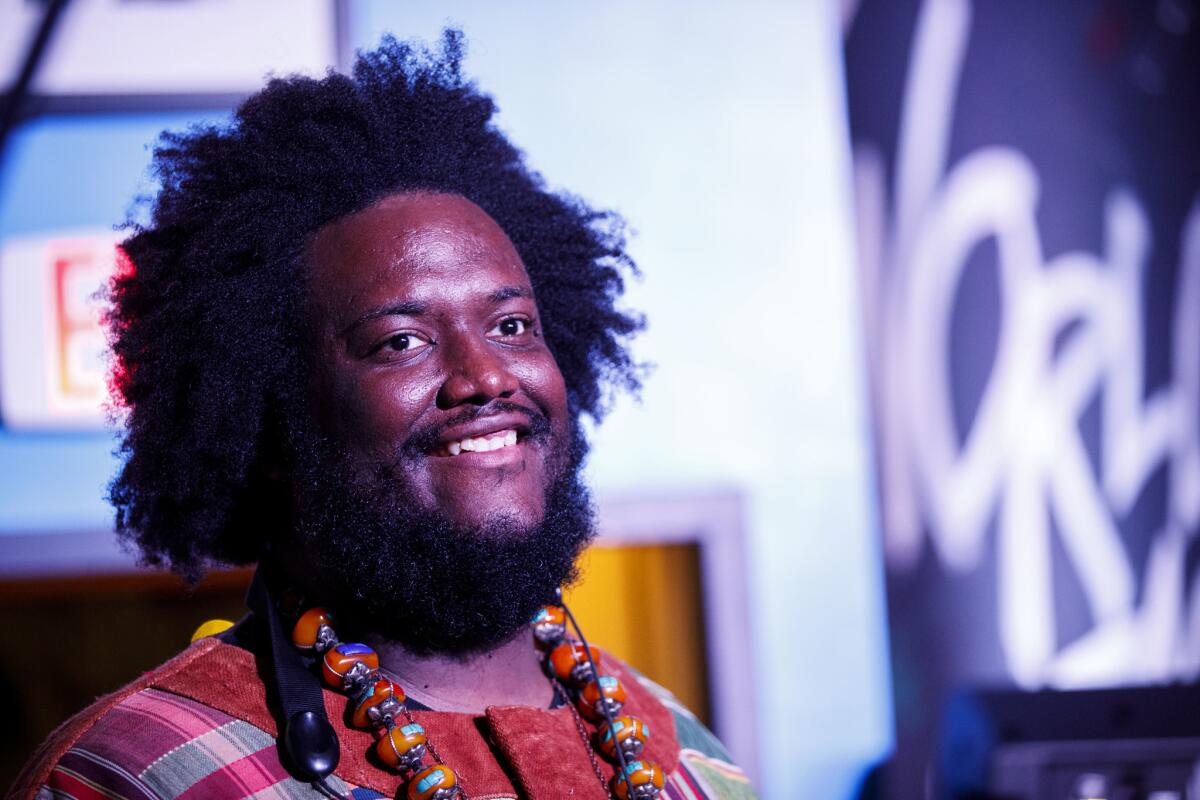 The line last Thursday to see Kamasi Washington perform at Leimert Park's the World Stage wasn't just around the block. It was the block.
Organizers for the sort-of secret show, dubbed the Heaven and Earth Block Party in honor of Washington's new album, roped off the entire back-alley entrance and parking lot of the saxophonist and composer's old home-base nightclub. They set up couches and an outdoor projection screen for the hundreds of fans who couldn't fit inside the tiny jazz venue's main room.
Washington, commanding yet gentle at center stage, led his band of best friends and L.A.'s jazz elite through two different two-hour sets, drawing from his quadruple-LP "Heaven and Earth," which was released June 22. The crowd was a mix of veteran L.A. jazz heads, curious hipsters and Leimert Park locals who grew up alongside Washington and this scene. It was sweaty and slammed cheek-to-cheek in a way no one minded.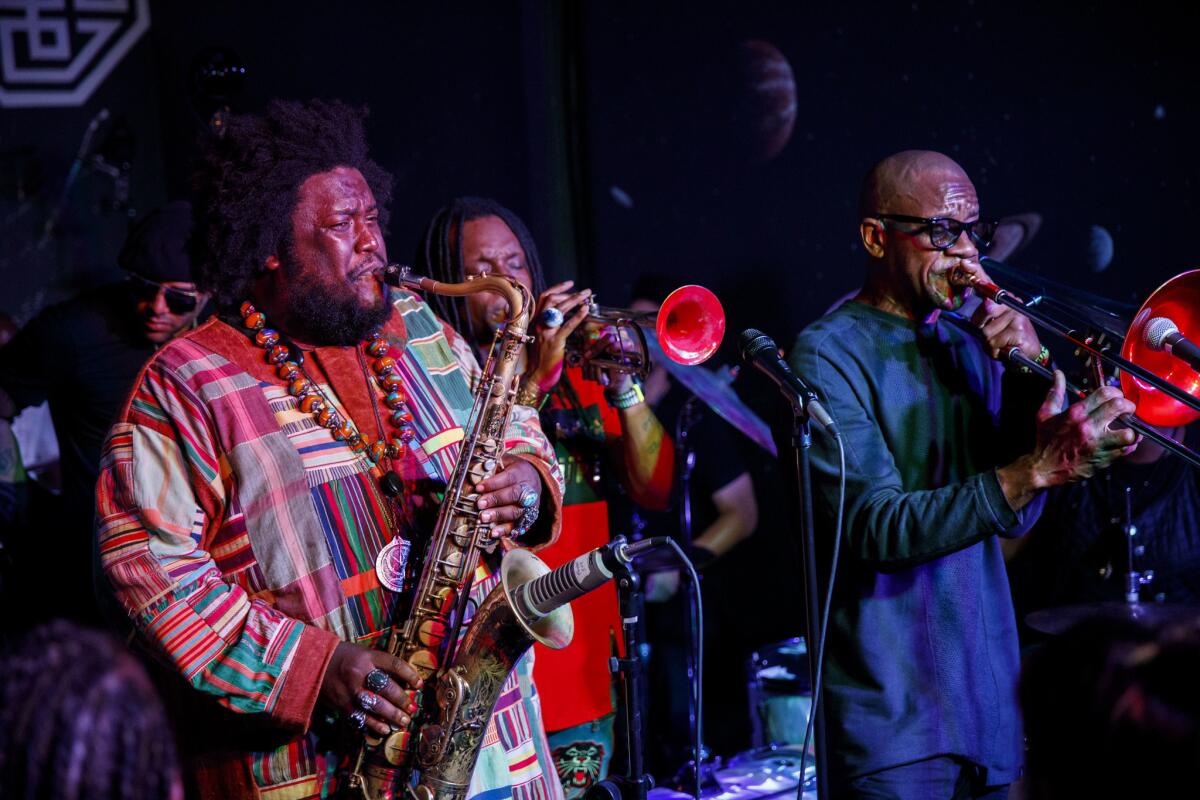 It'd be hard for me to imagine a super-bigoted person going, 'I love John Coltrane.'
— Kamasi Washington
Longtime pals like saxophonist Terrace Martin, drummer Ronald Bruner Jr. and trombonist Ryan Porter traded solos over intricate time signatures on Porter's new composition "The Psalmnist." But Washington also hosted a "Street Fighter" video game competition earlier in the day, and fans toted tubs of vegan peanut stew and kale hand pies back and forth from nearby restaurants.
The show made the case not just for the continued vitality of L.A. jazz, which has melded with hip-hop, funk and the avant-garde. It was a model for music as the centerpiece of a community. A physical space, but also a mental and spiritual one. That's the "Heaven and Earth" of Washington's album, and in a time when so much of American life seems isolated or irredeemably fractured, it's a place for hope as well.
COMPLETE COVERAGE: The new sounds of protest
"Our whole philosophy was formed here together," Washington said the next day after the World Stage show. "It's like being back home. It feels like a refill, to get to what fueled me into music in the first place."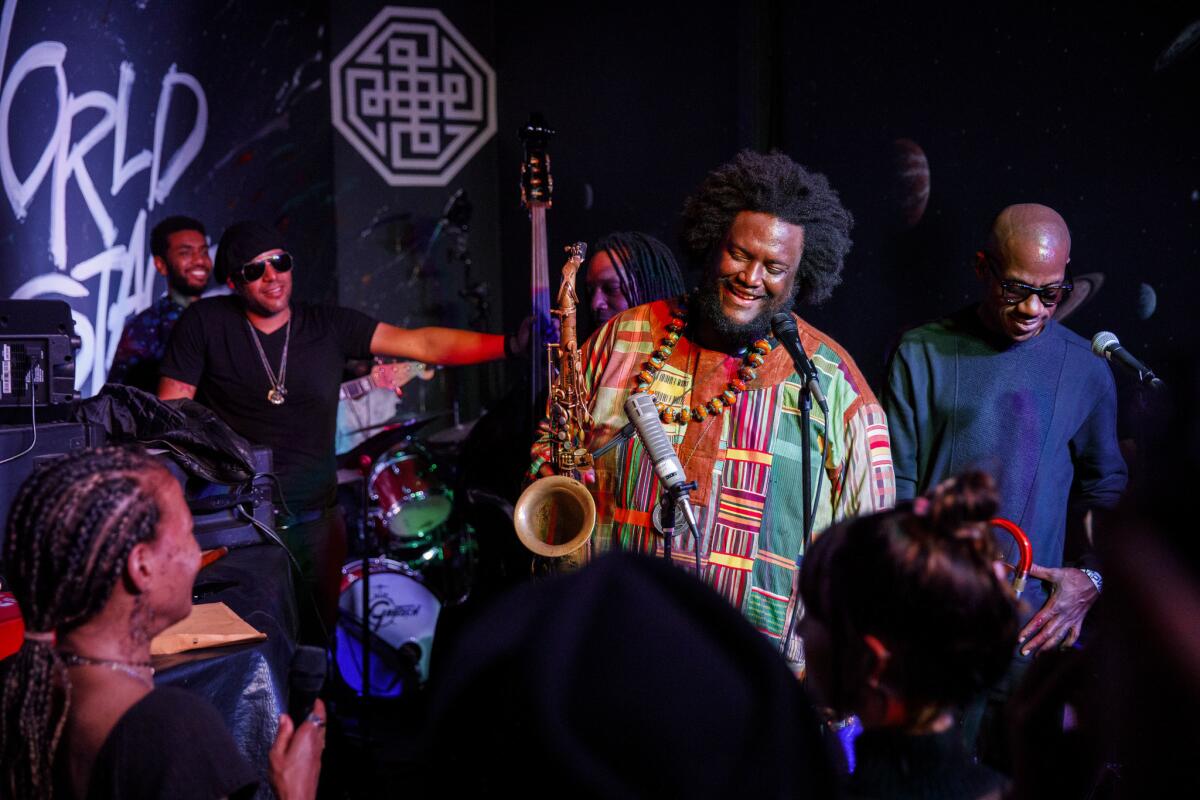 Washington grew up around Leimert Park and began playing the World Stage as a teen, enlisting many of the players who would collaborate with him for life. He and friends like Martin and bassist Stephen Bruner (known as Thundercat), would go on to be solo performers, production wizards and collaborators with Kendrick Lamar, Flying Lotus and Snoop Dogg.
But Washington had a certain charisma — grounded in a generous, Afro-futurist vision of spirituality and music — that resonated immediately. When he released his 2015 debut "The Epic," he was perhaps the single most exciting figure to emerge in L.A. jazz in at least a decade. There's a reason that after previously releasing on Flying Lotus' Brainfeeder imprint, the new record is out on Young Turks, best known for pop-adjacent material like the xx, Sampha and FKA Twigs. It's uncompromising music that still wants to let everyone in.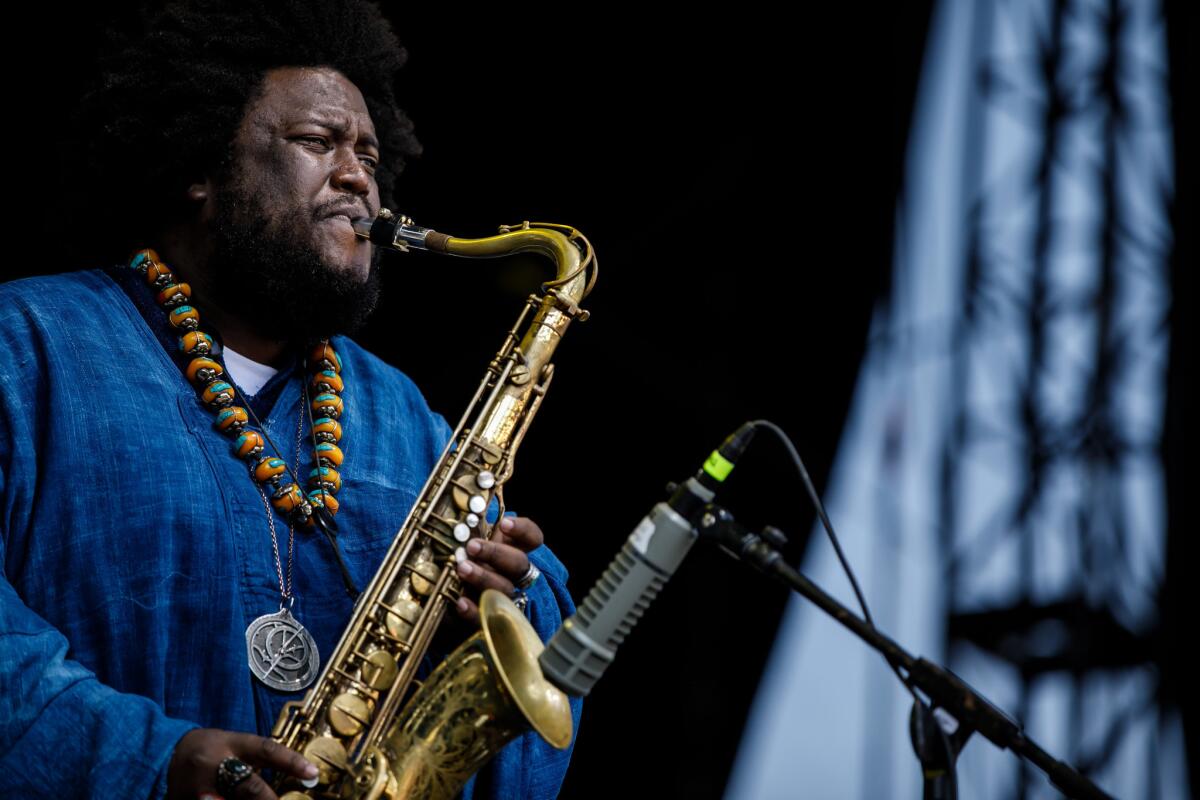 After "The Epic's" whirlwind of touring, new music came quickly to Washington, as it usually does. But it came in fragments, with some he'd been working on for years already. He didn't quite see the scope of the album at first, let alone imagine it as a 2 ½-hour-long leviathan that makes a triple-album titled "The Epic" seem like a tidy EP.
The vision didn't come together until he started thinking about it not as a narrative but as a reflection on how we all exist and interact with the world. What's the line between objective and subjective experience? How does one's interior life affect the world around us? Are these distinct spheres or different manifestations of the same plane of existence?
"I've known that about myself, that I've had two sides. One that's pretty tactical, down to earth, aware. There's also a really spacey side," Washington said. "But I realized they're kinda the same thing. I watch the news and morning cartoons, you know? I started thinking about how our imaginations affect our reality."
That dynamic is what drives and unites the sprawling yet immensely enjoyable and re-playable "Heaven and Earth." Don't get tripped up over its breadth: the diversity of material makes each side feel as inviting as a pop record. Washington's band the Next Step, paired with longtime members of the West Coast Get Down crew, play even the most demanding passages with palpable joy and care. There are covers of the classic kung-fu theme "Fists of Fury" and Freddie Hubbard's bebop standard "Hub-Tones," and true to form, a song about "Street Fighter."
"The Space Travelers Lullaby" is as rich and expansive as any film score. By the time he gets to the ruminative album closer "Will You Sing," you've been through so much with him, but you're ready to start it all over again.
Jazz has always been radical in its deconstructions of form and forceful assertions of black identity. Washington took pains to note that this album is political music, even at its most oblique, in the sense that it taps into and tries to understand the primal forces that animate our attitudes and choices.
The current political climate is "a cyclical thing that's happened before and it will continue to happen until we change our approach," he said. "I'm looking beyond the problem and looking to the cause."
More than ever in America, some people's imaginations seem to be taking precedent over a sense of shared reality.
That can be a gift and blessing too — it's where hope and optimism spring forth in spite of all the malaise around us. It's also where we create the respites from political life, private places of beauty and longing that no newsfeed can touch. For anyone looking to finally shut Twitter off for an evening, "Heaven and Earth" is a marvelous occasion to do so.
But the album is also a powerful reminder that inner lives have consequences too, and destructive forces can take root in those unknowable interiors. Artists have a particular ability to reach in and explore them, Washington said. While no one is obligated to try and understand the points of a virulent racist right-wing demagogue, music and empathy tend to have a pretty strong relationship, and that can and should inform how we move forward and find comfort in this era.
"If you meet someone and they're like 'I really love John Coltrane,' there are assumptions you can make about their position in the world," Washington said. "It'd be hard for me to imagine a super-bigoted person going, 'I love John Coltrane.' The energy Coltrane put into [music], even if you started off as a bigoted person, you'd start to lose that" as you fell in love with his records, he said.
No one has any illusions that jazz is the most effective bulwark against political oppression. Washington tends to take a long view of the country's current administration and the resistance against it.
"'Fists of Fury' is a recognition of the never-ending struggle that is life," he said. "They go hand in hand — if you have infinite potential, you also have infinite struggle, but that's why you have it."
Sometimes it's more visceral: later in that song, vocalists Dwight Trible and Patrice Quinn sing, "I use hands to help my fellow man. … And when I'm faced with unjust injury, then I change my hands to fists of fury."
"You can always say no," Washington added. "If Trump pushes the nuclear button, the pilot with the missile can say no."
Refusing to surrender all of your mind to contemporary politics is an act of resistance too. Insisting on the necessity of beauty and making space to contemplate your inner life and the nature of living is as well.
"For those people who believe in God, you can find God's messages all over the world, in people and customs and belief," Washington said. "'Vi Lua Vi Sol' is about a person that has a connection to the universe, who can talk to the sun and talk to the earth. Those subtle connections that come from having experience traveling the world and from imagining things inside your head. As they come together, you get what I really think, who I really am."
ALSO
In today's divisive political climate, pop artists are shaping the new sound of protest music
Beyond outrage: Australia's Stella Donnelly mixes the personal and political with humor
To Hurray for the Riff Raff's Alynda Segarra, the personal is political
L.A. rapper JPEGMAFIA lashes out at the right and the 'fake-woke' left. Just don't call it 'trolling'
'I can't stay completely silent': Jason Isbell looks inward in examining a 'White Man's World'
California Sounds: L.A. artists rage and wrestle with politics and policy in the age of Trump
A farewell concert for 03 Greedo? While the courts decide, fans turn out for a big night of L.A. rap
With Wajatta, Reggie Watts and John Tejada put a fresh spin on L.A. techno
For breaking music news, follow @augustbrown on Twitter.
Get our L.A. Goes Out newsletter, with the week's best events, to help you explore and experience our city.
You may occasionally receive promotional content from the Los Angeles Times.