'I can't stay completely silent': Country music's Jason Isbell looks inward in examining a 'White Man's World'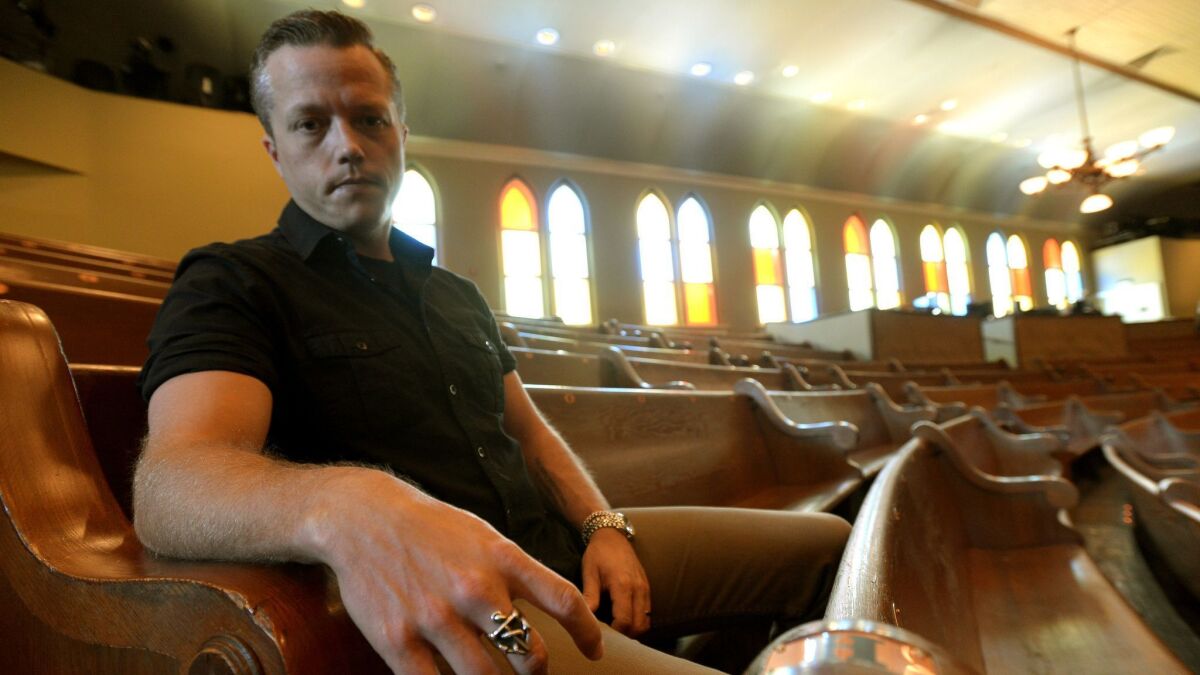 Singer-songwriter Jason Isbell grew up in Green Hills, Ala., often hearing sentiments coming from his radio extolling the virtues of the good old days, of small-town America, of times that seemed simpler and happier through the rear-view mirror of history.
He took a different tack while writing songs for his acclaimed 2017 album "The Nashville Sound." Several songs broached topics that are exceptionally touchy for many in country's predominantly white, rural audience, and even more fearsome for radio programmers who try to avoid controversy at all costs.

For the record:
5:50 p.m. June 30, 2018An earlier version of this post misidentified Stephen Foster as the composer of the 19th century song "Dixie." It was written by Daniel Decatur Emmett.
The most noteworthy may have been "White Man's World," in which Isbell, one of the most critically lauded singers and songwriters of the new millennium, didn't overtly rail against perceived injustices. Instead, he raised questions about his own life experience, about the privileges he's enjoyed, where those privileges came from and who paid what price to create them.
"I'm a white man living on a white man's street / I've got the bones of the red man under my feet / The highway runs through their burial grounds / Past the oceans of cotton," Isbell, 39, sings in "White Man's World."
He continues, "I'm a white man looking in a black man's eyes / Wishing I'd never been one of the guys / Who pretended not to hear another white man's joke / Oh, the times ain't forgotten," the final line referencing "Dixie," Daniel Decatur Emmett's 19th century paean to what he perceived to be the glories of the Old South.
The song, Isbell told The Times last year, was inspired by 2016's presidential election.
He was talking inside one of his favorite places to perform, Nashville's historic Ryman Auditorium, often referred to as "the mother church of country music." It's a landmark with its own complicated history. Today's visitors can still see signs that once informed African Americans where they were allowed to sit — and where they weren't — when audiences decades ago at the Ryman were still segregated.
"I think as a society we're still making a lot of progress," said Isbell, sitting in one of the upstairs pews. "I think just as many people or more people are getting treated unfairly by law enforcement [today] as there were 20, 30 or 40 years ago. We just find out more about it now."
But he has noticed a change since the election of President Trump, largely in how people perceive the country itself, and felt the need to say something.
COMPLETE COVERAGE: The new sounds of protest
"When something like this happens, when somebody is put on this particular pedestal that Trump has been put upon — partially by Americans, partially by the process — it's easy to look at it and say we're failing, and that this movement of compassion is losing to people who are so afraid it makes them selfish. It's very easy to say that and think that. I think we may have gone down a couple of rungs on a ladder we've already climbed a long, long way on."
And yet, he continued, "I feel like a lot of people are confusing falling a couple of rungs with falling off the ladder. … I feel like as a songwriter, I'm not a huge star, I'm not a celebrity, I'm not going to have the ability to sway a lot of people. But if 200,000 people buy this record and 50 of them start thinking a little bit differently because of that song, or another song, then I feel like I've done my job."
"The Nashville Sound" spent six weeks on the Billboard country album and peaked at No. 1, but his "White Man's World" received little or no airplay on mainstream country radio stations, even though Isbell is one of the most popular artists in the world of Americana radio and consistently performs sold-out shows.
"I do think part of my job is to let people know where I stand on those kinds of issues, and to defend people who aren't white males like I am," he said. "To defend my child, my wife, my friends who are afraid for themselves right now."
Isbell often performs with his wife, singer-songwriter and violinist Amanda Shires, who is part of his band the 400 Unit and will release her fifth studio album in August.
"I'm not afraid right now," said Isbell, who recently announced a new series of fall shows at the Ryman and in October will release "Live From the Ryman." "I'm the person who's benefiting from most of the tax cuts and the new healthcare plan. I'm the guy who could afford healthcare no matter what the new plan says. But it still drives me nuts on behalf of other people."
"I'm not going to get kicked out of the country," Isbell added. "I'm 15th-generation American. But the fact that people pay me for my opinion — and they do, whether they realize it or not; that's what you're paying for, whether you buy a ticket to a show or whether you buy a record — I think it makes me responsible … I can't stay completely silent on those things."
ALSO
In today's divisive political climate, pop artists are shaping the new sound of protest music
Kamasi Washington's 'Heaven and Earth' proves jazz's vitality and political power
Beyond outrage: Australia's Stella Donnelly mixes the personal and political with humor
To Hurray for the Riff Raff's Alynda Segarra, the personal is political
L.A. rapper JPEGMAFIA lashes out at the right and the 'fake-woke' left. Just don't call it 'trolling'
California Sounds: L.A. artists rage and wrestle with politics and policy in the age of Trump
Follow @RandyLewis2 on Twitter.com
For Classic Rock coverage, join us on Facebook
Get our L.A. Goes Out newsletter, with the week's best events, to help you explore and experience our city.
You may occasionally receive promotional content from the Los Angeles Times.