Newsletter: Today: Obamacare Survives the GOP and Trump's Tweetstorm. Now What?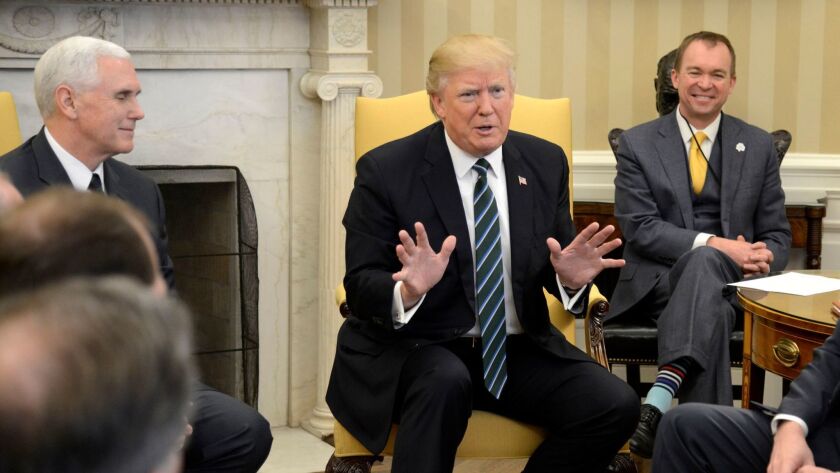 I'm Davan Maharaj, editor-in-chief of the Los Angeles Times. Here are some story lines I don't want you to miss today.
TOP STORIES
Obamacare Survives the GOP and Trump's Tweetstorm. Now What?
It wasn't artful and there was no deal as the GOP plan to repeal and replace Obamacare fell apart last week. Now the blame game has kicked in, with President Trump first faulting the Democrats and later taking conservative Republicans to task. And there was Trump's cryptic tweet to watch a Fox News show, which featured the host calling for Paul Ryan to step down as House speaker. Some Republicans, meanwhile, are talking about regrouping on healthcare. As for the president, he tweeted that "ObamaCare will explode" so "Do not worry!" One big question moving forward is: How much will this hurt the rest of his agenda? Political analyst Cathleen Decker surveys the damage.
On Edge in Trump's America
For generations, Boyle Heights has been a kind of Ellis Island for immigrants entering America from many countries, legally or not. Eventually, most were from Mexico. Since the presidential election, the talk in this L.A. neighborhood is tinged with anxiety. Our series "On Edge in Trump's America" takes a look at the worries of those in Boyle Heights. And in Orange County, we check in on the small but growing number of Latinas who are converting to Islam and facing a whole new set of challenges — including the reaction of fellow Latinos who mistake them for Arabs.
Since When Does Attacking Reporters Make America Great?
The Make America Great Again rally at Bolsa Chica State Beach drew hundreds of Trump supporters and was billed as a show of patriotism. It broke out in pepper spraying and punches after two dozen counter-demonstrators also showed up. Caught in the middle: three journalists from the OC Weekly, who say the pro-Trump demonstrators physically assaulted them when they were just trying to do their jobs. Here's the breakdown of what happened.
More Politics
-- California's vow to reduce auto pollution may be setting up a full-out war with Trump.
-- Former Trump advisors have offered to testify in front of the House Intelligence Committee.
-- Canada's largest school system will no longer plan trips to the U.S. over fears students will be unfairly stopped at the border.
Protests Over Russia, Moscow Edition
As Washington deals with its own Russian drama, tens of thousands demonstrated in cities across Russia against corruption and called for Prime Minister Dmitry Medvedev to resign. The largest protests there in years resulted in the detention of hundreds, including rally organizer and opposition leader Alexei Navalny, whose own nationalist, anti-migrant rhetoric has alienated some of Russia's liberal democrats.
The Island of Big Sur
For more than a month, Highway 1 has been closed at the ruined Pfeiffer Canyon Bridge north of Big Sur and to the south, where landslides have undermined the roadway. That's taken a toll on the residents of Big Sur. It's also brought back a kind of idyll for those who were looking to get away from it all but had found themselves fighting traffic. What happens when the highway opens up again?
A Tragedy in Mosul
Iraq's military is disputing reports that a U.S.-led coalition airstrike killed more than 200 civilians, even though coalition officials say it will take two to three weeks to get to the bottom of what happened. The investigation will focus on a number of factors, including whether the airstrike hit civilian buildings or an Islamic State car bomb was involved. Times staff writer Molly Hennessy-Fiske and photographer Marcus Yam were on the scene. See the powerful video and photos.
OUR MUST-READS FROM THE WEEKEND
-- A small group of young progressives opposing the Trump administration has blossomed into a national movement known as Indivisible.
-- A brazen political killing shakes Myanmar, already teetering on the path to democracy.
-- Should California bars and clubs be allowed to serve alcohol till 4 a.m. as a way to discourage underground parties?
-- The strange journey of a Chinese Internet addict who went from cybercafes to pole dancing.
-- Disproving the Hollywood myth that "black films don't travel."
-- In the Trump era, a visit to the set of the show "Full Frontal With Samantha Bee" feels like "feminist church."
-- Down at the county jail, they're praying for columnist Chris Erskine's wife, Posh. At a Wisconsin seminary too.
CALIFORNIA
-- L.A. County transportation officials will examine whether to impose tolls on more carpool lanes and a higher passenger requirement for such lanes on the freeways.
-- Here's how state lawmakers plan to reform the bail system in California.
-- Defying man and nature, the sea otters of Morro Bay have made a comeback from the brink.
-- Columnist George Skelton says Reps. Devin Nunes and Adam Schiff couldn't be more different, just like the two Californias from where they come.
HOLLYWOOD AND THE ARTS
-- Keith Richards on Chuck Berry: "I've learned more and more from him over the years of how to sling the hash."
-- Lin-Manuel Miranda's "Hamilton" opened in San Francisco. Times theater critic Charles McNulty says it's as vital as ever.
-- In L.A. Opera's "Tales of Hoffmann," the villain was forced to lip-sync and a new star couple emerged.
-- Actor Dan Stevens discusses becoming the Beast for "Beauty and the Beast."
CLASSIC HOLLYWOOD
Hollywood lost two of its biggest stars when Debbie Reynolds died just a day after her daughter, Carrie Fisher, in December. Reynolds' son, Todd Fisher, led the public memorial for his mother and sister over the weekend, featuring tributes in word and song. Seated in the front row: Reynolds' dog, Dwight.
NATION-WORLD
-- South Korean prosecutors said that they would seek to arrest disgraced former President Park Geun-hye on multiple charges.
-- Authorities said they see no link to terrorism in a Cincinnati nightclub shooting that killed one person and injured 15 others.
-- Police have identified the man suspected of killing one person and injuring another during an hours-long standoff on the Las Vegas Strip.
-- A small circle of Hong Kong elites has chosen a Beijing loyalist as the city's leader. Her main rival had amassed far more public support.
-- India is about to make it easier for political parties to hide the sources of their money.
BUSINESS
-- The reason Hollywood's studio leadership is in flux? The business model is changing.
-- As millennials "Venmo" each other money, banks are fighting back with their own mobile apps.
SPORTS
-- The NFL could vote as early as today on the Raiders' proposal to relocate from Oakland to Las Vegas. The owners are leaning in favor of it.
-- An unlikely Final Four in the NCAA men's basketball tournament is an ode to the grinders.
-- Watch the video: Kobe and Shaq team up again at O'Neal's statue unveiling.
OPINION
-- It's not Neil Gorsuch's fault, but we can't support his ascension to a stolen Supreme Court seat.
-- Why do we make children sleep alone?
WHAT OUR EDITORS ARE READING
-- Here are some arguments for why the rules of presidential succession should be reevaluated. (The Atlantic)
-- The United Airlines leggings controversy that took social media by storm. (Washington Post)
-- What happens to our earliest childhood memories? (Aeon)
ONLY IN L.A.
They call him "the Snook Whisperer." Sergio Peñuelas has mastered the art of slow-grilling a fish called snook for the dish known as pescado zarandeado. While Peñuelas has developed a cult following among L.A. foodies, the chef hasn't stayed in any one location for long. Times restaurant critic Jonathan Gold followed his trail to four eateries to discover "whether he was the Snook Whisperer or merely the Johnny Appleseed of Snook."
Please send comments and ideas to Davan Maharaj.
If you like this newsletter, please share it with friends.
---