Disproving the 'black films don't travel' Hollywood myth
On his way to winning a best picture Oscar for "Moonlight," a film made for a minuscule $1.5 million, writer-director Barry Jenkins took time between awards-season red carpet appearances for a six-city European promotion tour. It was time well spent.
"Moonlight," about a poor black boy living in the projects of Miami and struggling with his sexuality, wasn't supposed to be the kind of movie that wins the best picture Oscar. Its modest coming-of-age narrative, unconventional story structure and outsider characters with no mega stars made it, as filmmaker Mark Duplass said recently with admiration, "a bit of a miracle" that it even reached U.S. theaters. Certainly, it's not the kind of movie that was expected to make money overseas. After all, says a longstanding Hollywood myth, black films don't travel.
Yet as of Tuesday, "Moonlight" has made $28.6 million at the international box office — more than its $27.5 million domestic take — for a worldwide total of $56.1 million. With the film still in theaters, even more is expected.
"This black film is definitely selling overseas," Jenkins said to The Times on the red carpet for the Screen Actors Guild Awards, just after he'd returned from Europe.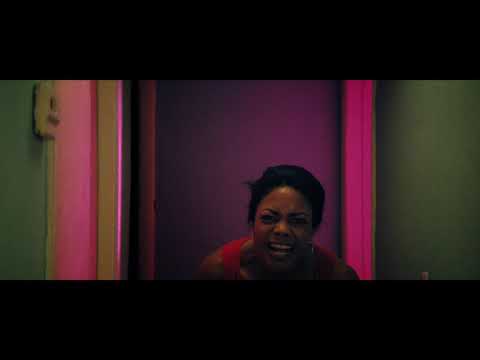 The trailer for "Moonlight."
It's one more way "Moonlight" has bucked conventional wisdom.
"Every time there's a success, it gets swept under the rug," says Jeff Clanagan, president of Lionsgate's Codeblack Films, which primarily produces films with African American casts. "It's almost like there's an asterisk on it. They chalk it off as an anomaly."
For 1988's "Coming to America," the anomaly was the comedic genius of Eddie Murphy, who "transcended race" when the film grossed $160.6 million internationally for a $288.8 million worldwide take. (Samuel L. Jackson, Morgan Freeman, Will Smith, Kevin Hart, Denzel Washington and Don Cheadle are other box office champs for whom the "transcended race" label has been applied.)
For 1995's "Bad Boys" and its 2003 sequel — which together pulled in a combined $210.3 million internationally and $414.7 million worldwide — it was the fact that the film was an action flick, never mind leads Smith, Martin Lawrence and Gabrielle Union.
For 2015's "Straight Outta Compton," a $40.4 million payoff internationally (and $201.6 million worldwide), it was the popular music of rap group N.W.A.
Even as three-time Oscar nominee "Hidden Figures," with its predominantly black cast, has so far made $48.8 million internationally — helping to push its $166 million domestic sales to nearly $215 million worldwide and counting — the myth persists.
When asked about the myth, Octavia Spencer, Oscar-nominated for her "Hidden Figures" role, responded simply: "I have two words for you: Will Smith."
They have to start investing and taking black actresses and actors across the world just like they do with unknown white actors."
— Octavia Spencer
"He was told the same thing [at the beginning of his career] — that he wasn't going to be taken to promote his film," she said at the annual pre-Oscars Sistahs Soiree honoring women of color in the industry. "Had he not paid for himself to fly all over the world that very first time, he would not be an international box office star. So they have to start investing and taking black actresses and actors across the world just like they do with unknown white actors. They need to do the same thing for black actors. If you don't know 'em, why would you go support the film?"
The latest picture to face the international test head-on is "Get Out," from writer-director Jordan Peele. While the social thriller starring Daniel Kaluuya has been the talk of Hollywood since its Feb. 24 premiere — making its auteur the first black director with a $100 million debut — the film is just beginning to be released internationally, an effort by the studio to first test the film among its intended American audience and then strategically roll it out in other countries. Such an approach capitalizes on the film's current hold in American pop culture while forecasting potential territories it might play well in.
For Peele, the myth doesn't negatively affect "Get Out's" worldwide appeal.
"All I know is from the interviews I've done with people overseas who've seen it, they get it and really dig it just as much as the people who are interviewing me here," he says. "Otherwise I'll have to wait and see… Hopefully people come and see it."
'Good movies perform'
"If a movie is good, it should transcend borders, cultural difference and ideologies," says Paul Dergarabedian, a senior media analyst with comScore who analyzes box office returns. "If you have a great movie, I think it can play anywhere."
He struggles, he says, "with categorizing any film using the makeup of its cast or point of view of its storytelling," and calls Hollywood banter about the inherent lack of profitability for a movie that features a diverse cast "myopic."
Jonathan Deckter, president and chief operating officer of Voltage Pictures, with a specialty in international and domestic sales, agrees, saying the myth is "ignorant."
"That's an overgeneralization to say that black films don't travel," Deckter says. "Good movies perform. Movies that have something special, unique, something that drives an audience to get off of their sofa and into a cinema perform."
There are musicals, action movies, comedies, horror films, but 'black' is not a storytelling genre."
— Reginald Hudlin
Director and producer Reginald Hudlin says, "The confusion starts with the definition of 'black film,' as if it was a genre. There are musicals, action movies, comedies, horror films, but 'black' is not a storytelling genre. And the fact that these movies [with black casts] that can be wildly different are all put in the same category as if they're all the same, ignoring actual genres, which can have a huge effect on its ability to travel, already leads to people misunderstanding its worldwide box office potential.
"The definition," adds Hudlin, who is working on the upcoming "Marshall," starring Chadwick Boseman as Supreme Court Justice Thurgood Marshall, "is designed to reach a conclusion, which is that black films don't sell."
How does it work?
For an American independent film to make it into an international theater, a producer works with international sales agents to license the rights to overseas distributors. The licensing process often begins with the sales agent attempting to pre-sell the film, persuading local distributors in international markets to purchase rights before the movie is fully completed. While some films get purchased during the pre-sale process, international buyers can also choose to wait until they see a finished film, either at film festivals, at film markets, such as Santa Monica's American Film Market, or those held alongside the Berlin and Cannes film festivals. A film's commercial potential, which takes into account the U.S. release date, script, director, genre, cast, critical acclaim (if it's been shown) and culture of a film, dictates the enthusiasm of international distributors.
At last year's American Film Market, "Moonlight," says Voltage Pictures' Deckter, was "one of the most sought-after movies," months before it landed any awards-season nominations. The reason for such high interest in the film, independently made through Brad Pitt's Plan B and A24, wasn't obvious.
"As a general rule, independent film distributors try to find reasons to find movies that work, acquire them and then make them work," Deckter says. "They're probably not taking the same amount of at-bats on black movies as they take on other movies. Distributors haven't seen an entry point to certain black movies so they haven't taken it on."
Perhaps with the success of "Moonlight," some of those entry points are now more clear. To Clanagan of Lionsgate's Codeblack Films however, the fault for the pervasive myth lies at the feet of international distributors themselves.
"It comes from the foreign distributors and studios," he says. "They have perpetuated and created a myth that black movies don't work over there."
When Deckter was president of IM Global, he sold "Lee Daniels' The Butler" and Marlon Wayans' "A Haunted House" to international distributors. "A Haunted House," a comedy starring Wayans and Essence Atkins, brought in $20 million internationally — on a $2.5 million budget. "Lee Daniels' The Butler" pulled in $60 million internationally, "twice as much as we thought," he says.
There are general ideas about what types of films do better in certain countries, though there are exceptions to every rule. Dramas, for example, don't play as well in Germany as they do in Britain. Comedies, unless they have huge stars, don't play as well in France, Italy, Germany and Spain. It's also difficult to translate comedy in hopes of connecting with an international audience, unless it's slapstick in nature like the "Ride Along" or "Big Momma's House" franchises.
And for those films that happen to have black casts, there is, in fact, a consistent market interested in seeing such stories; Britain, Australia, United Arab Emirates and South Africa are always popular locations.
"When people talk about 'black films,' the idea that quality is a factor [for the audience] is usually not considered," says director and producer Hudlin, noting that many believed "Django Unchained," the 2012 slavery western starring Jamie Foxx, wouldn't travel. The Quentin Tarantino-directed picture brought in $425.4 million worldwide, with $262.6 million at the international box office, nearly $100 million more than its $162.8 million in domestic ticket sales.
"It's not giving the same allowances to audiences [of films with black casts] that we do for other films," Hudlin says.
Such stigmatization shows up in the marketing schemes of films with diverse casts where U.S. posters of films are recast for some countries. Chinese posters for "Star Wars: The Force Awakens" shrunk the face of John Boyega, the black actor who played Finn, one of the film's lead characters. In 2013, Italian marketers prominently displayed Brad Pitt on a poster for "12 Years a Slave." Pitt had a cameo in the movie but his dominance on the poster overshadowed Chiwetel Ejiofor, the black star. .In a possible sign of progress, word is that the international posters for "Get Out" will feature Kaluuya, not his white co-star Allison Williams.
Challenging the status quo
The next black film that Deckter and Voltage Pictures is shopping to international buyers is "All Eyez on Me," the Tupac Shakur biopic set for a U.S. release June 16. Voltage made the deal to handle foreign distribution of the film in October, a comfortable gamble only because a similar film became a blockbuster years earlier.
"Two years ago, I don't think I would've taken the film on. But then a movie called 'Straight Outta Compton' came out and did gangbuster business worldwide," he says. "That was a proof of concept, if you will, that a black movie that's a biopic about music can work internationally."
Surely 2004's "Ray," starring Foxx as the internationally known singer Ray Charles, which pulled in almost $50 million internationally, should've been a proof of concept too.
Even so, Deckter says, "There is no marketplace for any product until you prove that there is one. Once you prove that there is one, if you deliver a film at a high enough level, there should be success to follow."
"Black films don't sell if the studios and marketing people aren't putting forth the right type of muscle to platform and position those films overseas," says Gil Robertson, president of the African American Film Critics Assn. "When it comes to marketing urban or black-starring films, unless it's a top tier talent like Will [Smith] or Denzel [Washington], they very often fail."
That's why Clanagan physically goes to the countries where his films are opening to help "craft the marketing and find the right influencers…. the same way I do it here."
Hudlin admits that after more than 20 years of pitching movies with multiethnic and black casts to studios, he no longer has to preface it by saying "films with black casts aren't just for black audiences." But there still is a hesitancy to greenlight such films.
"The next frontier is finally blowing up this myth," he says. "A lot of movies don't travel, unless they do."
Times reporters Amy Kaufman and Josh Rottenberg contributed to this article.
FOR THE RECORD: An earlier version of this article misspelled Don Cheadle's last name as Cheedle.
Get your life! Follow me on Twitter (@TrevellAnderson) or email me: trevell.anderson@latimes.com.
ALSO:
11 global hits that busted the myth that black films don't travel
With 'Love Jones,' black love took center stage: An oral history
Black film critics predict end of #OscarsSoWhite, say 2016 is best year ever for black people in film
Get the Indie Focus newsletter, Mark Olsen's weekly guide to the world of cinema.
You may occasionally receive promotional content from the Los Angeles Times.