Hundreds arrested as anti-corruption protests sweep Russia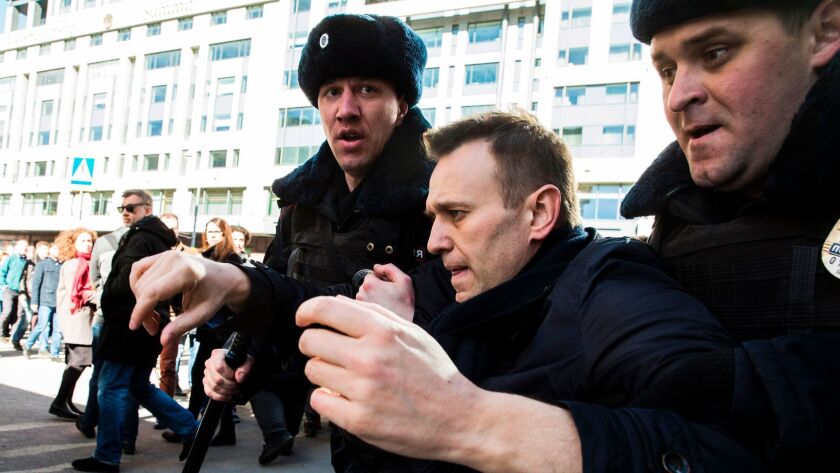 Reporting from Moscow —
Tens of thousands of people rallied, and hundreds were detained Sunday in Russian cities during massive, mostly unsanctioned rallies organized by anti-corruption whistleblower and opposition leader Alexei Navalny.
The demonstrations were the largest in Russia in years and came three weeks after Navalny's Fund to Fight Corruption released a YouTube documentary, now viewed 11 million times, detailing Prime Minister Dmitry Medvedev's purported involvement in massive corruption schemes.
Navalny had used a social media campaign to spread awareness of the demonstrations, during which protesters demanded the resignation of Medvedev, who once enjoyed a reputation as a moderate pro-Western and technocratic counterpart to President Vladimir Putin.
The documentary said the prime minister is now the billionaire owner of vast business holdings and a palatial complex larger than the Vatican.
Navalny is a complex and charismatic figure who has long been a thorn in the Kremlin's side and has been seen as a potential rival to Putin. His nationalist, anti-migrant rhetoric, along with his participation in rallies organized by neo-Nazis and white supremacists, has alienated some of Russia's liberal democrats but added to his popularity among Russians critical of the Kremlin amid growing xenophobia.
And he has a nearly unparalleled ability to rally followers despite the dangers inherent in public protest in contemporary Russia.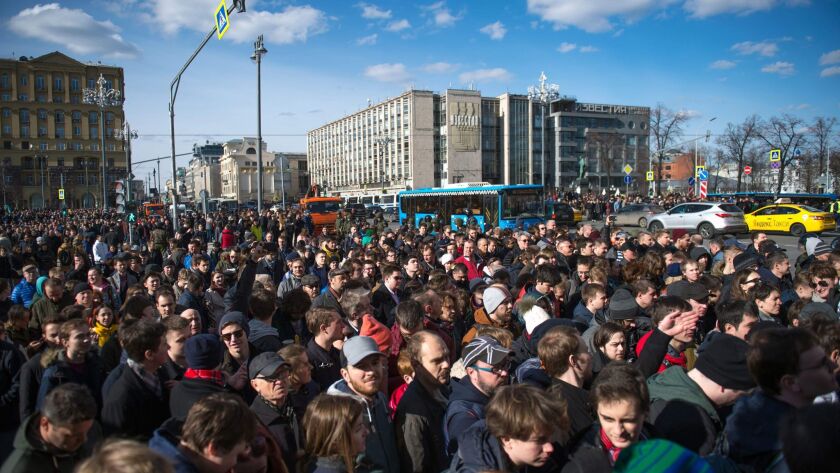 Police said that between 7,000 and 8,000 people marched in central Moscow, and that at least 100 were detained after police officers urged them to disperse and relocate their rally to the remote part of a park in the northern part of the capital, where authorities sanctioned a protest gathering. But the rally's organizers and independent monitors claimed that some 20,000 showed up and at least 880 people were detained in the capital alone by heavily armed, baton-wielding riot police officers.
Thousands turned out for separate rallies in Russia's largest cities, from Kaliningrad on the Baltic Sea to Volga River cities in central Russia to Vladivostok on the Pacific coast, the organizers said.
In St. Petersburg, Russia's second-largest city, police used stun guns while detaining dozens of protesters, opposition activists and independent media said. At least 200 people were brutally rounded up in Makhachkala, the capital of the violence-plagued, mostly Muslim southern province of Dagestan, the Nezavisimaya Gazeta daily reported. Another 200 were detained in the southern city of Krasnodar, the Kavkazsky Uzel website said.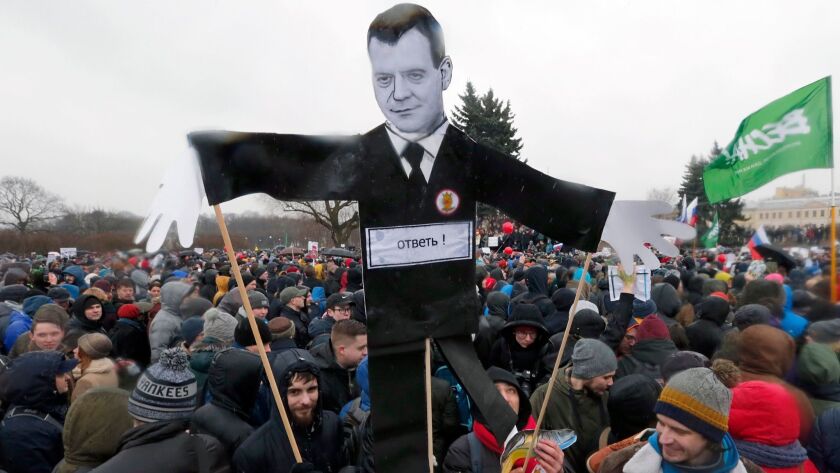 In Moscow, several protesters clashed with police after Navalny was rounded up just minutes after joining the rally. Protesters tried to block a slow-moving police van with Navalny, the 40-year-old head of the unregistered Progress Party, inside.
"Guys, no need to get me out," Navalny tweeted after the detention. "Keep going on Tverskaya Street [in central Moscow]. Our topic today is to fight corruption."
In the 50 minute-long documentary about Medvedev, Navalny claims that the prime minister used a network of charities and businesses registered to his friends and relatives to launder billions of dollars purportedly "donated" by Russian oligarchs. The assets include mansions and luxurious houses, vineyards in southern Russia and Italy, and two yachts, Navalny claimed in the documentary.
The Kremlin and state-controlled television networks ignored the documentary, and some of the officials and Medvedev's relatives mentioned in it denied their involvement in the schemes.
Sunday's rallies were Russia's largest since the 2011-12 protests against perceived vote-rigging in a parliamentary election and Putin's return to the Kremlin for a third presidency.
"We are so fed up with these crooks and thieves in the Kremlin. Now is the time they realize that they can't get away with robbing the country," one of the protesters, Ilya Zhilin, a 32-year-old computer engineer, said.
"This is our country. We are not their silent serfs," Oksana Kolesnichenko, a 22-year-old university student, said, pointing in the direction of the Kremlin. "We need to stop growing fat in front of computers. Got to get out and shout a little."
Minutes later, police forced protesters out of a square in Moscow, detaining people with banners, beating them and dragging them to police vans.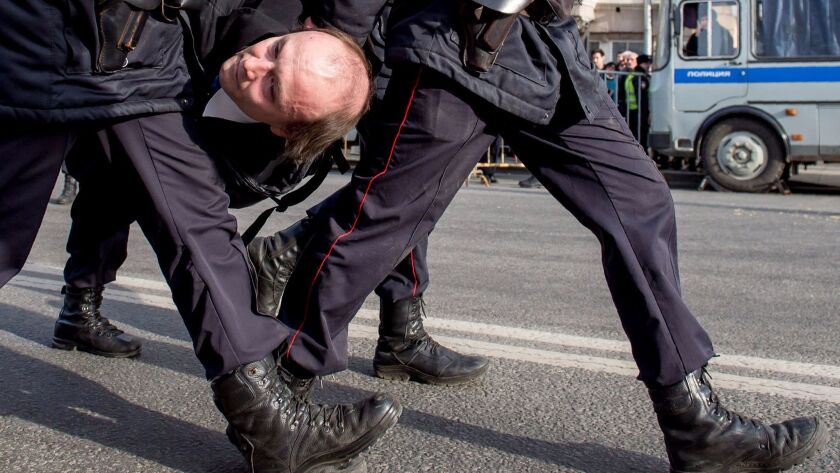 Police also raided the office of Navalny's fund, evacuating the building because of a purported bomb threat and detaining the staffers, Navalny's spokeswoman, Kira Yarmysh, tweeted. One of them was charged with extremism, she said.
Navalny said earlier that Sunday's nationwide rallies would start his presidential campaign ahead of the 2018 vote. But under the Russian election law, he cannot run because he has a criminal record — a suspended sentence for fraud. His lawyers are appealing the conviction.
The suspended sentence is seen widely as the Kremlin's way of banning Navalny from running without turning him into an imprisoned martyr like oil tycoon and Putin critic Mikhail Khodorkovsky, who spent almost a decade behind bars and now funds opposition groups and media from exile in Switzerland.
Navalny cut his teeth in politics by publishing dozens of investigative reports on corruption among top Russian officials. In 2013, he ran for mayor of Moscow and came in second with 27% of the vote, a result that shocked the Kremlin and political analysts.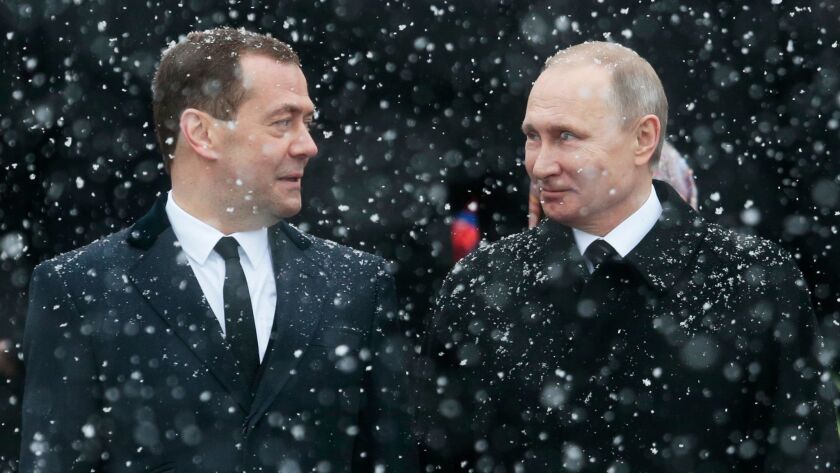 Medvedev, a bookish lawyer who worked in St. Petersburg's City Hall in the 1990s under Putin, a former KGB officer, served as Russia's president from 2008 to 2012 because Putin could not run for a third consecutive term because of constitutional limits. He initially was seen as a pro-Western liberal who proclaimed moderate reforms and pledged to crack down on corruption, but later was tarnished by a perception that he was a puppet of Putin's.
That perception solidified when Medvedev agreed to switch positions, becoming prime minister when Putin ran for a third term as president.
Mirovalev is a special correspondent.
ALSO
Ukraine president suggests a Kremlin-orchestrated attack after former Russian lawmaker is shot dead in Kiev
A small town in Belarus basks in the publicity of a Trump connection
Russian hackers were likely surprised by blowback from cyberattacks on U.S. elections, analysts say
---
Must-read stories from the L.A. Times
Get all the day's most vital news with our Today's Headlines newsletter, sent every weekday morning.
You may occasionally receive promotional content from the Los Angeles Times.