Carrie Lam, in a nod to Beijing, wins Hong Kong leadership race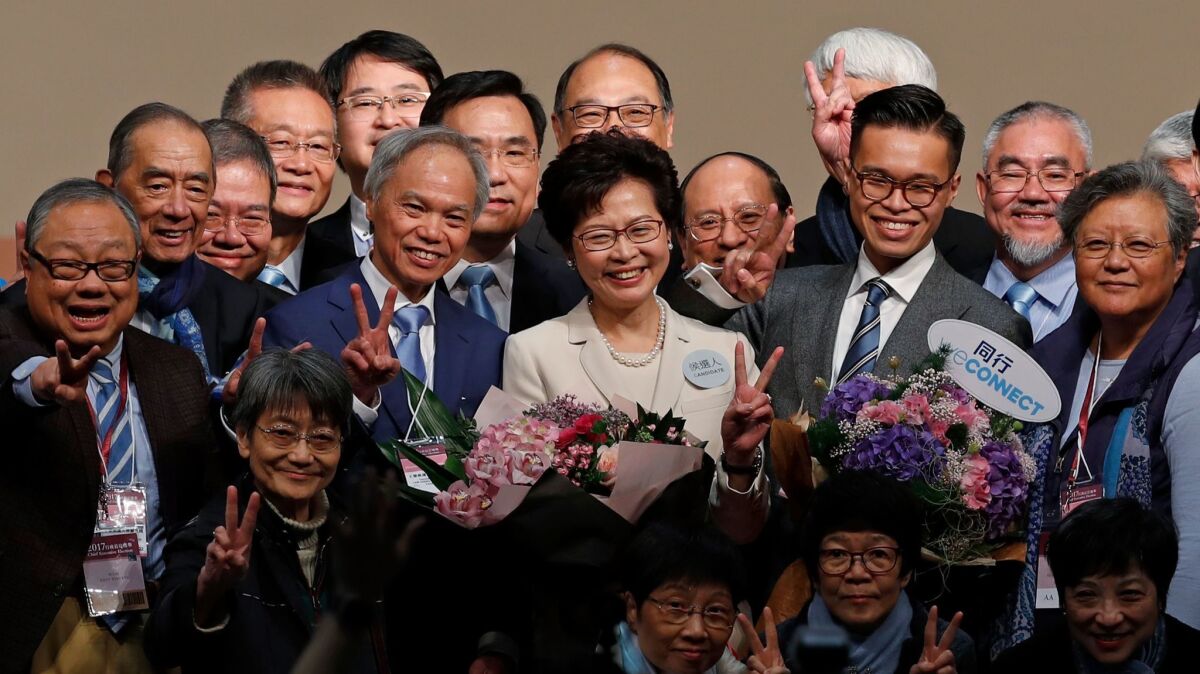 Reporting from HONG KONG —
A small circle of Hong Kong elites on Sunday chose a Beijing loyalist as the city's leader, a move that threatens further discord in a semi-autonomous territory torn by political divides.
A committee made of business and political officials selected Carrie Lam as the Chinese financial hub's first female chief executive, even though her main rival, former Finance Secretary John Tsang, had amassed far more public support.
Lam, the city's former No. 2 official, received 67% of the votes cast by the 1,194-member group, which is stacked with supporters of China's Communist government.
Her win — the first leadership vote since protests for greater autonomy erupted here in 2014 — reinforced Beijing's tightening grip and underscored the limited impact of popular sentiment in the city of 7.3 million.
Lam acknowledged the tensions in her victory speech, saying, "The work of uniting society and moving forward begins now."
She thanked her competitors from a stage framed by a Chinese flag and a slightly smaller Hong Kong one.
Many here consider Lam a Beijing appointee who will function as an extension of her ex-boss, the unpopular Chief Executive Leung Chun-ying. Electors acknowledged during the campaign that Chinese officials had lobbied them to vote for Lam, although Beijing's representatives in Hong Kong denied trying to influence members.
Lam, 59, now must navigate between a central government that desires more control and a populace that demands greater freedoms.
Rival demonstrators chanted Sunday in damp, drizzly weather near the harbor-side convention center where ballot boxes replaced the previous day's art show. Lam's supporters raised Chinese flags and cheered when they heard the vote's results. Another contingent waved signs that read "scam election" and screamed for universal suffrage.
"These candidates are not elected by the people, so they're all illegal," said Tam Tak-chi, vice president of the pro-democracy group People Power, who brandished a yellow umbrella in defiance and defense against the strengthening rain.
Umbrellas became the symbol of the 2014 protests, when thousands took to the streets to demand the right to choose their own leader. The 79-day campaign came in response to an offer from Beijing to allow everyone to vote from a pre-screened pool of candidates. Protesters viewed this as a sham, and the city's legislature rejected the proposal.
"Democracy is far away for Hong Kong people," said Joshua Wong, a student activist who helped lead the initial protests. "But we will keep persisting."
He called Lam's election "a nightmare."
Electors saw Lam as a stabilizing force in the rocky relationship with the Chinese mainland.
"If the chief executive has a better working relationship and cooperation with the central government, it will create miracles for Hong Kong and reduce a lot of unnecessary disputes," Li Ka-shing, the city's richest man, said at a news conference Thursday seen as implicitly endorsing Lam.
The pro-Beijing newspaper Wen Wei Po on Sunday encouraged its readers to "pick Carrie Lam; pick good government."
Since Britain returned the former colony to China in 1997, Hong Kong has operated under a "one country, two systems" framework that grants the territory civil liberties not accorded to the mainland, such as an independent judiciary and uncensored access to the Internet. But there is a concern here that Beijing has started wresting back those rights.
Lam will take the oath of office July 1, the same day Chinese President Xi Jinping is expected to make a rare visit to commemorate the 20th anniversary of the handover.
Lam and Tsang both spent their careers in government, and neither campaigned to radically alter the current system. But Tsang represented a less abrasive option for many here.
His moustache and smiley demeanor earned him the nickname "potato chip uncle," a reference to the chip mascot Julius Pringles. Two days before the vote, he drove around town in an open double-decker bus, taking selfies with the crowds.
The most recent Hong Kong University poll had put Tsang 27 percentage points ahead of Lam.
He told his supporters Sunday that he believed Lam would "stand by the core values of Hong Kong."
Lam took a more low-profile approach during the campaign and didn't engage with the public the way Tsang did.
A detail-focused manager, devout Catholic and mother of two, she had planned to retire until this opportunity arose. She campaigned on promises to reduce income disparities and unify the city.
Some fear she will further divide it.
The new chief executive is "elected to uphold the status quo, not to change it or to punch a hole in it," said Perry Lam, a Hong Kong media analyst and political commentator. "That's why Carrie Lam has the support of the property developers and business tycoons."
Lam faces a city laden with challenges. Record-high property prices are pushing out middle-class families, income disparities rank among the world's highest, economic growth has slowed and a younger generation is struggling to advance.
"Social grievances have reached a degree that people wonder why our government can tolerate such a situation," said Linda Li, political science professor at the City University of Hong Kong. "The government really has to act."
Lam said Sunday that she wanted more democracy. "But Hong Kong is facing a lot of problems," she said.
"Why don't we start with the easier subjects first?"
Meyers is a special correspondent.
Must-read stories from the L.A. Times
Get the day's top news with our Today's Headlines newsletter, sent every weekday morning.
You may occasionally receive promotional content from the Los Angeles Times.