Review: The opera villain was forced to lip-sync and a new star couple emerged at L.A. Opera's 'Tales of Hoffmann'
Music Critic
When Plácido Domingo walked on stage before conducting Offenbach's "Tales of Hoffmann" at the Dorothy Chandler Pavilion on Saturday night, he got what he always gets: an excited ovation.
Who's not happy to see the world's most beloved opera star? But as the audience quickly realized, it's never good news to see the general director of an opera company — as Domingo is of Los Angeles Opera — before a performance.
He was there to report that the evening's bass-baritone, Nicolas Testé, was not able to sing because of a throat problem, and it had been impossible to find a replacement on short notice. The best the company could come up with was singer Wayne Tigges, who would sing the roles of the opera's four villains in orchestra pit, while Testé acted, lip-syncing, on stage.
There was something charming about this Band-Aid solution. The production was by the conductor and general manager's wife, Marta Domingo. And for a moment one of the nation's top opera companies felt mom-and-pop personal.
The familial aspect was further enhanced by the fact that Testé is the husband of the production's star soprano, Diana Damrau, who also had her vocal issues. Struck with a bout of bronchitis last month, she earlier reduced her activities in the production, singing just one of the three main heroines, not, as she had planned, all three in this opera of three tales.
And now for the buried lead.
Forget family, even though Domingo did an admirable job coordinating the sunken substitute singer who sounded not so much below stage but in a realm far from the cast on stage.
Forget, please, this hokey old production, first given by the company 15 years ago.
Forget, even, the so-called hot new operatic couple, Damrau and tenor Vittorio Grigolo, where they were said to sizzle New Year's Eve at the Metropolitan Opera in Gounod's "Roméo et Juliette" (which will be televised on PBS on April 14).
The hot couple Saturday night was Grigolo and mezzo-soprano Kate Lindsey.
It just happened that Grigolo made his debut with L.A. Opera in 2011 also as Gounod's Roméo, here more smoldering than sizzling. He was a little hard to gauge having just come off the schlock circuit, singing cheesy Euro pop at Miss Universe contests and the like. He was boyishly romantic, hopping off balconies and sounding almost as if he could be the next great Italian tenor. The star power was unmistakable.
He was outstanding two years later singing the tenor part in Verdi's Requiem with Gustavo Dudamel and the Los Angeles Philharmonic at the Hollywood Bowl. But his overly romanticized image has meant difficulty establishing his credibility as a serious artist. He's getting there, but he still needs the right help, as his Hoffmann indicates.
Chemistry, though, is nothing he needs to worry about. He has it with all the women in the cast. He's still boyish and you would never know, watching him bounce around the stage like an acrobat, that he turned 40 last month. But you would know it vocally. His voice is at its prime, unwavering throughout a nearly four-hour opera. His high notes have a ping that brightened an often poorly lighted stage. But there is now a richness throughout his range.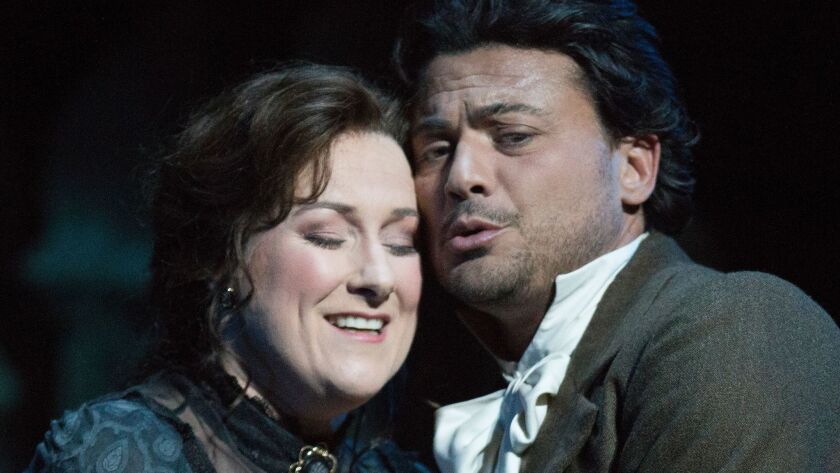 Domingo is a conductor who likes to empower singers, pushing them into the limelight, and you can't empower Grigolo too much or push him too hard. He's always ready for more.
Things clicked especially well with Lindsey. In "Hoffmann," a poet is infatuated with an opera star, Stella. He relates in a tavern three stories about fanciful, failed love affairs, all with women who embody some aspect of Stella. In this sometimes supernatural tale, the Greek muse of poetry disguises herself as his friend Nicklausse, who vainly attempts to protect Hoffmann from his romantic delusions. At every turn this is a villain, also the embodiment of the same character, who prevails.
Like Grigolo, Lindsey made her L.A. Opera debut in 2011. In her case, though, in Rossini's "The Turk in Italy," the voice was attractive, the persona a little bland. Two years later in another Rossini opera, "Cinderella," there were signs of blossoming. Her Muse/Nicklausse was full bloom.
With Grigolo milking the the poet's drunkenness and bouncing off the walls in a stupor, Lindsey proved a flesh-and-blood guardian angel whose eloquence of expression elevated all around her and, thankfully, when elevation was needed the most. She also could be very funny, and again thankfully, only when needed.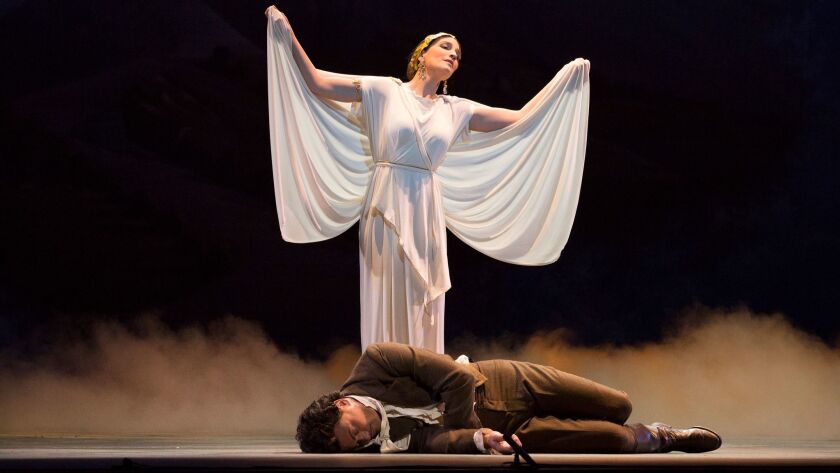 None of the three sopranos had an easy time of it in this production which made them seem unnecessarily frivolous. As Olympia, the mechanical doll that Hoffmann is tricked into believing is his love, So Young Park got by and sang spectacularly. Kate Aldrich's first challenge was to overcome her hoochie-coochie gown, which she did with relatively quiet seductiveness. Apparently back to full vocal health, Damrau, as the frail Antonia who sings herself to death, showed no signs of frailty as she sang herself to death with gusto. She also took the very minor role of Stella in the prologue and epilogue.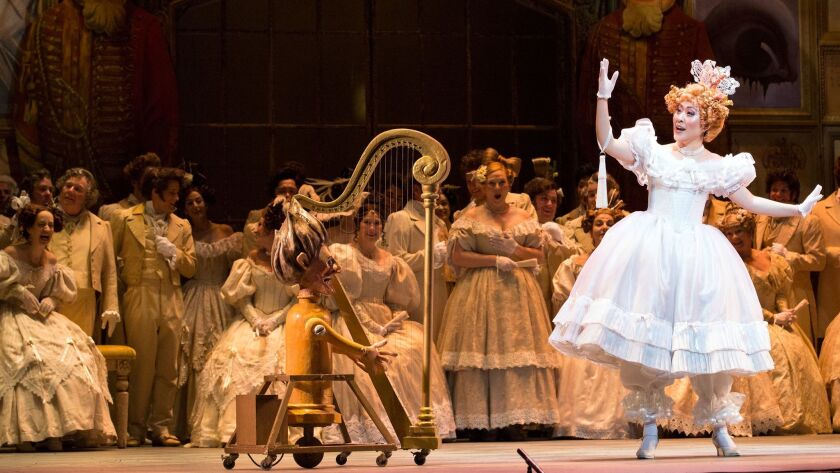 Marta Domingo takes credit for conception as well as direction, presumably meaning that Giovanni Agostinucci's retro sets and costumes, including lavish period dress for the excellent chorus, were her idea.
Otherwise, she doesn't seem to give the singers a great deal of useful guidance. Rather than try to save the day with an imaginative dramatic solution to Testé miming his role — say, using Tigges, who sang with conviction from the orchestra pit, in some way on stage as a doppelgänger — the villains came across as further mechanical dolls with disembodied voices. (Testé is expected to recover and sing for the rest of the run.)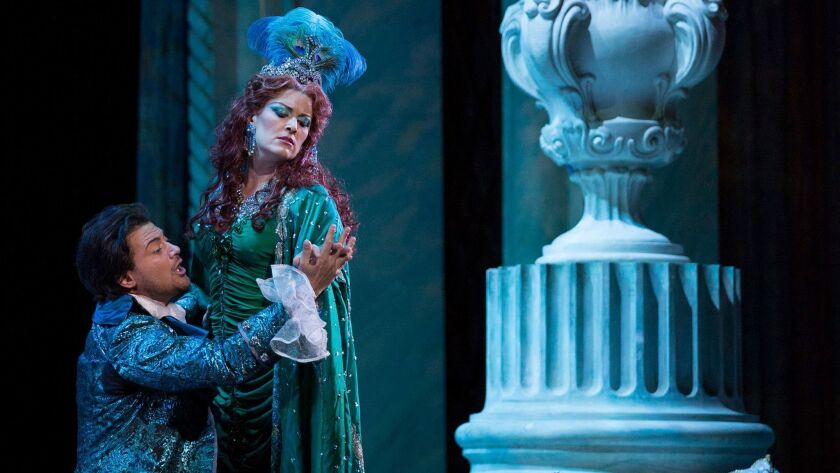 That said, there does seem to be an audience, and especially a new audience, for such campy opera, and the house was full. The question, now, is whether this is just an outing or something that will bring them back.
As I was leaving the hall, a young couple asked me take to their picture under the L.A. Opera logo illuminated on the side of the Chandler to show they had had a night at the opera. Just as I was about to snap, the sign went dark, as though to say L.A. Opera is not a place where the lights stay on, where opera matters beyond the moment.
"Oh, well," the woman said as I handed her phone back to her, "at least we have a nice picture together."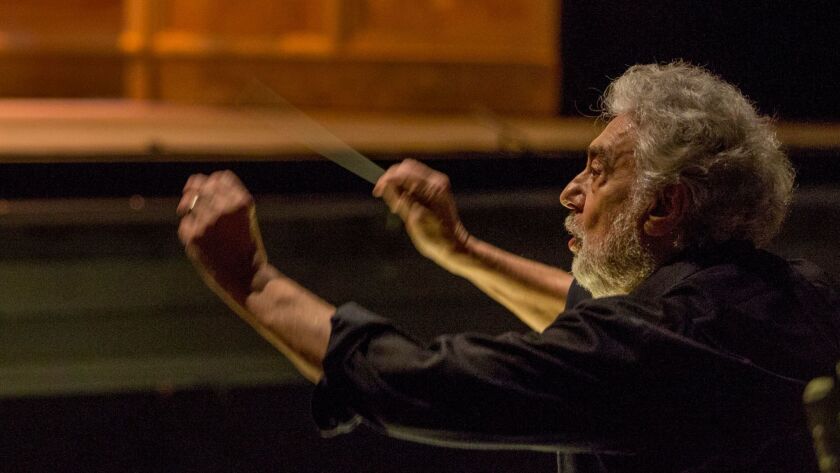 L.A. Opera's 'The Tales of Hoffmann'
Where: Dorothy Chandler Pavilion, 135 N. Grand Ave., L.A.
When: 7:30 p.m. Thursday, April 6 and April 15; 2 p.m. April 2 and 9
Running time: 3 hours, 45 minutes (with two intermissions)
Tickets: $24 and up
Information: (213) 972-8001 or LAOpera.org
ALSO
If Trump thinks artists are a problem now, just wait: Why history tells us the fight ain't over
The Trump budget would reverse JFK's idea of the president as arts patron in chief
Review: The global implications for a Scottish piano concerto based on the Rosary
Review: L.A. Phil's revelatory pairing of Beckett and Schubert, 'Night and Dreams'
---
Inside the business of entertainment
The Wide Shot brings you news, analysis and insights on everything from streaming wars to production — and what it all means for the future.
You may occasionally receive promotional content from the Los Angeles Times.