South Korean prosecutors want to arrest ousted President Park Geun-hye for corruption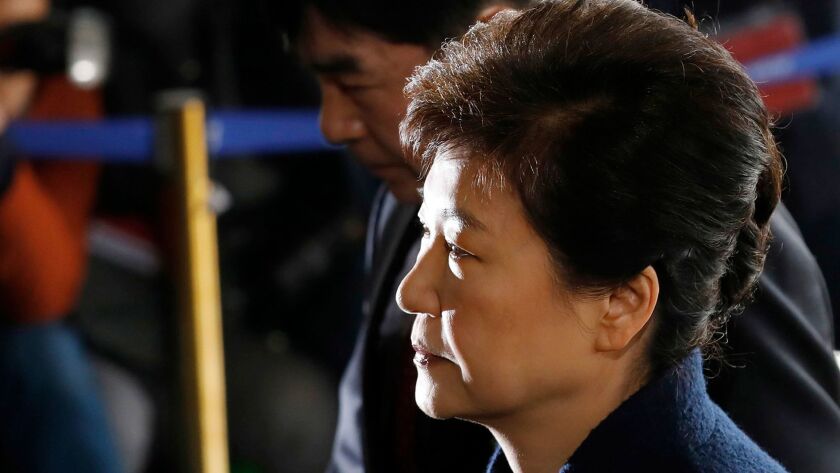 Reporting from SEOUL —
South Korean prosecutors said Monday that they would seek to arrest disgraced former President Park Geun-hye on multiple charges, including bribery and abuse of authority, related to a widespread corruption investigation.
The prosecutors said they plan to ask a judge here to detain Park pending a formal indictment related to 13 specific allegations, including bribery, abuse of power, coercion and disclosure of confidential information.
"The suspect has used her status as a president to receive money from companies and interfered with the freedom of business management, as well as leaking important confidential material related to the government," prosecutors in Seoul said.
Park's arrest, if approved, would be the latest twist in the high-profile corruption investigation that has led to charges against more than two dozen people, including several Park aides and the de facto head of the country's largest conglomerate, Samsung Group.
The announcement comes less than a week after prosecutors summoned the former president for more than 12 hours of questioning.
The National Assembly impeached Park in December amid allegations that she allowed a confidant to use her influence to extort money from the nation's largest companies and to access confidential government documents.
A court upheld that vote this month, and Park was removed from office. A special election has been called for May 9 to elect her successor while the prime minister remains the acting head of state.
Park had enjoyed immunity from criminal charges while in office, and two sets of prosecutors had been unable to compel her to answer their questions. Now living as a private citizen in Seoul's wealthy Gangnam district, however, Park finally submitted last week.
She rode to the prosecution office in a black limousine escorted by security cars and police motorcycles in an eight-minute procession carried live on television across South Korea. She arrived to find a sea of reporters.
"I feel apologetic toward the nation's citizens. I'll cooperate in the questioning sincerely," she said then.
Small details about the circumstances of her questioning have leaked — she had gimbap (seaweed rice rolls) and tofu balls for lunch and rice porridge for dinner — but little about the case had emerged until Monday.
Prosecutors said that the former president denied most of the allegations about a scheme with her confidant, a longtime friend named Choi Soon-sil, who remains jailed. Choi is on trial now on allegations that she took millions of dollars in donations from large South Korean companies for foundations or firms she controlled. Some of the companies have said they donated because they felt pressure from Park or the power of her office.
Prosecutors say those payments were bribes, and that they had no choice but to seek Park's arrest, given the seriousness of the allegations — and the fact that many others ensnared by the case await their fates from jail.
"As the suspect denies most of the criminal allegations, there is a possibility of her destroying evidence," the prosecution said in a statement. "It would be unfair not to seek a warrant considering that her accomplice Choi Soon-sil, as well as those government officials who followed her direction and the ones who gave kickbacks have all been detained," it said.
The public furor over the allegations involving Choi and Park — including allegations that Choi's daughter received preferential admission to an elite university — led to weeks of massive, peaceful street rallies reminiscent of the nation's transition to a direct presidential democracy in the late 1980s.
Public polls suggest that voters have turned away from Park's former ruling party, which has since splintered, making the election of a more liberal candidate a possibility for the first time in nearly a decade.
A change in ideology for South Korea's powerful chief executive could shift the nation's policy on North Korea and its posture with the United States on regional security. The leading candidate in the polls, Moon Jae-in of the center-left Democratic Party, has said he would delay deployment of an American-backed defensive missile system and be open to more engagement with North Korea, despite its refusal to stop developing nuclear weapons and technology to deploy them.
Park's administration has been pushing to quickly deploy the missile system, known as Terminal High Altitude Area Defense, or THAAD, in a southern South Korean province. It intended to protect American allies from medium-range missiles fired by North Korea, but it has also led objections from China.
Park is the first South Korean president to be removed from office through impeachment, but she's not the first to face criminal scrutiny after leaving. Two former presidents, Chun Doo-hwan and his successor, Roh Tae-woo, were charged in the mid-1990s with collecting money from businesses. They also faced sedition charges related to Chun's coup and a violent crackdown against pro-democracy protesters.
Chun and Roh received sentences of life and 22 years in prison, respectively, but they were later pardoned.
Another former president, Roh Moo-hyun, committed suicide by jumping from a cliff in 2009 after leaving office after prosecutors questioned him about alleged crimes by family members. He previously had survived an impeachment vote amid allegations of electioneering.
Stiles is a special correspondent.
ALSO
South Korea's upcoming presidential election could reshape its relations with North Korea — and the U.S.
South Korean prosecutors question heads of major conglomerates as corruption probe widens
Carrie Lam, in a nod to Beijing, wins Hong Kong leadership race
---
UPDATES:
9:40 p.m.: Updated with details, background.
This article was originally posted at 8:05 p.m.
---
Must-read stories from the L.A. Times
Get the day's top news with our Today's Headlines newsletter, sent every weekday morning.
You may occasionally receive promotional content from the Los Angeles Times.