Kobe and Shaq team up again at O'Neal's statue unveiling
Former Laker Shaquille O'Neal had a statue unveiled in his honor at Staples Center.
The two of them sat next to each other on stage. They laughed, they joked, they acknowledged each other's place in the franchise's lore.
As they did it, a fraught chapter in Lakers history closed.

For the record:
11:13 p.m. Nov. 26, 2022An earlier version of this article said Shaquille O'Neal's statute was the seventh outside Staples Center and omitteed Kareem Abdul-Jabbar's statue from the list. O'Neal's is the eighth.
"Brother, thank you," Shaquille O'Neal said to Kobe Bryant, standing on a stage at Star Plaza in front of Staples Center, as Bryant sat near him, smiling. "We pushed each other. We had our battles. We had our times. We always had respect for each other, and we were able to win three championships. Definitely couldn't have done it without you. I appreciate you very much."
Moments later, the crowd chanted a countdown, then a gold cloth fell, revealing a bronze sculpture hanging from a Staples Center awning, depicting O'Neal hanging from a rim after dunking with both hands, his feet swinging into the air.
"I'll probably come back out later tonight, about three, four in the morning, and just sit there," O'Neal said. "Looks good. Sculptors did an excellent job. Muscles look great. The face though looks like Stone Cold Steve Austin but that's OK. They did a great job."
On Friday afternoon, O'Neal's statue became the eighth at Staples Center. It hung just behind Jerry West's statue, and not far from Magic Johnson's. Kareem Abdul-Jabbar, hockey players Luc Robitaille and Wayne Gretzky, late broadcaster Chick Hearn, and boxer Oscar DeLa Hoya also have statues outside the arena.
"It was good to see them on the stage together," Lakers Coach Luke Walton said of Byrant and O'Neal. "They're great people. They're obviously one of the best duos of all time. What they accomplished together was just incredible. To see them up there, paying respects to each other, laughing on the stage, was a lot of fun. I think it was great for everyone that has loved the Lakers and the NBA."
More than a dozen former teammates attended, as did Dale Brown, O'Neal's coach at Louisiana State, and rapper Snoop Dogg. O'Neal asked each to stand up as their names were called. He recalled his memories of some of the most memorable moments of the Lakers three championship runs with Bryant.
He told of his first day in L.A., when some kid was passing him the ball for a workout. That kid was then-rookie Derek Fisher.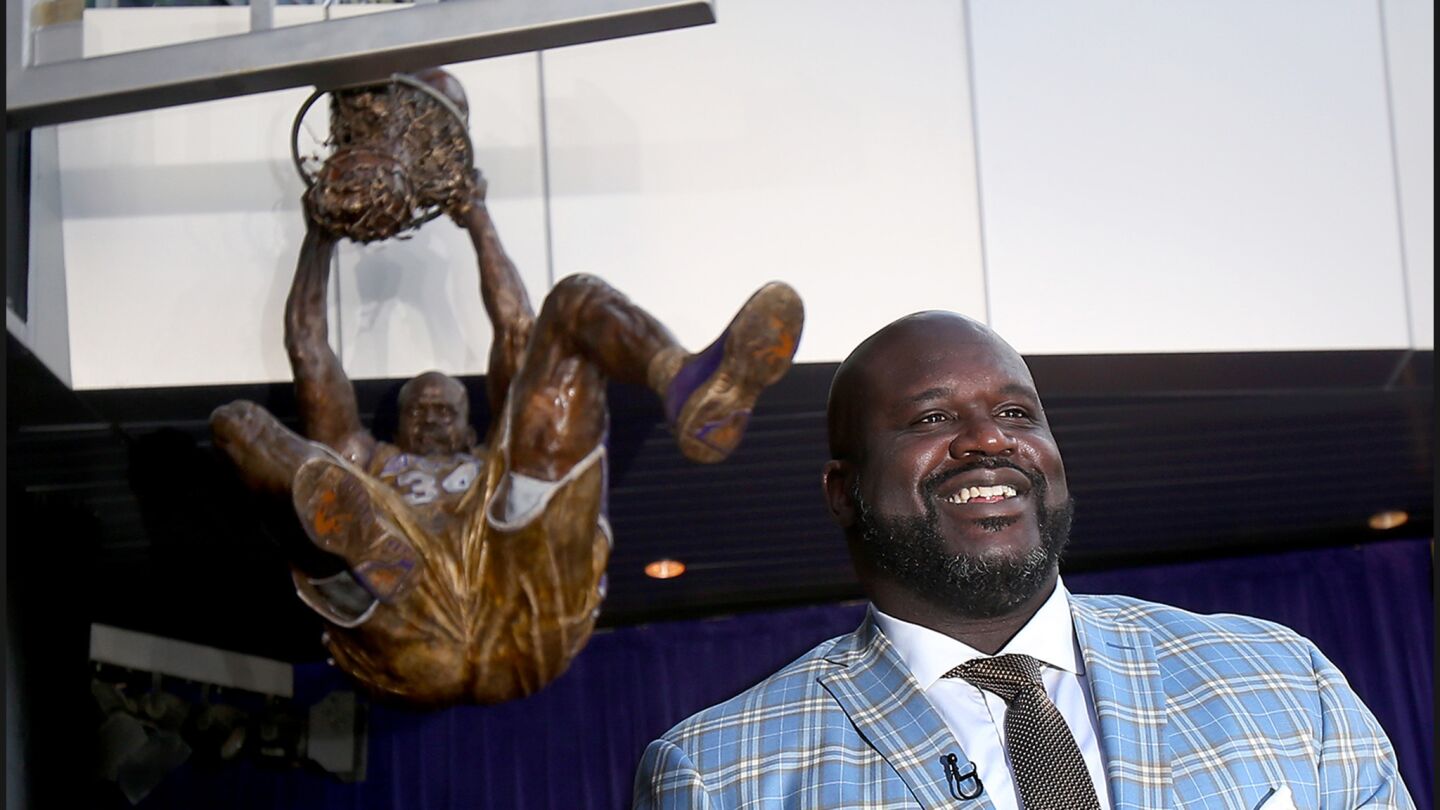 Former Lakers center Shaquille O'Neal is all smiles after the unveiling of his statue outside Staples Center.
(Luis Sinco / Los Angeles Times)
Confetti falls as Lakers great Shaquille O'Neal and members of his family unveil his statue outside Staples Center.
(Luis Sinco / Los Angeles Times)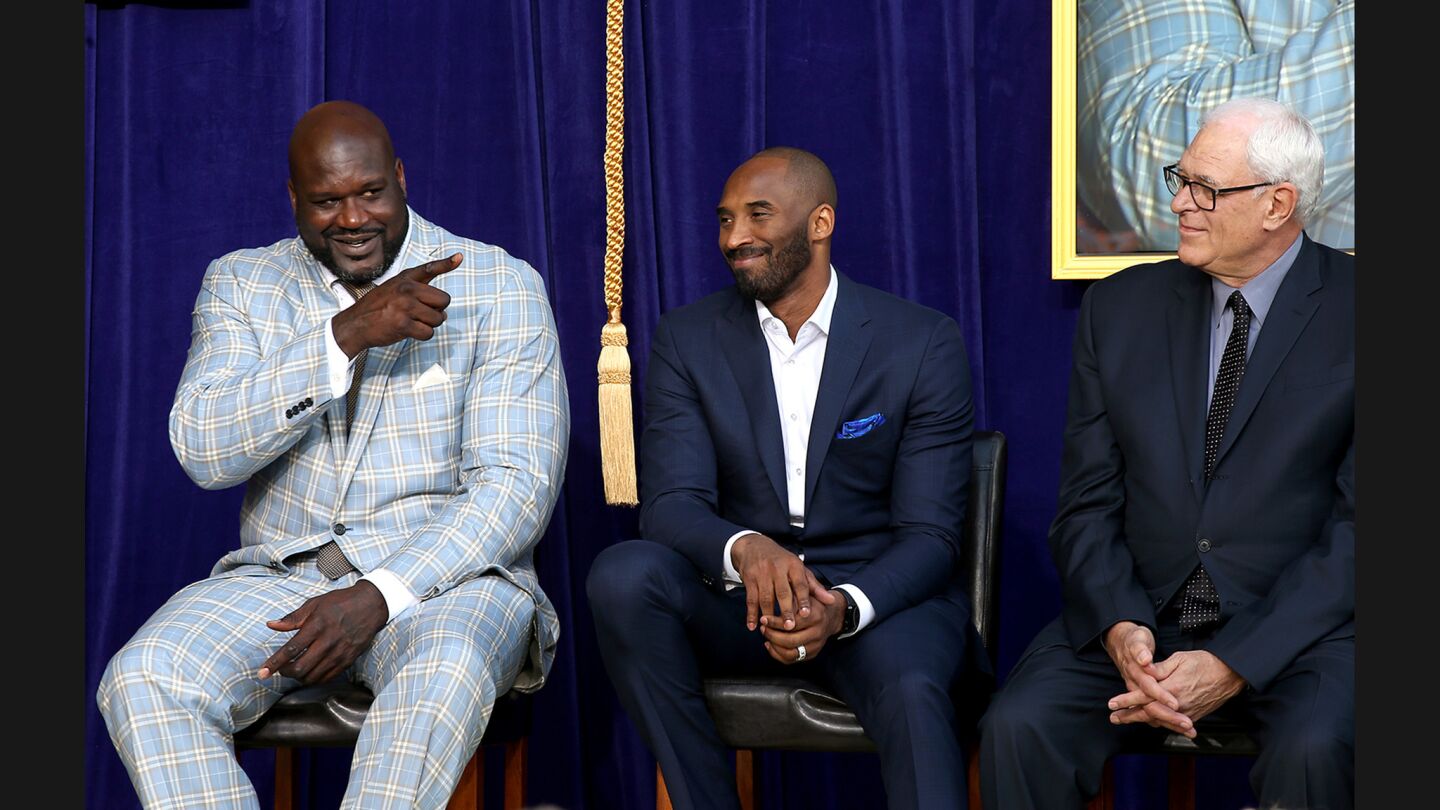 Lakers great Shaquille O'Neal is joined by former teammate Kobe Bryant and former coach Phil Jackson during the unveiling of his statue outside Staples Center.
(Luis Sinco / Los Angeles Times)
Lakers fans mill around a large inflatable likeness of former Lakers center Shaquille O'Neal before the unveiling of his statue outside Staples Center.
(Luis Sinco / Los Angeles Times)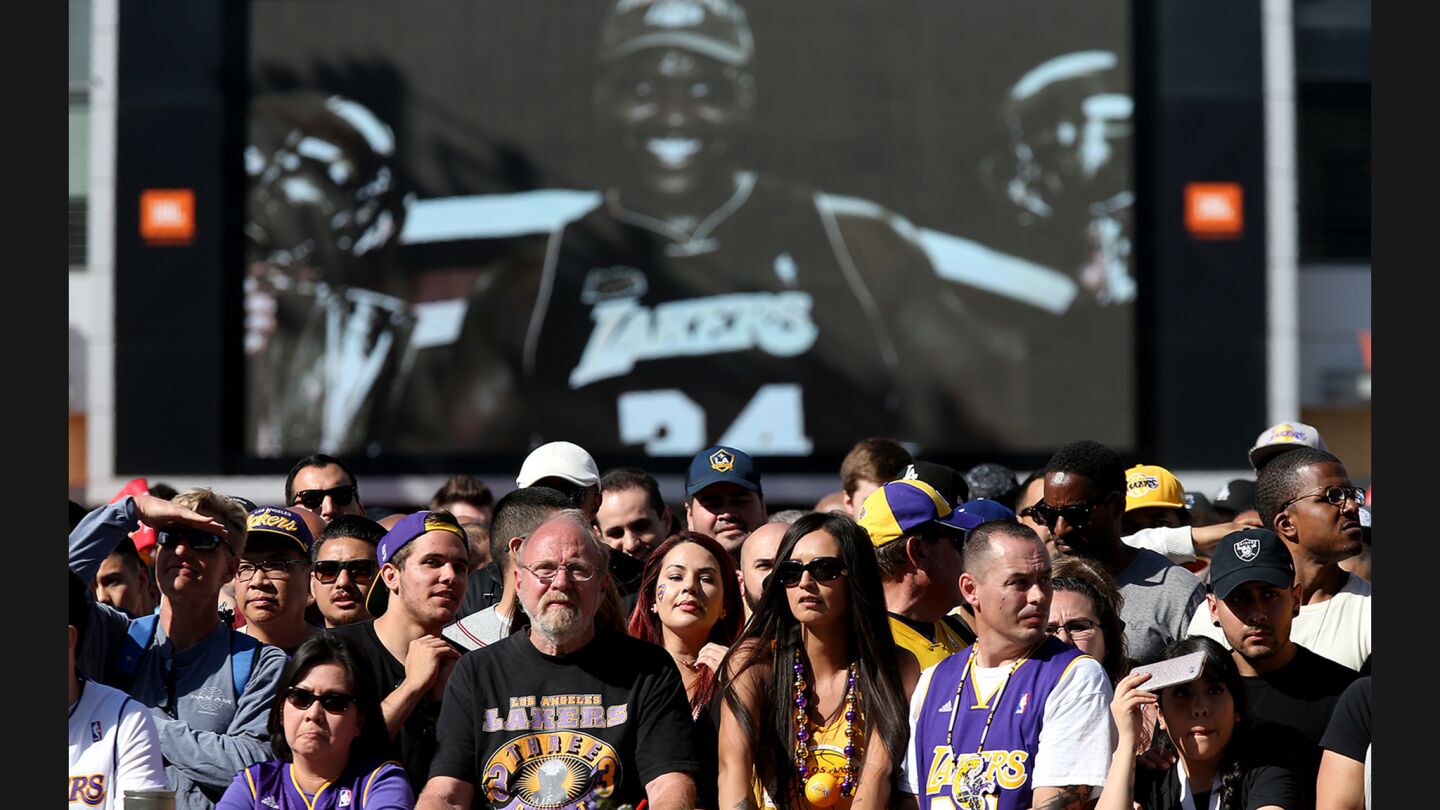 Fans gather outside of Staples Center for the unveiling of a statue of Lakers great Shaquille O'Neal.
(Luis Sinco / Los Angeles Times)
Future Hall of Famer Shaquille O'Neal, left, shares a light moment with another Lakers legend, Kareem Abdul-Jabbar, right, after the unveiling of O'Neal's statue outside Staples Center.
(Luis Sinco / Los Angeles Times)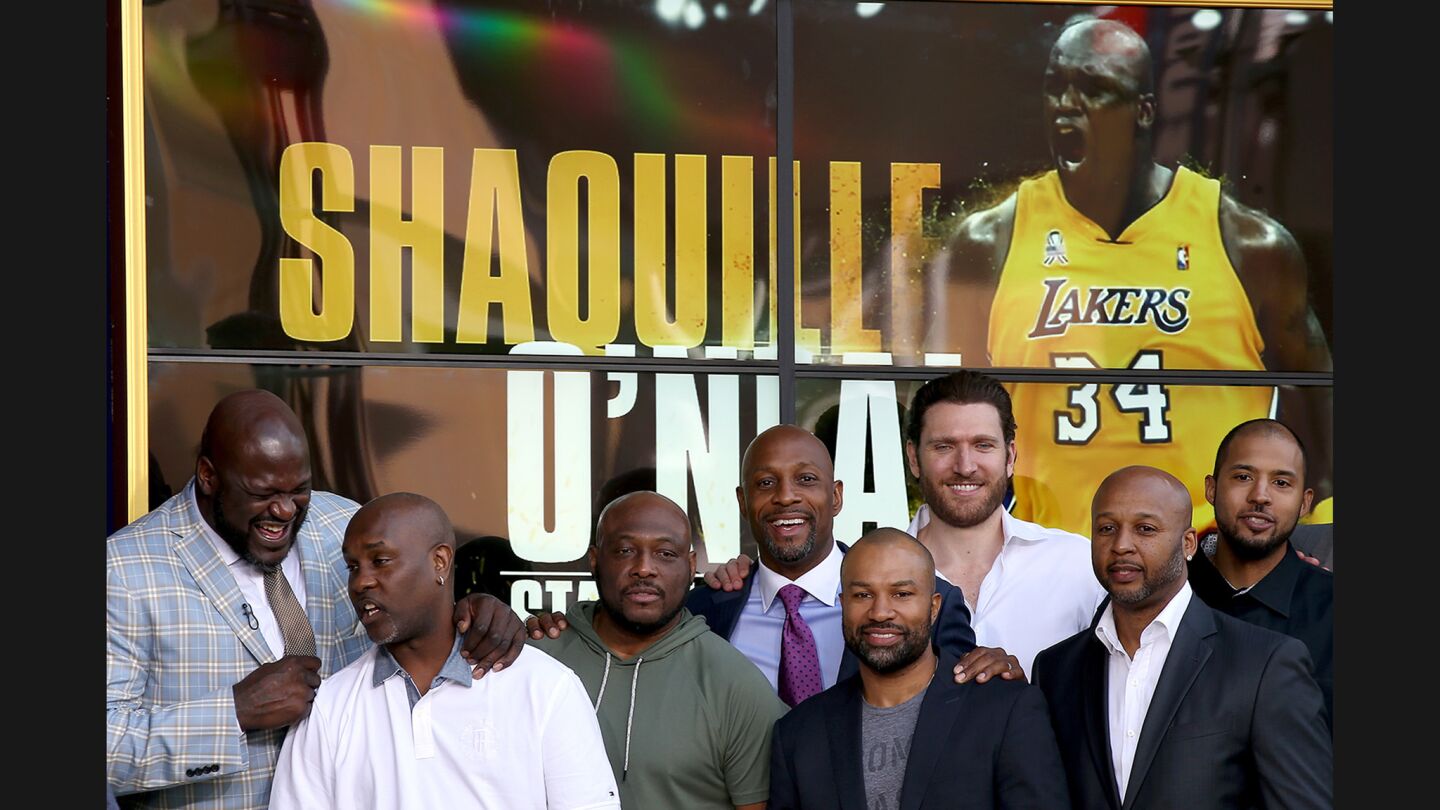 Shaquille O'Neal, left, poses for pictures with former teammates after the unveiling of his statue outside Staples Center.
(Luis Sinco / Los Angeles Times)
He told a story about his first year, when he claimed West told him former Utah Jazz big man Greg Ostertag needed to be punched in the face. O'Neal obliged with a slap to the face and got suspended.
"He used to threaten to punch me if I didn't throw him the ball or if I fouled him in practice," Walton said later. "And I listened to him. And that's without knowing the Greg story. So I'm glad that I did. Sounds like he might have followed through and really done it."
West spoke of O'Neal's generosity and his impact on people. Phil Jackson, who won five championships with the Lakers — three with O'Neal — Jeanie Buss and Staples Center president Lee Zeidman all spoke about O'Neal. Kareem Abdul-Jabbar offered mock shock that neither he nor O'Neal had won Academy Awards for their acting performances.
"Some people thought the odds of Kobe Bryant showing up today were the same as Shaq sinking a free throw," Abdul-Jabbar added.
When Bryant took the stage, he chuckled at the fact that in all the stories told before he spoke, none mentioned O'Neal's prowess as a basketball player. Bryant called O'Neal the most dominant player he'd ever seen.
"Kids," he said to O'Neal's six children in attendance. "You shouldn't know your dad was a bad man."
Bryant hadn't been to a Lakers event at Staples Center since his final game. He wasn't able to attend O'Neal's Hall of Fame induction or his jersey retirement ceremony
"It means a lot," O'Neal said later of Bryant's presence. "Definitely couldn't have done it without him. We will always go down in history as the most enigmatic, controversial, dominant one-two punch ever created. I think it would be more of a better story if we didn't win any championships. We won three out of four [NBA Finals]. It was excellent. Something I live with every day. I'm glad it happened the way it did because all we did was just push each other."
The final speakers were O'Neal's children. Taahirah O'Neal, Amirah O'Neal and Myles Baptiste spoke briefly and hugged their dad afterward. Occasionally, their father wiped his eyes.
When he came to Los Angeles in 1996, he wanted to be great. He wanted his name mentioned with Johnson's and Abdul-Jabbar's.
Now his statue hangs near theirs. For as long as Staples Center stands, O'Neal will be there, dunking off its side.
Follow Tania Ganguli on Twitter @taniaganguli
---
All things Lakers, all the time.
Get all the Lakers news you need in Dan Woike's weekly newsletter.
You may occasionally receive promotional content from the Los Angeles Times.