L.A. County will consider tighter rules for carpool and toll lanes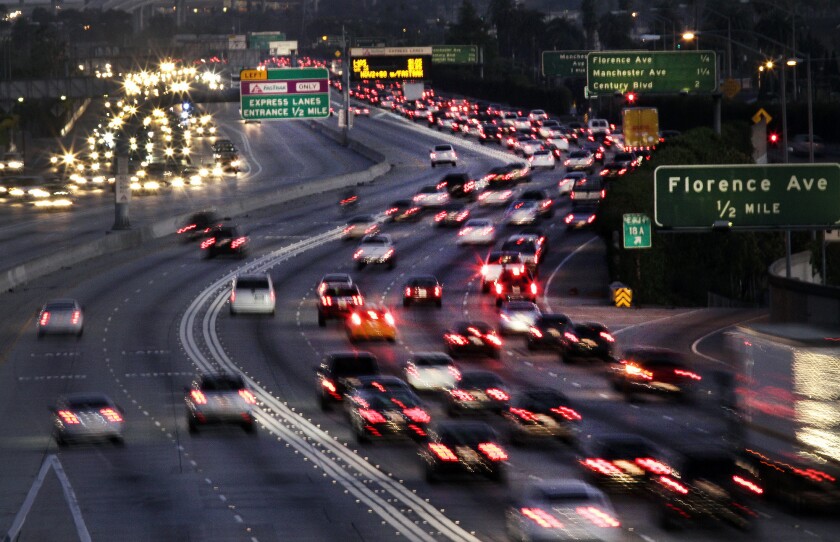 In an effort to improve sluggish speeds on the region's freeways, Los Angeles County transportation officials have agreed to examine whether to impose tolls on more carpool lanes and a higher passenger requirement for such lanes.
The Metropolitan Transportation Authority's board of directors voted 11 to 1 Thursday to ask for a study of those options, as well as recommendations for cracking down on carpool lane cheaters.
"This is something we have no choice but to do," Metro chairman and Duarte mayor pro tem John Fasana said. He noted that while the county's population continues to grow, the region has little space to expand the freeway network.
The vote comes as Southern California officials fight rising congestion amid a booming economy.
This is something we have no choice but to do.
— Metro chairman and Duarte mayor pro tem John Fasana
Carpool lanes and toll lanes that receive federal funds must maintain an average speed of 45 mph 90% of the time during peak periods. Two thirds of California's lanes did not meet that benchmark in the second half of 2015, according to the most recent data available from Caltrans.
L.A. County has toll lanes on the 110 Freeway south of downtown, and on the 10 Freeway between downtown and El Monte. Drivers can use the lanes for free if they carpool, and otherwise pay a per-mile toll that rises as the lanes grow more congested.
Currently, about half the drivers using those lanes are alone in the car.
Metro's study will include an examination of high-occupancy vehicle requirements across the county. Most require a driver and one passenger, but the 10's toll lane requires three people during peak periods.
"It's time that Caltrans look at three plus," Carrie Bowen, the director of Caltrans District 7, which includes Los Angeles, said during the Metro meeting.
California also allows solo drivers in low-emission vehicles to use carpool lanes, a policy aimed at encouraging the purchase of those vehicles. But some advocates have said that policy discourages carpooling.
Metro director Paul Krekorian, a Los Angeles city councilman, said during the meeting that he hoped the study would include an examination of whether carpool lanes should be restricted to "truly high-occupancy vehicles, like buses."
He also questioned whether carpool lanes should have stricter access requirements, citing the example of an adult with a toddler in the car.
"A 4-year-old child is not going to drive their own car, so it's really achieving no benefit," Krekorian said.
County Supervisor Sheila Kuehl was the only director to vote against the motion, saying if Metro required three people to qualify as a carpool, that could discourage two-person carpools, which still help address congestion and environmental issues.
A 4-year-old child is not going to drive their own car, so it's really achieving no benefit.
— Paul Krekorian, Metro director and Los Angeles city councilman
Metro's toll lanes have proved so popular that officials have struggled to keep traffic moving during peak periods.
When the lanes opened in 2012, officials believed that the toll lane algorithm, which modifies the per-mile fee as frequently as every five minutes, would be the only tool necessary to moderate congestion.
But charging the maximum price for a one-way trip has tamed congestion less than expected. The agency has raised the per-mile fee several times, in 10-cent increments, to little effect. It will rise again, to $1.80 per mile, on April 10, meaning the 110's maximum toll will be nearly $20.
When peak hour speeds fall below 45 mph, Metro now switches the toll lanes to "carpool only." In the 2016 fiscal year, solo drivers were barred from the lanes for 306 hours during morning rush hour, a 90% increase over the previous fiscal year.
Metro employees will also study how to increase enforcement for carpool lane cheaters, including solo drivers who switch their toll lane transponders to "carpool." That could include increased enforcement by the California Highway Patrol, as well as technology to detect how many passengers are in each car.
In the 2016 fiscal year, the CHP issued 8,122 tickets to carpool lane cheaters, a 29% increase over 2015.
Metro will also explore how to accelerate construction on new toll lane projects funded through Measure M, the sales tax for transportation projects that county voters approved in November. Those include an extension of the 110 toll lane south to the 405 interchange, and toll lanes on both directions on the 105 Freeway.
Twitter: @laura_nelson
ALSO
Man arrested in fatal drive-by shooting of 8-year-old Pomona boy
Reporter and photographers say they were assaulted by Trump supporters at Huntington Beach rally
Fans celebrate lives of Carrie Fisher and mother Debbie Reynolds at joint memorial service
---
The stories shaping California
Get up to speed with our Essential California newsletter, sent six days a week.
You may occasionally receive promotional content from the Los Angeles Times.