Dugout fall could send Andrelton Simmons to disabled list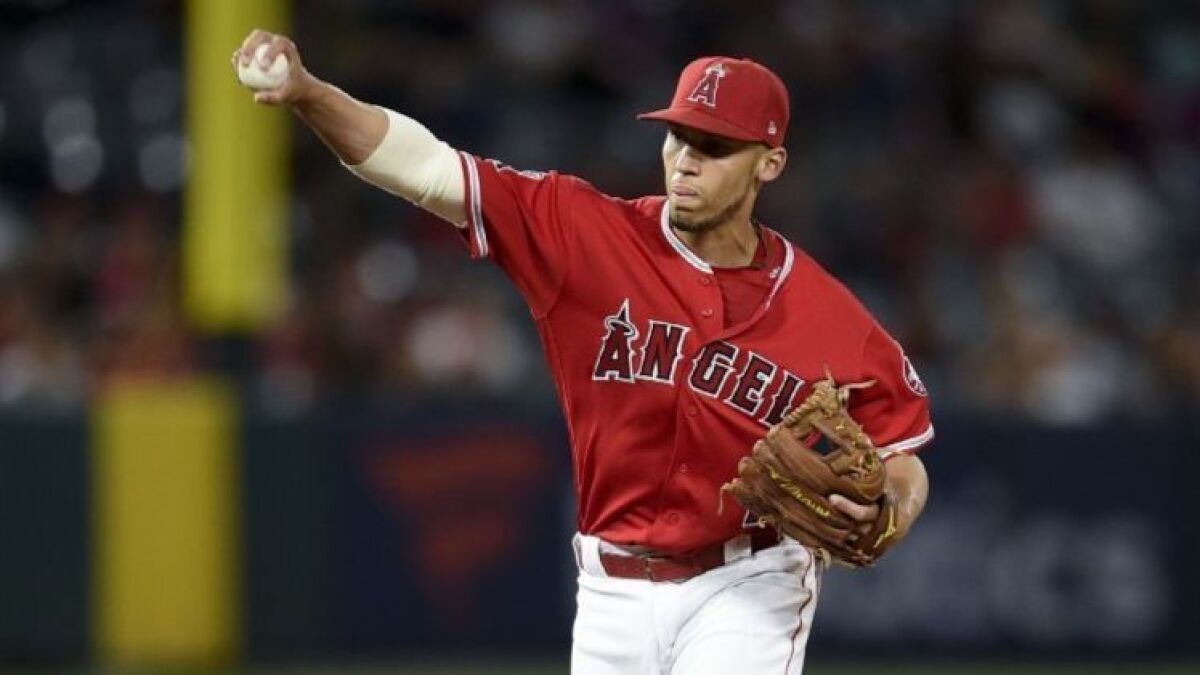 Andrelton Simmons suffered a gash on his left shin when he was spiked Friday night. The Angels shortstop bruised his left knee when he was hit by a pitch and his left wrist when he jammed it into the ground on a slide Saturday night.
None of those blows managed to do what the floor of the third-base dugout in Angel Stadium did Tuesday night: Knock Simmons out of a game and, possibly, send him to the disabled list.
A few minutes before Angels left-hander Andrew Heaney threw a one-hitter in a 1-0 victory over the Kansas City Royals, Simmons hopped down the three steps from the dirt track in front of the dugout to the dugout floor, like he has a few hundred times before.
This time, Simmons twisted his right ankle as his foot hit the bottom of the dugout. He crumpled to the ground and got up. He played the field in the top of the first inning, took a walk in the bottom of the first but barely made it to second base on Mike Trout's double-play grounder.
Simmons played one more inning in the field but was removed before the third inning because of a right-ankle sprain. When he finally arrived in the clubhouse long after the game had ended, Simmons was on crutches.
"Nothing is broke, but I sprained it pretty decent," Simmons said. "I tried to stay in the game, but they just thought it was smarter not to let me stay out there and have a chance of making it worse."
Simmons said there is a "possibility" he will go on the 10-day disabled list.
"I don't know," he said. "It's sore, but we'll see how it responds tomorrow and how it feels in the next couple of days."
Simmons has long been considered one of baseball's best defenders — at any position — but he emerged as an offensive force in 2017 and has been the Angels' most consistent and productive hitter not named Mike Trout in 2018.
He has baseball's seventh-best average (.330), a career-high .857 on-base-plus-slugging percentage, four homers, 12 doubles, two triples, 32 runs and 34 RBIs.
He has more than twice as many walks (24) as strikeouts (10) and has a major league-high streak of 69 plate appearances without a strikeout dating to a May 18 game against Tampa Bay.
But one little slip on the dugout steps could force Simmons to the DL, a move that would push third baseman Zack Cozart to shortstop and Luis Valbuena and Jefry Marte to third.
"I don't even remember exactly how it happened, but I know I was coming in," Simmons said. "It's simple and stupid, but it happens every once in a while, I guess."
What was going through his mind?
"It's just like, I hope I can keep playing, that's all I was thinking about," Simmons said. "I could play; I just wasn't moving at my best. I could have stayed out there, but I guess it wasn't the best solution. It is what it is. We'll see how it responds."
Simmons said he is not concerned about the injury sidelining him for an extended period of time.
"I know I'm going to be OK, it's just a matter of when I'm going to be ready to play," he said. "That's the only question I have. I know tomorrow is going to be a little tough. I've sprained my ankle before, so it's going to take one, two days, and after that I can move around pretty normally. So that's what I'm hoping for."
Follow Mike DiGiovanna on Twitter @MikeDiGiovanna
Get the latest on L.A.'s teams in the daily Sports Report newsletter.
You may occasionally receive promotional content from the Los Angeles Times.