How the Chargers and Chiefs match up in Week 15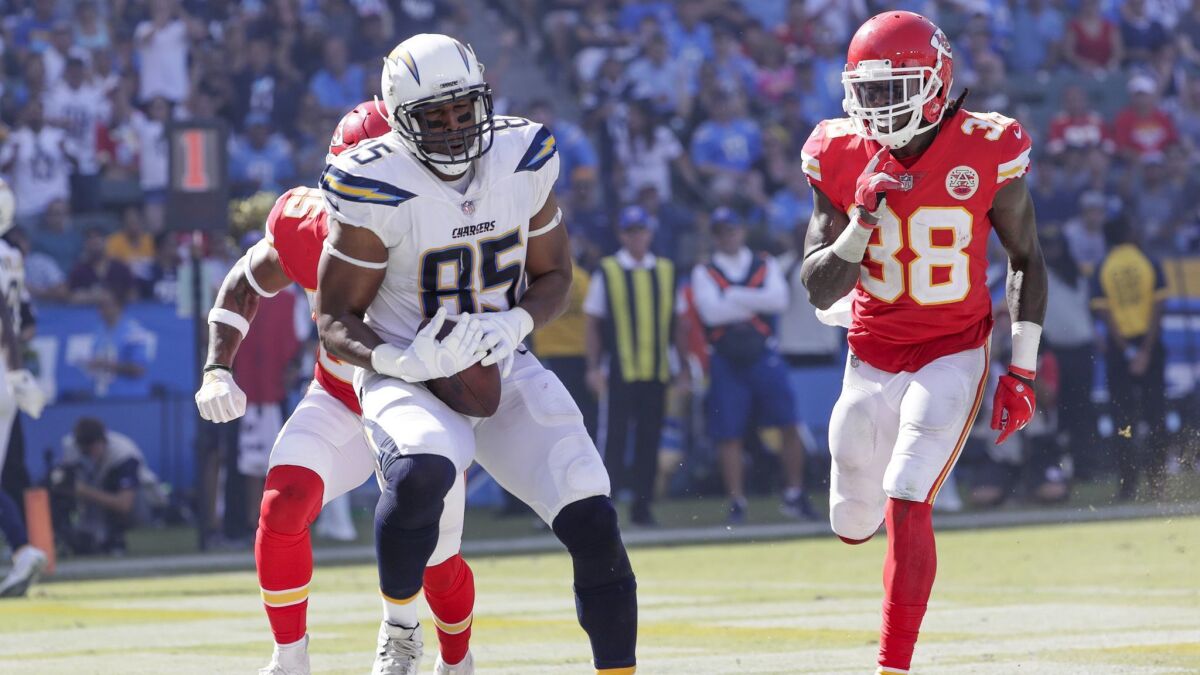 Chargers (10-3) at Kansas City (11-2)
When Chargers have the ball
During the season opener — a 38-28 Kansas City victory — Melvin Gordon and Austin Ekeler combined to carry 20 times for 103 yards and catch 14 passes for 189 yards. Because of injuries, the Chargers won't have Ekeler this time and might not have Gordon. Their next options are rookies Justin Jackson and Detrez Newsome and whatever offensive coordinator Ken Whisenhunt can concoct. The situation makes it less likely that the Chargers will be able to play ball-clock control and limit the opportunities for the Chiefs' high-scoring offense. As comfortable as Philip Rivers is playing shootout-style football, that doesn't seem prudent for the Chargers against a Kansas City team that leads the NFL in points and yards per game. There is a chance of rain in the forecast, which could potentially slow both offenses, though not likely enough to profoundly influence the outcome. Given their ailing backfield, the Chargers almost certainly will rely more on Rivers, who is having one of his most efficient and productive seasons. The circumstances might call for him to play a little more loosely in attempt to make big plays and keep the Chargers close.
When Chiefs have the ball
While the Chargers are hurting at running back, the Chiefs no longer employ Kareem Hunt, who led the NFL in rushing a year ago but is now out of the league because of off-the-field problems. His replacement, Spencer Ware, has been slowed this week by shoulder and hamstring issues and is doubtful to play, meaning both teams will be thin at running back. Kansas City remains plenty thick everywhere else on offense, led by quarterback Patrick Mahomes and Chargers-tormenting receiver Tyreek Hill. A variety of bumps and bruises have troubled Hill of late, although he's expected to play and — in likelihood — befuddle the Chargers again. His speed and elusiveness have confounded this defense, particularly over the last four meetings. The Chargers have given up seven touchdowns all-time to Hill, including two on punt returns. The directional kicking abilities of punter Donnie Jones could play a major part in this game.
When they kick
Rookie Michael Badgley is coming off a game in which he kicked four field goals, including a franchise long 59-yarder against Cincinnati. He is 14 of 15 on field goals and 20 of 21 on extra points. As a rookie a year ago, Harrison Butker set a Chiefs single-season record with 142 points. In 13 games, he kicked 38 field goals. His chances have dropped this season because his teammates have been more proficient getting into the end zone. Still Butker has been a solid 21 of 24 on field goals, though he has missed four extra points.
Jeff Miller's prediction
The home team has won 11 of 14 "Thursday Night Football" games this season and 51 of 78 (65%) dating to 2014. The Chiefs are 23-4 over their last 27 games at Arrowhead Stadium, which promises to be loud and a little tipsy by the time this game kicks off. The Chargers also have dropped nine games in a row to the Chiefs. Of those nine defeats, four were by one score but five were by 10 or more points. The Chargers are playing to clinch a postseason berth and a share of first place in the AFC West, though Kansas City would still retain the tie-breaker (division record). Their victory in Pittsburgh this month was impressive. But another road win in this spot seems like too much to ask.
CHIEFS 35, CHARGERS 30
Get the latest on L.A.'s teams in the daily Sports Report newsletter.
You may occasionally receive promotional content from the Los Angeles Times.