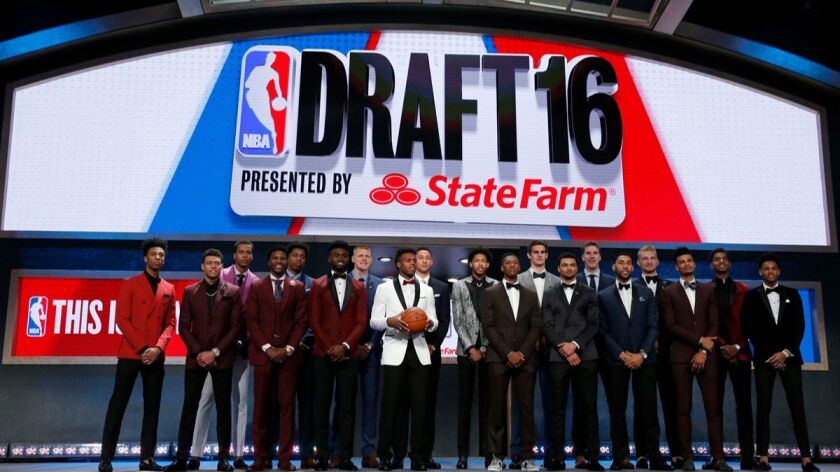 The Clippers are not in a position to participate in Thursday night's NBA draft because they don't have a selection in the first or second rounds.
But before the day is over, the Clippers could partake in the festivities if they make good on their plan to buy a second-round draft pick from another team.
It could cost the Clippers upward of $2 million to purchase an early second-round pick. But Clippers owner Steve Ballmer is supposed to be the richest owner of an American sports team, worth about $22 billion. So money should not be an issue.
The Clippers want in so they have an additional asset for the future, a young player they would most likely assign to their Agua Caliente Clippers of Ontario team, which will play in the NBA's Gatorade League.
If the Clippers get that second-round pick, the player also will play on their team in the NBA's summer league in Las Vegas.
According to several NBA executives who were not authorized to speak publicly on the matter, the Clippers have been calling teams who have second-round picks in the 35-50 range.
And several NBA teams have multiple second-round picks, which should make it easier for the Clippers to secure one. For example, the Philadelphia 76ers, along with the first overall pick in the draft, have four second-round picks — Nos. 36, 39, 46 and 50.
The Boston Celtics, who pick third in the draft, have the Nos. 37, 53 and 56 picks.
Teams with two second-round picks are the Orlando Magic (33, 35), Atlanta Hawks (40, 60), Houston Rockets (43, 45), New York Knicks (44, 58) and Denver Nuggets (49, 51).
The Magic and Utah Jazz each has two first-round picks, meaning they might be willing to part with one of their second-round picks to the Clippers.
Twitter: @BA_Turner
---