Dodgers' Adrian Gonzalez hopes conditioning will keep him in the game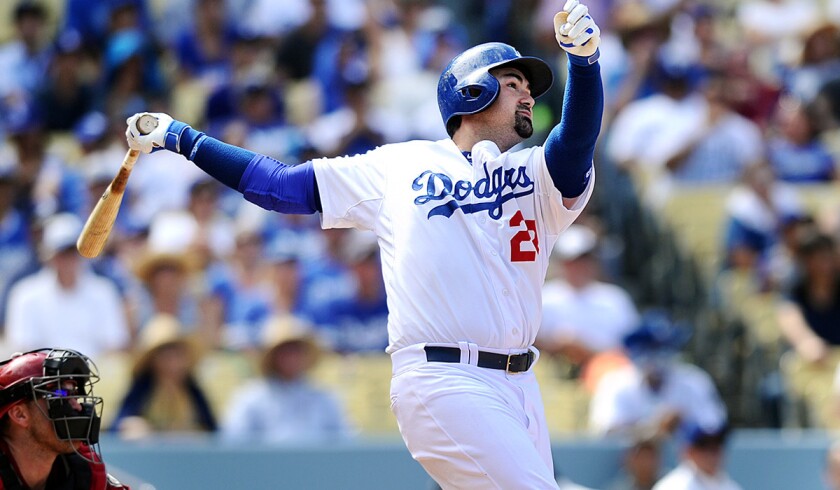 Reporting from PHOENIX —
In nine years as an everyday player in the major leagues, Adrian Gonzalez has never been on the disabled list. His focus during spring training is on extending that streak.
The four-time All-Star first baseman figures if he does he should post numbers on offense similar to those of last year, when he led the major leagues with 116 runs batted in.
"I think when you get to a certain level, you understand it's more of a process than a fight to get to certain places statistically," he said.
Gonzalez has played in an average of 159 games over the last nine seasons. He drove in 100 or more runs in seven of them.
"For me, if you're healthy and you do the process daily and you do the work, the numbers will be there," he said.
Gonzalez recalled the late Hall of Famer Tony Gwynn telling him, "You get in really good shape in the off-season not to hit more home runs, not to have better stats, but so that your body can hold up for 162 games plus the playoffs."
Gonzalez said his off-season training program was enhanced by his decision to live in Los Angeles year-round. In the past months, he was often at Dodger Stadium, working out under the watch of Brandon McDaniel, the Dodgers strength and conditioning coach.
"It's a huge upside to have a guy who's going to train you all season be the guy watching you," Gonzalez said. "He knows my body, he knows what I did this off-season. He gets to know me. That way, in the season, he knows when to back off, he knows when we should put the foot on the pedal and do more weights."
Gonzalez also worked out at the same Hollywood gym that is home to world boxing champion Manny Pacquiao. Gonzalez was trained by Marvin Somodio, an assistant to Pacquiao trainer Freddie Roach.
Gonzalez incorporated boxing into his training regimen during previous off-seasons, but said his work at the famed Wild Card Boxing Club was more intense than usual. He was permitted only 30-second breaks between spurts of activity.
The workouts were complemented by an improved diet. "We went vegan for a month, vegetarian a couple weeks," Gonzalez said.
Gonzalez also hired the team cook to prepare his meals. "For the first time in, like, 10 years, I stepped on the scale and saw weights below 220," he said.
Last year, Gonzalez said he reported to camp at 223 pounds.
Gonzalez thinks his conditioning could help him avoid slumps.
"A lot of slumps happen because your body is tired," he said. "Your body does something to try to make up for the areas that are tired and then you create bad habits."
Gonzalez's ability to produce consistently is vital for the Dodgers, who no longer have Matt Kemp and Hanley Ramirez. Manager Don Mattingly is mindful that Gonzalez will turn 33 in May and said he will take measures to ensure his middle-of-the-order anchor remains healthy.
"We do have a plan to hopefully give him more days off," Mattingly said.
There was a similar plan last season, but Gonzalez started 153 games, more than was projected.
"Adrian's pretty honest about how he feels and when he needs a day," Mattingly said. "Even on days he's playing, there are times he says, 'Hey, I'm not going to hit today.' He knows what he needs to get ready to play."
Short hops
Hyun-Jin Ryu, who was sidelined the previous two days because of tightness in his back, played catch Friday. … Kenley Jansen was fitted for a walking boot. The closer underwent a foot operation last week and reported to camp on crutches.
Twitter: @dylanohernandez
---
Get our high school sports newsletter
Prep Rally is devoted to the SoCal high school sports experience, bringing you scores, stories and a behind-the-scenes look at what makes prep sports so popular.
You may occasionally receive promotional content from the Los Angeles Times.