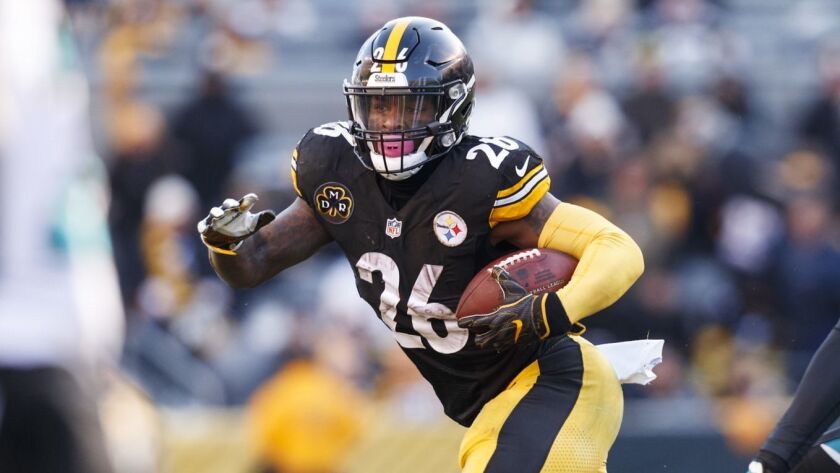 The Kansas City Chiefs have released five-time Pro Bowl safety Eric Berry, who has spent all nine of his NFL seasons with the team.
"We continually evaluate every aspect of our football team and we came to the decision that it was in our best interest to release Eric," Chiefs general manager Brett Veach said. "Knowing what Eric has meant to this organization and this city made this an incredibly difficult decision. We wish him nothing but the best."
Berry was diagnosed with Hodgkin's lymphoma in December 2014. He was declared cancer free the following June and played in all 16 games for the Chiefs in 2015, making the Pro Bowl and being named the AP comeback player of the year.
He signed a six-year, $78 million contract with the Chiefs in 2017 but played only four games, including the playoffs, since then.
Bell goes to Jets
Le'Veon Bell sat out a full season while considering where he'd make his next playmaking moves.
Well-rested, motivated and armed with a new contract, the star running back is joining Sam Darnold and the New York Jets.
Bell agreed to a deal early Wednesday morning. The decision ended months of speculation about where he'd resume his playing career after six years with the Pittsburgh Steelers.
ESPN first reported the signing, and said the deal is for four years and $52.5 million — including $35 million guaranteed.
Bell, a former Michigan State star, said on Twitter: "I'm back in the green baby, let's get it."
The 27-year-old Bell is a two-time AP All-Pro selection and three-time Pro Bowl pick who immediately upgrades the Jets' backfield.
Sign up for our daily sports newsletter »
The move to get Bell was the latest in a busy two days for general manager Mike Maccagnan and the Jets, who also have agreed to deals with linebacker C.J. Mosley, wide receivers Jamison Crowder and Josh Bellamy, and are re-signing defensive end Henry Anderson and backup cornerback Darryl Roberts. New York also acquired left guard Kelechi Osemele from Oakland over the weekend.
Ravens land S Thomas, RB Ingram
The Baltimore Ravens finally made their move during the NFL's free agent frenzy this week.
A person with knowledge of the situation says the Ravens will sign running back Mark Ingram and safety Earl Thomas.
Ingram played eight years with the New Orleans Saints and Thomas arrives after a nine-year run with Seattle.
The 29-year-old Ingram scored 50 touchdowns with the Saints and upgrades a Baltimore backfield that last year ended up counting heavily on rookie Gus Edwards.
Thomas is expected to replace free safety Eric Weddle, who was released last week and signed with the Rams.
Baltimore lost linebackers C.J. Mosley, Terrell Suggs and Za'darius Smith to free agency, a blow to the NFL's No. 1 defense in 2018.
Saints agree to terms with RB Murray
The New Orleans Saints have agreed to terms with free-agent running back Latavius Murray on a four-year contract.
Murray played for the last two seasons with the Minnesota Vikings following four seasons with the Raiders. He was a sixth-round draft pick by Oakland in 2013.
Murray ran for 578 yards with six touchdowns in 16 games, including six starts, for the Vikings in 2018. His 26 rushing touchdowns since 2016 rank fourth in the NFL.
The 29-year-old Murray was a Pro Bowl pick with the Raiders in 2015, when he ran for 1,066 yards and caught 41 passes for 232 yards. It was his only 1,000-yard season.
Patriots will keep CB McCourty
The New England Patriots' twin combination in the secondary will remain intact for another season.
A person familiar with the move says cornerback Jason McCourty has agreed to a two-year deal to remain with the Super Bowl champions.
A second person familiar with a separate deal says defensive back Eric Rowe will sign a one-year contract worth $4.5 million to join the Miami Dolphins. Rowe appeared in four games with the Patriots last season (two starts) before being placed on season-ending injured reserve with a groin injury.
For McCourty, who was signed to a one-year deal by the Patriots prior to last season, it means continuing playing alongside his twin brother and safety Devin McCourty. It also helps keep some continuity in New England's starting secondary, which features the McCourty brothers, safety Patrick Chung and cornerback Stephon Gilmore.
Jason McCourty appeared in all 16 games during the 2018 season, including 12 starts at left cornerback. He finished with one interception and 10 passes defensed.
Colts to re-sign CB Desir for three years
Cornerback Pierre Desir has agreed to a three-year, $25 million deal to stay with the Indianapolis Colts, a person with knowledge of the deal told The Associated Press.
Desir started 12 of 16 games last season and finished with 79 tackles, two forced fumbles and one interception.
He is the second cornerback to re-sign with Indy. Earlier Wednesday, the Colts gave cornerback Chris Milton a one-year contract extension.
Indy also is expected to sign receiver Devin Funchess shortly after the official opening of free agency. Funchess spent his first four seasons in the league with Carolina.
Cann to stay with Jaguars
Guard A.J. Cann has agreed to terms on a three-year contract with the Jacksonville Jaguars just hours before he would have become a free agent. NFL Network reported that it's worth $15 million.
A third-round draft pick from South Carolina in 2015, Cann started 59 of 64 games over four seasons for the Jaguars. He should provide some continuity and stability up front for new quarterback Nick Foles, who is expected to formally agree to a four-year, $88 million contract with the Jags when free agency officially opens.
Cann, left tackle Cam Robinson, left guard Andrew Norwell and center Brandon Linder will be returning starters for a team that plans to have a run-first mentality.
Titans agree with LB Wake on three-year deal
A person with knowledge of the decision tells the Associated Press that the Tennessee Titans have agreed to terms with Miami linebacker Cameron Wake on a three-year deal worth $23 million with $10 million guaranteed.
A five-time Pro Bowler, Wake has 98 career sacks in 10 seasons with the Dolphins. Wake, who turned 37 in January, had six sacks last season. With the Titans, he will help replace retired linebacker Brian Orakpo and linebacker Derrick Morgan, who's due to be a free agent.
The Titans also agreed to terms earlier Tuesday with guard Rodger Saffold with a four-year deal worth $44 million with $22.5 million guaranteed, two people familiar with the agreement told the AP. Saffold, who played left guard the past three seasons for the Rams, is expected to replace Quinton Spain, who becomes a free agent Wednesday.
Browns void verbal agreement with WR Perriman
The Cleveland Browns have voided their verbal agreement with wide receiver Breshad Perriman on a one-year contract, a person familiar with the decision told the Associated Press on Tuesday night.
Perriman, who revived his career in Cleveland last season, had agreed earlier in the day to sign a $4 million contract for next season. However, when the Browns stunned the NFL by agreeing to acquire superstar Odell Beckham Jr. from the New York Giants, Perriman asked out.
Both sides then mutually agreed to cancel the deal. Perriman quickly found a new home, agreeing to a 1-year contract with Tampa Bay, said another person with knowledge of the deal.
The Browns also may have filled a hole at linebacker, reaching agreement with free agent Adarius Taylor on a two-year, $5 million contract, a person familiar with the deal told The Associated Press.
Taylor, who spent the past four seasons with Tampa Bay, could move into the starting spot opened when Cleveland released Jamie Collins.
The 28-year-old Taylor made a career-high 10 starts last season and had 60 tackles with an interception and sack. The 6-foot-1, 230-pound Taylor could move into the lineup along with Joe Schobert and Christian Kirksey.
Falcons to add guards Brown and Carpenter
A person with knowledge of the decision tells The Associated Press the Atlanta Falcons have agreed to terms with guards James Carpenter and Jamon Brown. Carpenter's four-year deal is worth $21 million. Brown's three-year deal is worth $18.75 million.
On Tuesday, quarterback Matt Ryan agreed to restructure his contract to clear salary cap room. With $8.75 million of his 2019 base salary to be paid as a signing bonus, the team cleared $7 million in cap space, more than doubling available funds for free agency and the NFL draft.
---