Rams say hello to Eric Weddle, goodbye Lamarcus Joyner and wait on Todd Gurley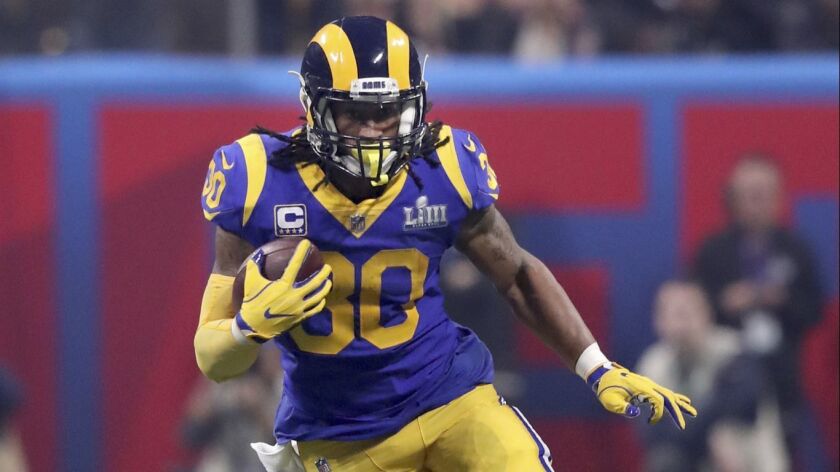 The Rams continued making moves Tuesday leading up to the official start of free agency Wednesday.
They also introduced new safety Eric Weddle, while preparing to say goodbye to safety Lamarcus Joyner and offensive lineman Rodger Saffold, who are reportedly set to sign contracts with the Oakland Raiders and Tennessee Titans, respectively.
The roster shuffle will continue through the next few weeks and the late-April draft.
And so, it appears, will questions surrounding the status of star running back Todd Gurley's left knee and the Rams' plan to address his workload and possible backup.
Malcolm Brown, Gurley's backup before suffering a season-ending clavicle injury Dec. 2 against the Detroit Lions, is a restricted free agent. The Rams on Tuesday put an original-round tender on Brown, giving the Rams the right of first refusal if he receives an offer sheet from another team.
C.J. Anderson, Gurley's replacement for the final two regular-season games and backup during the playoffs, is an unrestricted free agent. He will test the market, but the Rams might re-sign him.
Whichever direction the Rams decide, they must come up with a plan about how to manage Gurley as he enters his fifth NFL season. After receiving a $60-million extension last July, the 24-year-old helped lead the Rams to their second consecutive NFC West title. But his left knee — which underwent reconstructive surgery in 2014 while Gurley was in college at Georgia — required medical attention during a game against the Philadelphia Eagles and he had to sit out the final two games.
After Gurley rushed for 115 yards and a touchdown in a playoff game against the Dallas Cowboys, he got only five touches in the NFC championship game against the New Orleans Saints, and gained only 35 yards in 10 carries in the Rams' 13-3 Super Bowl loss to the New England Patriots.
Asked Tuesday if Gurley was suffering from arthritis or another degenerative condition, coach Sean McVay and general manager Les Snead did not provide a definitive answer.
"I don't know exactly, medically, when you categorize what arthritis is, but I've never seen a guy on the medical report or on the injury report with that," McVay said after a news conference for Weddle. "And I think If you just said, 'Is there a wear and tear? Was there a pounding that that knee took?' Absolutely. … He's the only one that can really talk specifically about how his body feels."
If it were arthritis, "all you got to do is take Aleve," Snead quipped.
"I think that with all NFL football players, that when it comes to trying to be fresh at the end of the year, there is an element, probably, of shades of gray of how fresh you are and what that reason is," he said.
Asked if the Rams were concerned that Gurley might not be the same player he was during his first four seasons, when he rushed for 4,547 yards and scored 56 touchdowns, McVay said, "you got to let it play itself out. ... Like anything else, it's an ongoing evaluation."
Brown, also a special teams standout, was productive when given opportunities to carry the ball before he was injured. Anderson rushed for more than 100 yards in three consecutive games and played extensively in the conference title game and Super Bowl.
Anderson said after the season that he would welcome a return to the Rams but would test the market. Snead is monitoring the situation.
"We did tell him there is a chance his success with us down the stretch might make him a little bit more expensive to afford based on the salaries in our running back room," Snead said. "So ... at that point, I could see us going, 'Hey, we believe in Malcolm Brown,' and then you might look in the draft for a complement or things like that."
Gurley will be running behind a reconfigured line that might be missing two starters from last season. The Rams did not exercise an option on center John Sullivan. Saffold, the longest-tenured Rams player, will receive a four-year, $44-million deal from the Titans, with $22.5 million guaranteed, according to reports.
Second-year pro Joseph Noteboom could start in place of Saffold, and second-year pro Brian Allen in place of Sullivan.
Weddle, a six-time Pro Bowl selection, solidifies a defense that retained edge rusher Dante Fowler but is searching for replacements for inside linebacker Mark Barron and defensive tackle Ndamukong Suh.
The Rams initially were the last team that the 34-year-old Weddle planned to speak with after the Baltimore Ravens released him last week. The Rams pushed to meet with him first, and the strategy paid off when he signed a two-year, $10.5-million contract Friday.
"This is really a great opportunity for myself to continue my dream," said Weddle, a 12-year veteran who attended Alta Loma High in Rancho Cucamonga.
Much like tackle Andrew Whitworth a few years ago, the Rams are adding a player that brings experience and the ability to mentor other players, Snead said.
Weddle last Thursday went to dinner with a Rams contingent that included McVay, Whitworth, defensive coordinator Wade Phillips, safeties coach Ejiro Evero, cornerbacks coach Aubrey Pleasant and linebackers coach Joe Barry, who was on the Chargers staff when Weddle played for the team during the first nine years of his career.
"Sean and I probably talked four or five hours over Thursday and Friday," Weddle said. "Just everything — football, life, people, players, scheme, and it was great to see the guy behind the guy…. His personality and mine, it was like we're talking to each other, it was really weird at times, but it was awesome because I knew after a short time that we were going to mesh."
Etc.
The Rams put a second-round tender for $3.1 million on middle linebacker Cory Littleton, a restricted free agent. Littleton can receive an offer sheet from another team, but the Rams have the right of first refusal to match. If Littleton signed with another team, the Rams would receive a second-round draft pick as compensation. Brown and cornerback Troy Hill, who were undrafted free agents, and Blake Countess, a sixth-round pick by the Philadelphia Eagles in 2016, received original-round tenders. The Rams have the right of first refusal on all.
Sign up for our daily sports newsletter »
Follow Gary Klein on Twitter @latimesklein
---
Get the latest on L.A.'s teams in the daily Sports Report newsletter.
You may occasionally receive promotional content from the Los Angeles Times.