Le'Veon Bell will leave Steelers and become an unrestricted free agent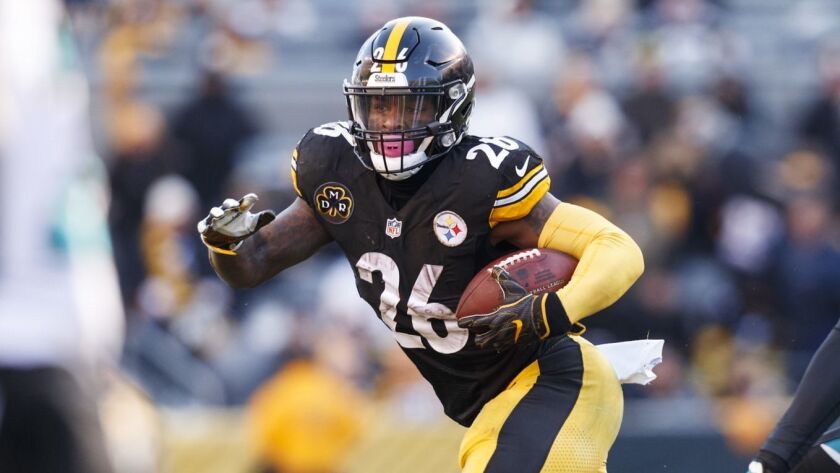 The bell has tolled for Le'Veon Bell's career with the Pittsburgh Steelers.
Steelers general manager Kevin Colbert said the team will not use the transition tag on Bell, meaning he'll be an unrestricted free agent when the free agency signing period begins March 13.
"Le'Veon is still a great player. We can't afford to use any other type of tags," Colbert said Wednesday, per ESPN's Jeremy Fowler. "Le'Veon will be an unrestricted free agent at the start of the new league year."
Bell sat out the entire 2018 season after refusing to sign his $14.5-million franchise tender in hopes of landing a long-term contract extension after playing on the non-exclusive franchise tag in 2017. After missing the November signing deadline it became clear that Bell almost certainly would never play again with the Steelers.
The Steelers ultimately had two options this offseason when it came to Bell's future with the team — let him walk into free agency or place him under the non-exclusive franchise or transition tags. The transition tag is a one-year tender that would have allow Bell to negotiate contract offers from other teams. The Steelers would have the right to match any offer sheet Bell signs from another team but would receive no compensation if they couldn't match that offer.
The non-exclusive franchise tag likely wasn't an option since the third-year tag terms as stipulated by the collective bargaining agreement would have paid Bell more than $20 million for one season — vastly more than market value.
It appears the Steelers are willing to put the years-long drama surrounding Bell's future with the team behind them since there was potential for a dispute with the NFL Players Assn. over what the transition tag number should be for Bell. Bell told ESPN in October he believed the Steelers would use the transition tag on him.
The two-time All-Pro is one of NFL's best dual-threat running backs, accumulating 1,291 rushing yards and 655 receiving yards in 2017. While the emergence of James Conner in the Steelers' backfield last season made Bell somewhat expendable for the Steelers, he'll be arguably the biggest prize in a talent-rich free agency pool that could include DeMarcus Lawrence, Jadeveon Clowney and Nick Foles.
Bell's absence, along with Antonio Brown's expected move out of Pittsburgh, means the Steelers' offense will have a much different look in 2019.
Twitter: @AustinKnobby
---
Get the latest on L.A.'s teams in the daily Sports Report newsletter.
You may occasionally receive promotional content from the Los Angeles Times.