'Everything Everywhere' cast and crew visited Monterey Park on eve of Oscars noms: 'This is not the time to stay away'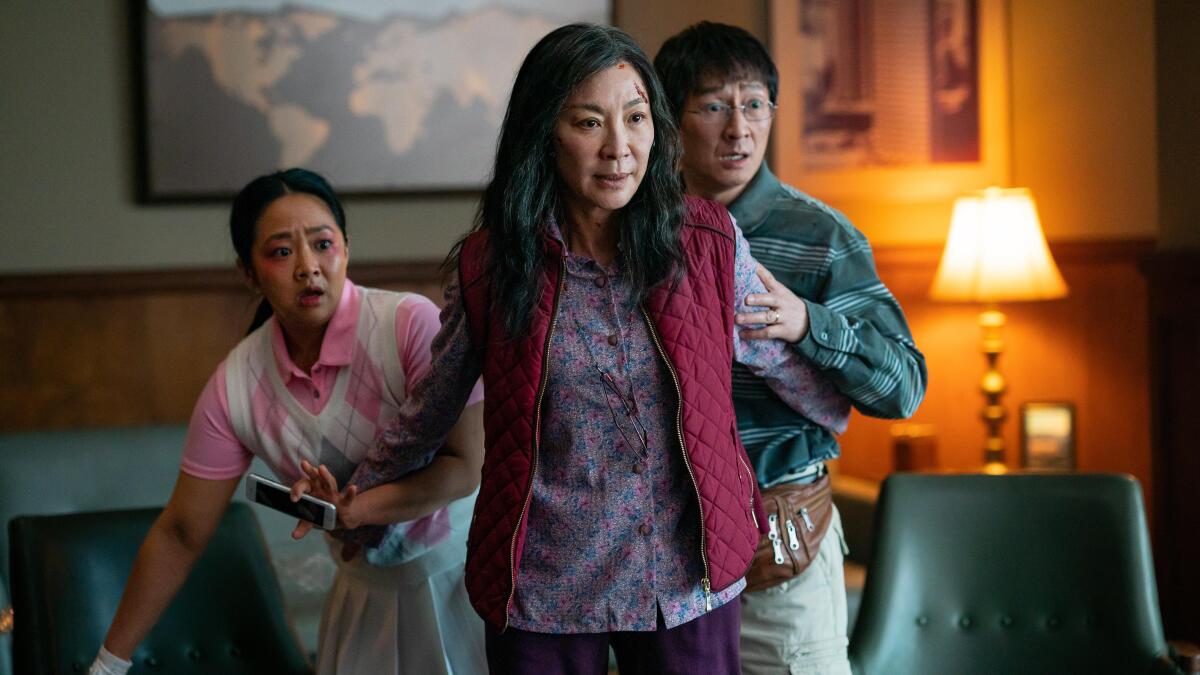 The evening before earning a leading 11 Oscar nominations, including best picture, director and three of four record-setting nods for actors of Asian descent, the cast and crew of "Everything Everywhere All at Once" gathered for dinner in Monterey Park.
The celebration of their unlikely journey to the Academy Awards had been planned for weeks. Then Saturday's mass shooting, which left 11 dead and nine others injured, rocked the predominantly Asian enclave and the AAPI community at large, casting a pall over the otherwise hopeful Lunar New Year holiday.
Shocked and devastated, the "EEAAO" crew decided to go ahead with dinner at Atlantic Seafood and Dim Sum on Monday night, making a point to support and uplift a community still reeling from the tragedy.
When their group arrived, actor Ke Huy Quan was sad to find the area and its businesses relatively empty. "We started the night acknowledging what happened," said Quan, who earned his first Oscar nomination Tuesday for his supporting turn as the radically kindhearted Waymond Wang. "We had a moment of silence for the victims. We just wanted to show Monterey Park that we love them."
The film, also nominated for screenplay, score, song, costumes and editing, is the rare awards contender made by and centered on Asian Americans. Filmmakers Daniel Kwan and Daniel Scheinert are nominated for best picture (with producer Jonathan Wang), original screenplay and director.
Oscar nominee Michelle Yeoh leads the sci-fi action ensemble as Evelyn Wang, a harried Chinese American laundromat owner who learns she has the power to traverse the multiverse — and is the only one who can save it from destruction.
"This last weekend was really, really tough," Yeoh told The Times, calling from London, where she is reuniting with "Crazy Rich Asians" director Jon M. Chu on a big-screen adaptation of "Wicked." "Our hearts go out to the victims and their families in Monterey Park. It is heartbreaking. Moving forward, we have to help each other to heal."
It is the first Academy Award nomination for the Malaysian-born actor, who earned numerous accolades for her portrayal of a working-class mother and wife who unlocks infinite possibilities in her alternate lives in "EEAAO."
The role is notably one of few leading Hollywood turns written for an Asian woman. If Yeoh wins, she will make history as the Academy's first Asian best actress winner. Accepting the Golden Globe this month, Yeoh thanked Kwan and Scheinert, "who had the courage to write about a very ordinary immigrant, aging woman, mother, daughter."
Yeoh, who began her career in Hong Kong, spent time in the San Gabriel Valley while filming recent projects in Los Angeles. After watching the nominations live over Zoom with her "EEAAO" family Tuesday morning, she expressed hope that the film's message of intergenerational healing will offer a "beacon of light."
"We must hold hands, hold each other and have hope in our hearts that we can step forth and make things better," she said. "Hopefully this will be a little beacon of light, that we can collectively embrace each other and say, 'Let us lift each other out of this grief and sadness.' We have to usher in hope, love and forgiveness."
Hsu, who earned her first supporting actress nomination alongside Jamie Lee Curtis for dual roles as Evelyn's daughter Joy and her all-powerful alter ego Jobu Tupaki, was born and raised in Torrance. When news of the Lunar New Year tragedy broke, she was far from home in Sydney, Australia, feeling "helpless and hopeless and angry."
Growing up, "we went to Monterey Park every other weekend to grocery shop," she said via phone. "I found myself wondering, what would make me feel better right now? How can I mourn — and also, what can bring me out of this?"
She found comfort rewatching "EEAAO" over the weekend and on the plane ride back to Los Angeles, where she landed Tuesday morning shortly after nominations were announced. "I wanted to see the Chinese New Year celebration. I wanted to remember that this movie was centered around kindness and love," said Hsu. "I wanted a dose of that."
Former child star Quan, who mounted the comeback of the year with his beloved turn in "Everything Everywhere All at Once," also has personal ties to Monterey Park that left him grieving over the weekend.
"I lived and grew up there for many, many years," Quan said of Monterey Park, where 65% of residents identify as Asian, according to U.S. census data. "It's a place that I called home for a long time. I know the neighborhood well. I know the people, the community. I know a lot of the businesses. And I was struggling."
As news broke Sunday, Quan found himself glued to the television. "I don't even remember how much I've cried," he said. "But then I realized that we cannot cancel. This is not the time to stay away from Monterey Park. Instead we should go there and support them and show them our love. The local businesses need us."
He urged people to show up for the people of Monterey Park and its local businesses, which rely on income during the festive Lunar New Year holiday.
"It was so sad when we saw the streets were empty. We walked into the restaurant, and it was empty," he said. "I'm so glad we went. We didn't shy away from it. We didn't cancel. We went there, we showed them our love, we supported the business, and I think that's what people should do. That's what I hope."
For those interested in donating, visit the victims fund launched by Asian Americans Advancing Justice Southern California and other organizations.
Get our L.A. Goes Out newsletter, with the week's best events, to help you explore and experience our city.
You may occasionally receive promotional content from the Los Angeles Times.