Newsletter: Today: Mass Shooting in Thousand Oaks
A shooting at a bar in Thousand Oaks has left at least 12 people and the gunman dead.
TOP STORIES
Mass Shooting in Thousand Oaks
At least a dozen people have died and more were wounded after a gunman burst into a crowded Thousand Oaks bar late Wednesday night and opened fire at an event popular with college students. Authorities say a Ventura County Sheriff's Department sergeant responding to the shooting at the Borderline Bar & Grill was among those killed and that the gunman also died. Witnesses say the man threw smoke bombs and was dressed in black clothing. Though a motive has not emerged, the FBI's Joint Terrorism Task Force was dispatched to the scene. Here is the latest.
More About the Shooting
-- Witnesses described being inside the bar and fleeing to safety. "To know that this happened in my safe place is a very, very scary thing," said one.
-- Friends say some of those who were inside the Borderline bar survived the mass shooting at the Route 91 Harvest music festival in Las Vegas last year.
-- Ventura County Sheriff Geoff Dean: "It's part of the horrors that are happening in our country and everywhere, and I think it's impossible to put any logic or sense to the senseless."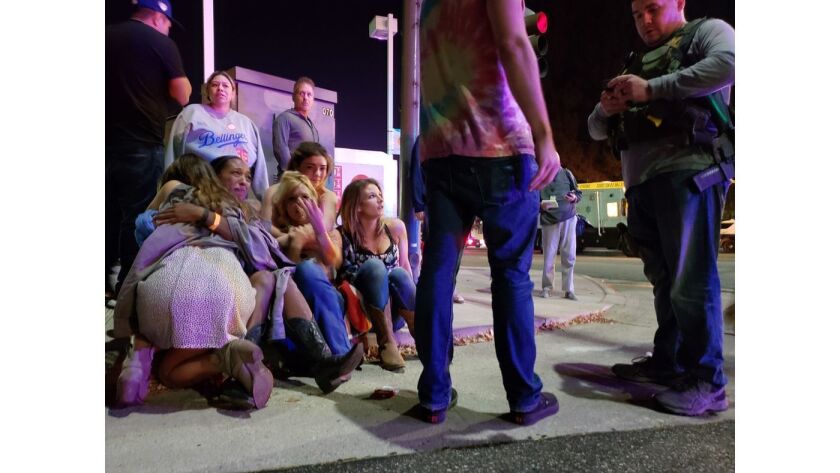 From Mueller's Critic to Mueller's Boss
The fate of the sprawling criminal investigation that has clouded President Trump's tenure is being called into question after Atty. Gen. Jeff Sessions handed in a forced resignation letter — and Sessions' chief of staff, Matthew Whitaker, was named his acting replacement. Before joining the Justice Department last year, Whitaker was a vocal critic of the scope of special counsel Robert S. Mueller III's inquiry. Now he's supervising it, according to a DOJ official. Whitaker also worked for Trump campaign co-chairman Sam Clovis, who testified to the grand jury in the Russia case, and wrote during the 2016 campaign that Hillary Clinton should be charged with a crime.
Olive Branches and Arrows
If Sessions' departure was meant to send a message, Trump was more overt in trying to fend off investigations from a soon-to-be Democratic-run House of Representatives. While he and Democratic leader Nancy Pelosi expressed hopes for cooperation, Trump threatened a "warlike posture" if Democrats subpoena his tax returns or look into other sensitive matters, while Pelosi vowed to make Congress a stronger check on the executive branch. The president's comments came during a news conference in which he declared "a great victory" in the midterm election, aired grievances against fellow GOP members, and sparred with the media. Hours later, the White House suspended CNN reporter Jim Acosta's press credential, falsely accusing him of "placing his hands on" a female intern trying to take his microphone. (Watch the video for yourself.)
More From the Election Nationwide
-- In a midterm election that underscored America's deep divide, the red parts got redder and the blue parts bluer.
-- After leading her party to a House majority, Nancy Pelosi faces a battle for the speaker's gavel.
-- In many moderate- and conservative-leaning states, liberal-backed ballot measures had greater success than Democratic candidates.
-- In the Georgia governor's race, Democrat Stacey Abrams refused to concede defeat, activating a legal team while her opponent, Republican Brian Kemp, declared victory.
-- Another recount in Florida? Though Republican Rick Scott has declared victory over Democratic incumbent Bill Nelson in the race for the U.S. Senate, the margin of victory could force a mandatory ballot recount.
To the Left, to the Left?
When Gavin Newsom campaigned to lead California, his slogan was "courage for a change." Now that he's headed for the governor's mansion, the question is: How much change is in store? Based on his positions on the issues, Newsom is expected to shift state politics and policy even further to the left after eight years under the leadership of Gov. Jerry Brown. But as Sacramento bureau chief John Myers explains, the realities of governing are more complicated.
More From the Election in California
-- California Republicans lost two House seats in Tuesday's midterm election and could surrender more in four other contests that are too close to call.
-- Though nearly 1 million ballots remain to be counted, L.A. County Sheriff Jim McDonnell is in the political fight of his life, with retired Sheriff's Lt. Alex Villanueva slightly in the lead.
-- For two decades, Orange County Dist. Atty. Tony Rackauckas has easily held his position as Orange County's top prosecutor. But it appears he could be unseated by his longtime public nemesis, Orange County Supervisor Todd Spitzer.
Sign up to get Today's Headlines delivered to your inbox. »
MUST-HEAR PODCAST
-- Investigating the deaths of athletes Lorenzen Wright and Kevin Ellison, with Times sports enterprise reporter Nathan Fenno.
CALIFORNIA
-- FBI agents raided the home and offices of L.A. City Councilman Jose Huizar, executing multiple search warrants before stunned neighbors and City Hall staffers.
-- A Glendale man who told police he took a pickax to Trump's star on the Hollywood Walk of Fame pleaded no contest to felony vandalism. His sentence: three years' probation.
-- Strong Santa Ana winds are expected to blow through Southern California. Paired with low humidity, they could bring critical fire weather conditions.
HOLLYWOOD AND THE ARTS
-- The Coen brothers' latest work, "The Ballad of Buster Scruggs," is an anthology film. Critic Kenneth Turan compares it to a small plates restaurant, with some dishes better than others.
-- From "The Big Chill" to "Fatal Attraction," Glenn Close reveals the secrets behind six stellar roles.
-- At the AFI Fest starting today in Los Angeles, the spotlight is on women, including Ruth Bader Ginsburg and Mary, Queen of Scots.
-- Joni Mitchell just turned 75, but our critic thinks that the tribute concert for her in L.A. was not a worthy gift. Maybe they should have just gotten a cake.
NATION-WORLD
-- Secretary of State Michael R. Pompeo's meeting with his North Korean counterpart in New York this week has been called off at the last minute.
-- A jury has been selected for the trial of Mexican drug kingpin Joaquin "El Chapo" Guzman. Many of the potential jurors expressed fear during the selection process.
-- American sanctions on Iran are taking a toll on the ill, as inflation, a shortage of raw materials and fewer imports have made medications scarce and costly.
-- In Britain, the "People's Vote" campaign wants the terms for Brexit made public, then another vote on the exit deal.
BUSINESS
-- Wall Street's reaction to the midterm election? Gridlock is good. Bipartisanship could be even better.
-- After butting heads for two years with the Anaheim City Council, Walt Disney Co. may see a friendlier majority as results from Tuesday's election come in.
SPORTS
-- After losing their general manager to the San Francisco Giants, the Dodgers picked up the team option on manager Dave Roberts' contract for next season.
-- In his Lakers debut, Tyson Chandler grabbed two critical offensive rebounds in the game's final minute, and L.A. beat Minnesota 114-110.
OPINION
-- The midterm election finally delivered a check on the unlawful, immoral Trump administration, writes columnist Virginia Heffernan.
-- A Trump biographer explains the president's behavior as that of a deviant and delinquent, as much of his life has shown.
WHAT OUR EDITORS ARE READING
-- In cyberwar, are there rules of engagement? (Foreign Policy)
-- A bear video goes viral, and a debate about drones ensues. (National Geographic)
-- The 401(k) turns 40 years old. (Quartz)
ONLY IN L.A.
What's that smell? Nearly a year after the recreational use of marijuana was legalized in California, a survey team is setting out to gauge how much pot is being smoked in public throughout Los Angeles County. On Wednesday, the team visited Venice Beach, where the answer apparently is: a lot. But as one skateboarder put it: "That smell is a lot better than a lot of the other smells around here."
If you like this newsletter, please share it with friends. Comments or ideas? Email us at headlines@latimes.com.
---