Down two, California Republicans could lose up to four more House seats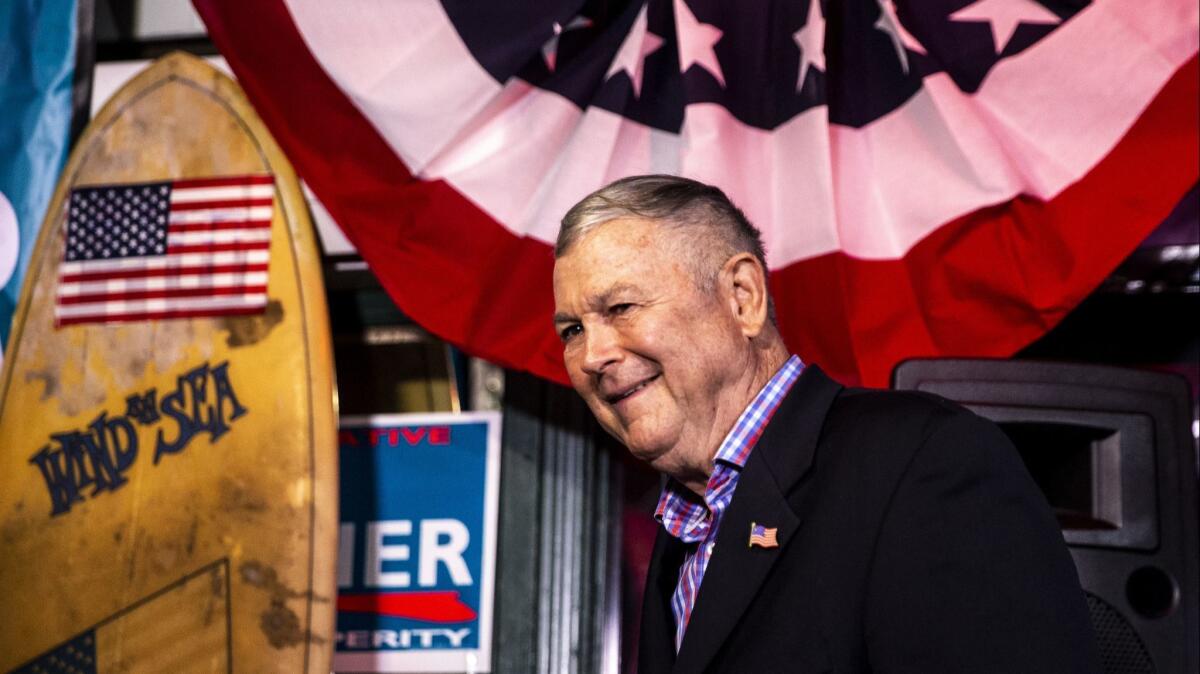 California Republicans lost two House seats in Tuesday's midterm election and could surrender more as tens of thousands of ballots are counted in four other contests that remain too close to call.
The party has an exceedingly small chance of holding the seats of Reps. Dana Rohrabacher and Jeff Denham, historical voting patterns suggest. Two other Republicans, Rep. Mimi Walters and Young Kim of Fullerton, hold thin leads over their opponents that could also vanish.
The reason is simple: Early voters, often older white Californians who start mailing in their ballots weeks before election day, lean Republican, and later voters, many of them young and minority, tend to prefer Democrats.
With extremely rare exceptions, close races in California shift in Democrats' favor — typically by 2 percentage points— as the later ballots are counted, according to Political Data, a firm that tracks voter trends.
"This is as dependable as the tides," said Paul Mitchell, the firm's vice president.
A huge share of the ballots — perhaps 40% — remain uncounted, largely due to Californians' increasing preference to vote by mail. By law, ballots postmarked by election day and received by Friday must be tabulated.
"For voters, the race is over," said state Republican Chairman Jim Brulte. "For us, it isn't."
Both major parties were assembling squads of lawyers and volunteers Wednesday to dispatch to county registrars' offices to monitor the post-election ballot counts.
"Florida may have popularized the term 'hanging chad,' but ballot integrity has been done by major political parties for a very long time," Brulte said, alluding to dangling paper fragments from punch-card ballots. "The election is not over until all the votes that are legally cast are counted."
For Republicans, the drift of votes toward Democrats as the tally unfolds can be grim. The day after an election, Republican candidates locked in a nearly tied race must evaluate not whether they can pull ahead, but whether they have a big enough buffer to sustain Democrats' inevitable gains.
That cold calculation led GOP Rep. Steve Knight to concede defeat Wednesday to Democrat Katie Hill in the 25th Congressional District, a longtime Republican stronghold that includes Simi Valley, Santa Clarita and the Antelope Valley.
"The voters have spoken, and they want a new congressman — or congresswoman — for this district," Knight told KCBS-TV. "We wish her the best."
Another former conservative bastion, the coastal 49th Congressional District in southern Orange and northern San Diego counties, turned blue on Tuesday as Democrat Mike Levin, an environmental lawyer, won the seat of retiring GOP Rep. Darrell Issa.
If Rohrabacher loses in Orange County's 48th Congressional District and Denham cedes San Joaquin Valley's 10th, Republicans would be left with just 10 of the state's 53 seats in the House, a fresh sign of the party's steep decline as California's population has diversified since the 1990s.
Republicans' nightmare scenario for the midterm would be the ouster of Walters in the 45th Congressional District, which covers Irvine, Mission Viejo and Rancho Santa Margarita, and a defeat for Kim in the 39th, which includes Yorba Linda, Hacienda Heights and Fullerton.
If Rohrabacher, Walters and Kim all lose, it would mark the first time since the 1930s that Republicans have no one from Orange County in Congress.
On Wednesday, Walters was leading Democrat Katie Porter, 52% to 48%, and Kim, a former state Assembly member, was ahead of Democrat Gil Cisneros, 51% to 49%.
Both Walters and Kim are bracing for cliff-hangers. Their margins on Wednesday — more than 6,200 votes for Walters and nearly 3,900 for Kim — could disappear within days.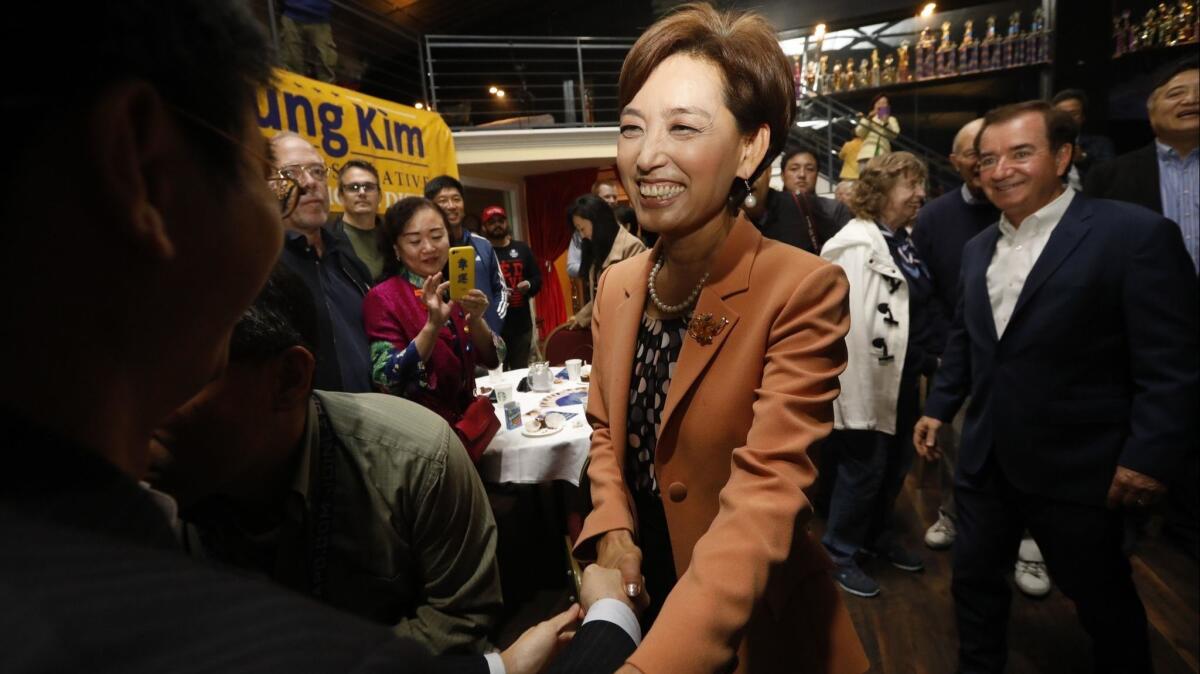 Election officers in California's 58 counties must report their final vote counts to the secretary of state by Dec. 7. The state will certify the election results a week after that.
California's slow vote count can be anti-climactic after a frenetic campaign.
In 2010, Republican Steve Cooley led Democrat Kamala Harris in the election-night tally for state attorney general, but she pulled ahead 10 days later. In the end, it took 23 days of counting before Cooley conceded. Harris won by fewer than 75,000 votes out of 9.6 million cast.
Two years ago, it took three weeks to confirm Issa's reelection to a ninth term. His victory margin was 1,621 votes.
"We'd rather get it right than get it fast," said Secretary of State Alex Padilla, a Democrat who coasted to reelection on Tuesday. "And the policies in place are built on our commitment to preserve the voting rights of every Californian."
Statewide, 7.3 million ballots were counted on Tuesday night and Wednesday morning, but counties are expected to report as many as 4 million more in the days ahead.
The bulk of the election-night results come from votes cast in person at polling stations or by ballots that arrived by mail before Nov. 6.
The ballots counted later come from a variety of sources. Some are mail ballots that voters dropped off at polling places on election day. Some met the deadline for the Tuesday postmark, and will roll in by Friday.
Now that California has same-day registration, known as "conditional" voting, yet another group of uncounted ballots comes from people whose eligibility needs to be verified. Eligibility also has to be checked for voters who cast provisional ballots — those who show up at the wrong polling station, for instance, but whose votes are still valid.
Twitter: @finneganLAT
Get our Essential Politics newsletter
The latest news, analysis and insights from our politics team.
You may occasionally receive promotional content from the Los Angeles Times.