L.A. County Sheriff Jim McDonnell's job in jeopardy as challenger Alex Villanueva takes vote lead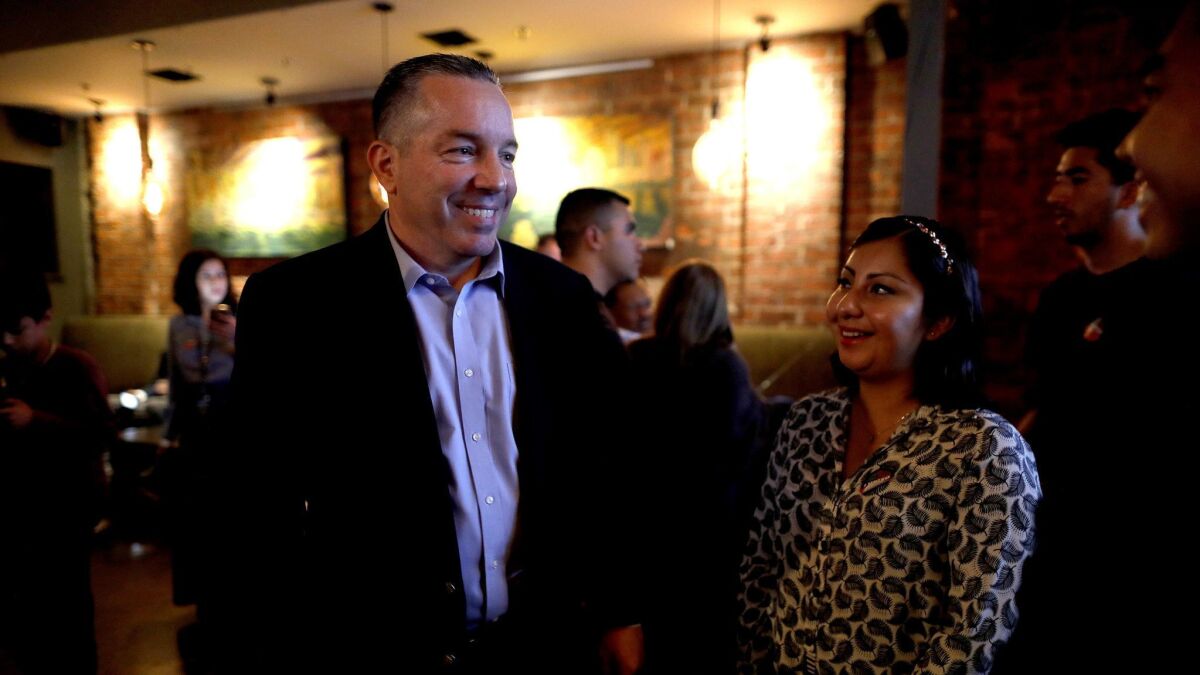 Until recently, the conventional wisdom held that Jim McDonnell had a fairly easy path to be reelected as Los Angeles County sheriff.
He'd made strides in bringing stability to a troubled agency torn by scandal. His resume boasted years in the top echelons of local law enforcement.
Now McDonnell, 59, is in the political fight of his life, with the future of his slate of reforms aimed at stamping out corruption and misconduct hanging in the balance. There is the possibility he could lose his job to a challenger with far less management experience but a stronger ground game who took a razor-thin lead in the race just before dawn Wednesday morning.
Retired Sheriff's Lt. Alex Villanueva was ahead by 4,927 votes, stirring predictions of a potential upset.
How your neighborhood voted in the razor-thin L.A. County sheriff's race »
With nearly a million provisional and mail-in ballots still being counted, the outcome of the race was far from certain. But the fact that McDonnell's fate will come down to the last batch of votes has stunned the Los Angeles political establishment.
While Villanueva positioned himself as a progressive alternative to McDonnell in a deep-blue county, he has also expressed doubts about some of the reforms pushed by McDonnell, including greater transparency about police misconduct.
Whereas McDonnell commanded high-dollar donations, Villanueva inspired phone bankers and social media ads.
Campaign workers with Citizens PAC, a group that received most of its funding from labor organizations including the Service Employees International Union, knocked on doors, made 2 million calls, sent 3 million text messages and created memes and social media videos on behalf of Villanueva, said Javier Gonzalez, the group's campaign strategist.
Though the sheriff's race is nonpartisan, Villanueva, 55, advertised himself as a Democrat who wants to kick immigration agents out of county jails, earning him an endorsement from the Los Angeles County Democratic Party and giving him a narrative hook McDonnell lacked.
Gonzalez said they hit "lightning in a bottle" with Villanueva, who checked all of the boxes.
"A Democrat, progressive, straight and narrow, law enforcement credentials, military credentials, fluent Spanish, lived in Puerto Rico," Gonzalez said. "It was a perfect storm here."
Though Villanueva has deviated from a typical progressive platform — he's raised the possibility of giving deputies metal flashlights so they can defend themselves against inmates — his message provided enough cues to draw in voters.
Indeed, Villanueva attracted an unlikely coalition, with support from the rank-and-file deputies union as well as progressive activists.
Patrisse Cullors, a co-founder of Black Lives Matter and creator of Dignity and Power Now, a group that advocates for inmates and their families, said she was involved in organizing to vote McDonnell out. She said her campaign work was separate from her relationship to those groups.
"It needs to be clear: We can vote you out of office if we're not happy with what you're doing. That's the point I want to make. Sure we might vote Alex into office, and in four years we might vote him out. There needs to be public accountability," she said.
McDonnell's campaign manager, Steve Barkan, said the flood of mailers touting Villanueva as a Democrat provided voters with valuable information, while his own client couldn't find an equally effective way to promote his agenda.
"Our polling showed a perception of extraordinarily high job performance for McDonnell himself," Barkan said.
Barkan said McDonnell mainly relied on slate mailers as well as print and radio ads. He said that it had been a struggle to promote McDonnell's positive, more general message of reform and that the past strategy of reaching voters through traditional news media is no longer a guarantee.
Some observers said McDonnell stumbled by not winning outright in the primary.
"His campaign's efforts were beyond tepid. He should have gone for it. He should have gone all out in terms of, one, raising money, and two, spending money, and running like he was behind," said Steve Cooley, a former Los Angeles County district attorney who organized a fundraiser for McDonnell. "He would have knocked out his two opponents. He came very, very close."
Many political experts said that even though Villanueva had pushed McDonnell into a runoff, it should have been nearly impossible to pose a serious threat to a sitting sheriff.
"I have egg on my face. I have an entire omelet on my face," said Jessica Levinson, a Loyola Law School professor who teaches election law. For months, and even until early Wednesday morning, she predicted an upset would be very unlikely.
"The voters sent a really clear message. They need faster and different change, and they think the Sheriff's Department needs an overhaul that hasn't happened yet. On the other hand, this was a low-information race, so I still have to wonder how much this has to do with confusion on the ballot."
She said voters are often influenced by the bare-bones information inside the voting booth: a candidate's name and title. She also cautioned that the volume of uncounted ballots means the race could still go either way.
The Sheriff's Department has faced new questions in recent months. A Times investigation found that a team of deputies targeted thousands of innocent Latino motorists on the 5 Freeway in drug searches, a practice now under review. There also have been concerns about why the department has not done more to curb deputies' wearing of matching tattoos that critics say are indications of secret cliques within the agency.
McDonnell campaigned on a promise to continue the improvements he's made in his first term, such as reducing serious jail violence and enhancing mental-health care behind bars.
The former Long Beach police chief and longtime Los Angeles Police Department official touted his support for the nearly 2-year-old Sheriff Civilian Oversight Commission and drew headlines when he tried to give prosecutors a so-called Brady list of about 300 deputies with histories of misconduct.
But Villanueva, who says he was the victim of unjust discipline while with the department, has called the roster a "fake list" compiled from retaliatory investigations. His position echoes that of the Assn. for Los Angeles Deputy Sheriffs, the rank-and-file union that sued McDonnell to block disclosure and has given at least $1.32 million to an outside group supporting Villanueva.
Villanueva argued that the Sheriff's Department hadn't done enough to distance itself from U.S. Immigration and Customs Enforcement, which is allowed to use office space inside one of the county jails.
An Air Force veteran who served three decades in the Sheriff's Department, Villanueva said he would kick ICE agents out of the lockup, saying his deputies would instead march inmates out of the jail into ICE custody.
It's unclear, though, how that position might have helped in a diverse, deep-blue county where opposition to President Trump's immigration crackdown is strong.
Villanueva, who has Puerto Rican and Polish American heritage, was most strongly supported in heavily Latino areas like Southeast Los Angeles, the San Fernando Valley and Pomona, just as in the primary, a Times analysis showed.
In Central L.A. neighborhoods such as Mid-City and Mid-Wilshire, Villanueva picked up many precincts that McDonnell had won in the primary. In West Hollywood, Villanueva won 59% of votes, compared with 42% in the primary.
McDonnell remained the stronger fundraiser, drawing about $1.2 million from individual donors, mostly in Los Angeles, Long Beach and Beverly Hills. He was supported by at least $954,000 in additional dollars from an independent committee funded by business executives and a union representing sergeants, lieutenants and other Sheriff's Department employees.
Villanueva raised $156,000 from people concentrated mostly in eastern parts of the county near La Habra Heights, where he lives, but he was backed by an additional $1.4 million in outside money from labor groups including the rank-and-file deputies union.
More clarity in the contest may come Friday, when the next update to vote totals is scheduled.
Times staff writers Anthony Pesce and Ben Poston contributed to this report.
---
The stories shaping California
Get up to speed with our Essential California newsletter, sent six days a week.
You may occasionally receive promotional content from the Los Angeles Times.