Meet your next governor, California. Here's where Gavin Newsom stands on state issues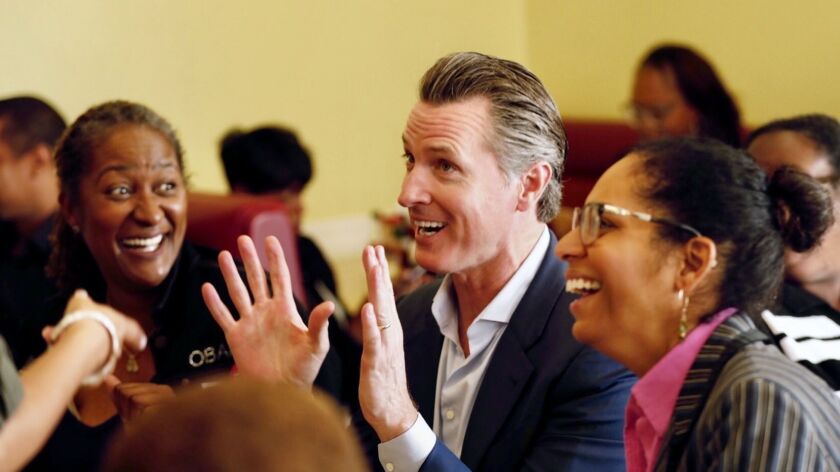 Gavin Newsom's election as governor of California is expected to shift state politics and policy even further to the left after eight years under the leadership of Gov. Jerry Brown.
The question is how liberal Newsom will be as he continues the state's resistance to President Trump's policies.
Here is where he stands on the issues facing California:
Education
Newsom has made education a primary plank of his campaign platform, has emphasized a promise to work toward universal preschool in the state and wants a greater focus on investing in early childhood education and care for the first three years of a child's life. He also wants to launch college savings accounts for all incoming kindergarten students in the state.
Newsom also would guarantee two free years of community college tuition for California students and says he would work toward reducing the cost of higher education to relieve student debt.
Healthcare
Achieving universal healthcare in California has been a central part of Newsom's campaign for governor. While he was mayor of San Francisco, the city adopted a universal healthcare system in 2006 called Healthy San Francisco. At its peak, it provided affordable care to more than 70,000 uninsured residents in the city.
He has promised to pursue a universal healthcare system if he's elected governor but has not outlined a clear plan to fund such a program.
In 2017, Newsom endorsed SB 562, legislation by state Sen. Ricardo Lara (D-Bell Gardens) and now-Senate President Pro Tem Toni Atkins (D-San Diego) that sought to implement a state-sponsored single-payer healthcare program. The legislation was shelved in the Assembly over concerns about the cost and the lack of a comprehensive plan for how to pay for and implement such a massive new government program. A legislative analysis estimated the cost to be $400 billion a year.
But while his support for SB 562 was enthusiastic, it also was nuanced. Newsom was endorsed by the California Nurses Assn., the most vocal backer of the bill, but acknowledged there were some "open-ended" issues with the legislation. He also has voiced support for an effort by a coalition of labor unions, community health organizations and immigrant rights groups to steer the healthcare debate away from SB 562.
Housing and homeless
Newsom wants developers to build 3.5 million homes from when he takes office through 2025, which would be an unprecedented building boom compared with modern California history. He wants a fivefold increase in a state tax credit to finance low-income housing, bringing the state budget cost to $500 million a year. And Newsom supports eliminating regulations that he contends make it difficult for developers to produce middle-income homes.
Newsom is against Proposition 10 and believes that the Costa-Hawkins law should be changed to add more renter protections.
On homelessness, Newsom has said he would appoint a Cabinet-level homelessness czar who would be responsible for ensuring that the state's housing, criminal justice, healthcare and welfare departments work together on the issue.
Immigration
Newsom is a strong supporter of California's sanctuary state law, which was approved by state legislators and signed into law by Brown in 2017. As San Francisco mayor, Newsom presided over a city with sanctuary policies.
He often has posted on Twitter to condemn Trump's immigration policies, slamming the president's plan to build a wall at the U.S.-Mexico border.
"We cannot let this small, scared bully hurt our economy and turn ICE into his own personal army of hate," Newsom said in a March 13 tweet.
Jobs
To increase job stability in the face of automation, Newsom said the state should invest in job retraining at community colleges and expand apprenticeship programs. He said the state also should work to "complement the federal wage insurance program so that Californians who have to change jobs can ensure a smooth transition as they invest their time and energy in retraining and job hunting."
He supports broadening the earned income tax credit for those out of work by expanding eligibility for working adults and by issuing periodic refunds instead of a lump-sum payment.
Newsom also has proposed a "sector-by-sector" system of portable benefits that gig economy workers can take from job to job.
Natural disaster preparation
In addition to supporting fire mitigation actions such as clearing brush and dead trees, Newsom has said that fire risk should be discussed in the urban planning process.
He told The Times that the only long-term solution to addressing wildfires and other natural disasters is to combat greenhouse gas emissions to fight the effects of climate change.
Newsom said he would "allocate funding for readiness and response and reinstitute the California Emergency Council."
Taxes
Newsom opposes the repeal of the increased gas tax and vehicle fees, which voters rejected. He also supports a significant tax code update, telling The Times that the state "can broaden the [sales] tax base. We can actually tax the economy that exists today, not the economy of 100 years ago, which is our current tax structure."
"I'm open to putting everything on the table," Newsom told Times columnist George Skelton of reforming California's tax system. "That includes Proposition 13 — not so much on residential property, but commercial."
He also has said he would consider lowering the state income tax rate for the middle class and extending the sales tax to services.
---
The stories shaping California
Get up to speed with our Essential California newsletter, sent six days a week.
You may occasionally receive promotional content from the Los Angeles Times.