Glendale man pleads no contest in destruction of Trump's Walk of Fame star, must pay almost $9,500 in restitution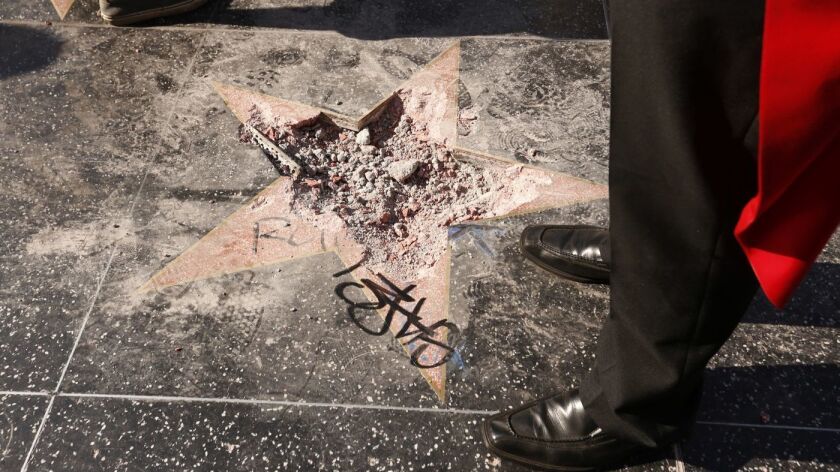 A Glendale man who told police he took a pickax to Donald Trump's star on the Hollywood Walk of Fame pleaded no contest Wednesday to a felony vandalism charge and was immediately sentenced to three years' probation.
Austin Clay, 24, also was ordered to complete community service and pay nearly $9,500 in damages to the Hollywood Chamber of Commerce related to the early morning incident on July 25, which nearly obliterated the star, including Trump's nameplate.
After bashing through the plaque, Clay called the Los Angeles Police Department and told officers he had defaced the president's star on Hollywood Boulevard near Highland Avenue.
By the time officers arrived at the scene, he was gone. Private security in the area tried to intervene but couldn't stop Clay because they don't have police powers, officials said at the time.
About an hour later, authorities said, Clay walked into Beverly Hills police headquarters and said he wanted to turn himself in. LAPD officers picked him up soon afterward. He was released on July 27 on $20,000 bail, according to Los Angeles County Superior Court records.
The no-contest plea, which was negotiated as part of a deal with prosecutors, means that Clay will not serve additional time behind bars. He originally faced a maximum sentence of three years in jail.
Since the 2016 presidential campaign, Trump's star has endured several publicized episodes of vandalism, including a spray-painted swastika and "mute" icon. People who notice it as they pass by have been seen stomping on it, spitting on it and writing on it. A photo of a pile of dog poop on the star went viral two years ago.
In October 2016, a man was caught on video bashing the star with a sledgehammer. He was charged with felony vandalism.
Twitter: @Hannahnfry
---
The stories shaping California
Get up to speed with our Essential California newsletter, sent six days a week.
You may occasionally receive promotional content from the Los Angeles Times.