Atty. Gen. Jeff Sessions forced out by Trump, setting up likely clash over the Russia investigation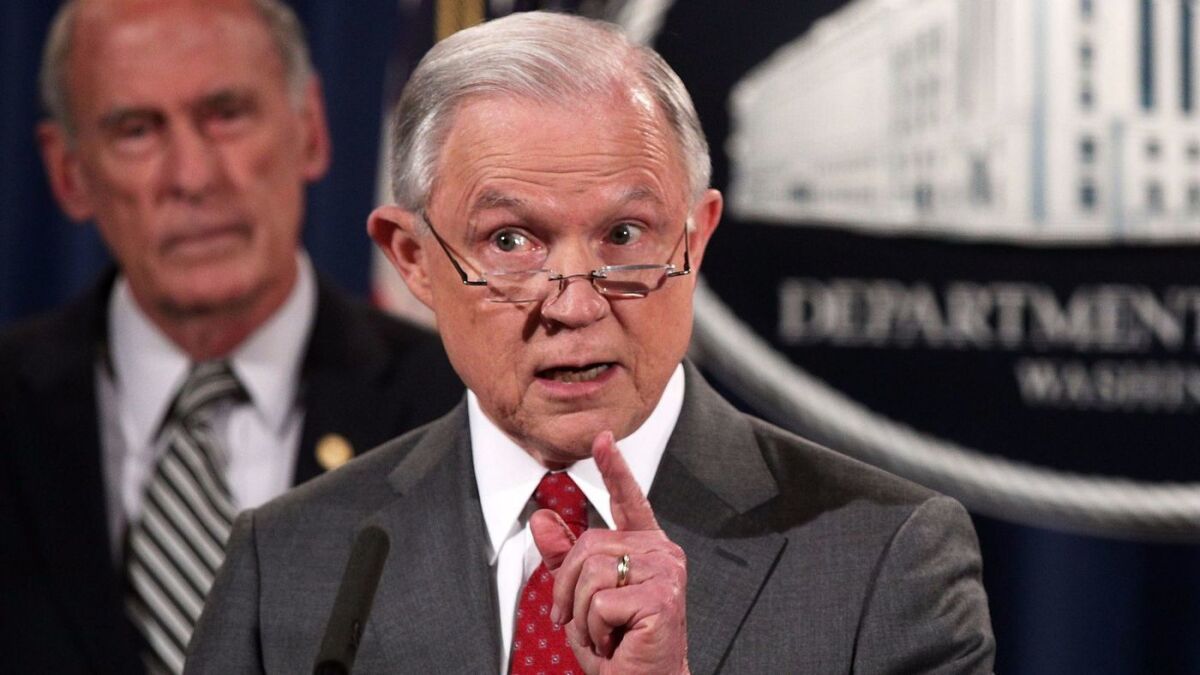 Reporting from Washington —
Atty. Gen. Jeff Sessions was forced to resign on Wednesday, ending a tortured relationship with President Trump and opening what could be a historic fight over the sprawling criminal investigation that has clouded Trump's White House tenure.
The president had publicly mocked and belittled the nation's top lawman ever since Sessions recused himself last year from supervising the investigation into Russia's role in the 2016 presidential race. But Trump waited until after Tuesday's midterm election to force Sessions out — and to choose a critic of the probe as his temporary replacement.
In a tweet, the president named Matthew Whitaker, Sessions' former chief of staff at the Justice Department, to serve as acting attorney general. Trump did not say who would be nominated as a permanent replacement, or when he would make the decision.
Whitaker, 49, will supervise the Russia investigation led by special counsel Robert S. Mueller III, according to a Justice Department official. He thus will displace Rod Rosenstein, the deputy attorney general who took control of the probe after Sessions stepped aside because of his high-profile role in Trump's 2016 campaign.
As acting attorney general, Whitaker will have the authority to restrict the special counsel's budget, refuse to sign off on aggressive investigative steps, and even attempt to shut Mueller's probe down.
Whitaker was an avowed critic of the investigation before he joined the Justice Department in September 2017. He wrote a month earlier in an opinion column for CNN that Mueller was "dangerously close to crossing" a "red line" by looking into Trump's personal finances.
Whitaker probably will have to meet with ethics officials at the Justice Department to determine whether his criticism of the Mueller probe, or his previous work for Sam Clovis, a Trump campaign co-chairman who has testified to the grand jury in the Russia case, poses a potential conflict of interest with his supervising the investigation.
Whitaker is also likely to face questions over investigations into Democratic political leaders. He wrote in USA Today in July 2016, during the presidential race, that Democratic nominee Hillary Clinton should be charged with a crime for handling classified information on a private email server while she was secretary of State.
Under the law, Whitaker can serve as acting attorney general for 210 days if no one is nominated to replace him. When Trump nominates a permanent replacement, Whitaker can hold the job until that person is confirmed by the Senate.
A stout, hard-charging figure, Whitaker served as a U.S. attorney for the Southern District of Iowa from 2004 to 2009 under President George W. Bush. He later ran unsuccessfully in the state's 2014 Republican primary for U.S. Senate.
Before his political career, Whitaker attended the University of Iowa for college, business school and law school. He was tight end for the Hawkeyes varsity football team and played in the 1991 Rose Bowl, although his team lost.
Democrats, who retook the House of Representatives in Tuesday's election, expressed alarm that the Russia investigation — which has led to charges against 32 people and convictions or guilty pleas from five of Trump's former aides — appeared in danger.
"Protecting Mueller and his investigation is paramount," said Senate Minority Leader Charles E. Schumer (D-N.Y.). "It would create a constitutional crisis if this were a prelude to ending or greatly limiting the Mueller investigation."
Schumer and other Democrats called on Whitaker to recuse himself, as Sessions did, and leave the probe in Rosenstein's hands.
Although Trump and Democrats expressed some willingness Wednesday to work together in the new Congress, removing Sessions will likely create an immediate flashpoint in coming weeks.
"We will be holding people accountable," tweeted Rep. Jerrold Nadler (D-N.Y.), who is in line to become chairman of the House Judiciary Committee.
Sen. Ron Wyden (D-Ore.) said Trump "must be terrified" about what Mueller has uncovered. "Trump is desperately trying to protect himself and his cronies from justice by installing a political hack as acting attorney general," he said.
The special counsel's office declined to comment.
Whitaker issued a statement on Wednesday evening praising Sessions and thanking the president. He did not mention the Russia investigation.
"I am committed to leading a fair Department with the highest ethical standards, that upholds the rule of law, and seeks justice for all Americans," he said.
The Justice Department released Sessions' undated resignation letter shortly after Trump had finished a lengthy news conference during which he had pointedly refused to say whether Sessions would stay in the Cabinet.
"I'd rather answer that at a little bit different time," Trump said.
The president later asserted his power over the Russia investigation, saying he could "fire everybody right now."
"But I don't want to stop it because politically I don't like stopping it," he added. "It's a disgrace. It should have never been started because there was no crime."
Sessions said in his letter that he had been honored to serve as attorney general and to uphold the rule of law.
"I came to work at the Department of Justice everyday determined to do my duty and serve my country," he wrote. "I have done so to the best of my ability."
He left the building as night fell Wednesday to applause from colleagues and supporters who gathered outside. He shook hands with Whitaker and Rosenstein, waved several times to the crowd and stepped into a black sport utility vehicle.
Sessions' ouster marks the bitter end of a once-crucial political alliance.
An archconservative, he was the first member of the Senate to throw his support behind Trump's presidential bid, and he helped shape the anti-immigration, tough-on-crime message that helped propel the reality TV star into the White House. Trump named him to lead the Justice Department after the election.
During his time in office, Sessions sought to carry out the president's agenda, steering the Justice Department to tougher policies on violent crime, drug trafficking and immigration.
He cited success in those areas in his letter to Trump, writing that his department had "operated with integrity and … lawfully and aggressively advanced the policy agenda of the administration."
But Sessions' relationship with Trump evaporated after the attorney general, on advice from Justice Department ethics lawyers, recused himself from the Russia probe shortly after he was confirmed by the Senate in March 2016.
Sessions had failed in his confirmation hearing to disclose his own meetings with a Russian diplomat during the campaign, sparking concerns about his candor.
He endured humiliating criticism from the president, who publicly accused his attorney general of disloyalty and worse. The invective crested in mid-2017 when Trump criticized Sessions in a New York Times interview and series of tweets, calling him "beleaguered" and "very weak," and harped on him to go after Hillary Clinton.
Sessions pushed back when Trump renewed the pressure in February.
"As long as I am the attorney general, I will continue to discharge my duties with integrity and honor, and this department will continue to do its work in a fair and impartial manner according to the law and Constitution," he said in a statement.
But as Trump continued to rail against the Mueller probe, Sessions' position seemed ever more tenuous. Trump even mocked Sessions' claims of political independence at the Justice Department.
"Jeff Sessions said he wouldn't allow politics to influence him only because he doesn't understand what is happening underneath his command position," Trump tweeted on Aug. 25. He repeated the insult on Fox News, asking angrily, "What kind of man is this?"
Sessions signaled at the time that he would not step down voluntarily. Justice Department actions, he responded, "will not be improperly influenced by political considerations."
Despite Trump's bitter criticisms, Sessions was long able to count on support from his former Republican colleagues in the Senate. But several recently suggested they were open to a replacement.
"I like Jeff Sessions, but this is just not working," Sen. Lindsey Graham (R-S.C.) told NBC News on Monday. Last year, Graham had said there would be "holy hell to pay" if Sessions were fired.
The president has insisted there was "no collusion" between his 2016 campaign and Moscow's effort to steer the election in his favor through computer hacking, social media posts and other tactics. He has bitterly criticized the Mueller probe as a "witch hunt."
Although no Americans have been charged with conspiring with Russia in its intelligence operation, the criminal probe has dug deep into Trump's inner circle.
Among others, Trump's former national security advisor pleaded guilty to lying to investigators, his former deputy campaign manager pleaded guilty to conspiracy and lying, and his former campaign chairman was convicted of tax evasion and bank fraud before cutting his own deal with prosecutors to avoid a second trial on related charges.
In addition, Mueller's team provided federal prosecutors in New York with information that spurred the investigation of Michael Cohen, Trump's former lawyer. Cohen subsequently pleaded guilty to tax evasion and campaign law violations that he said were directed by Trump to cover up his alleged affairs.
chris.megerian@latimes.com
Twitter: @chrismegerian
del.wilber@latimes.com
Twitter: @DelWilber
---
UPDATES:
3:45 p.m.: This story was updated with Sessions' letter and other details.
This story was originally published at 11:35 a.m.
Get our Essential Politics newsletter
The latest news, analysis and insights from our politics team.
You may occasionally receive promotional content from the Los Angeles Times.