The 'blue wave' down-ballot? Where Democratic candidates faltered, many liberal measures found success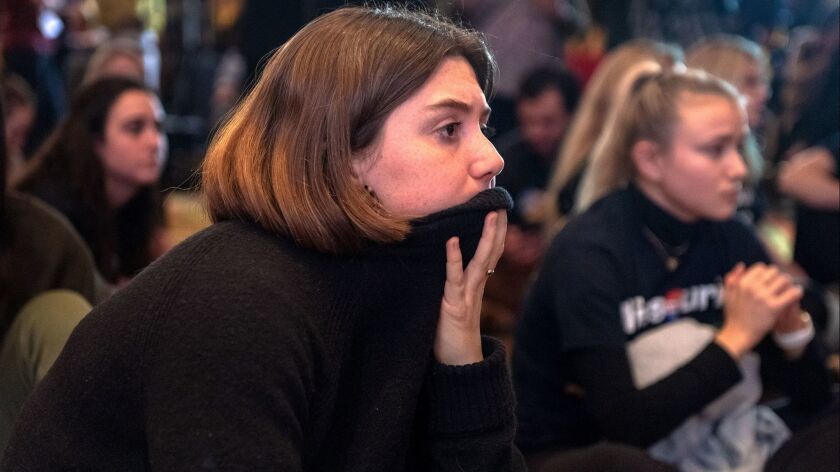 Reporting from Kansas City, Mo. —
Judging by its politicians, Missouri is looking bleak for Democrats.
The onetime middle-of-the-road state has just one Democrat left in a statewide office — the state auditor — after voters sent Sen. Claire McCaskill packing on Tuesday night. The Legislature remains GOP-dominated, and in 2016 President Trump won the state by more than 18 percentage points.
Yet farther down the ballot, the news for Missouri liberals was far sunnier. Voters approved a variety of left-friendly ballot measures — including a minimum-wage hike to $12 an hour by 2023, the legalization of medical marijuana, redistricting and campaign finance reform.
"I think [Democrats will] be buoyed by the fact that these won and won handily," said Daniel Ponder, a political science professor at Drury University in Springfield, Mo. "Once you see that not only can this be done, but it can be done relatively easily … I definitely think people can use that as a blueprint going forward for more liberal and progressive causes."
The same pattern held in many other moderate- and conservative-leaning states: Liberal-backed ballot measures — especially those involving criminal justice reform or healthcare — had greater success than Democratic candidates.
Party identification is one of the most powerful forces in politics, with many people voting strictly on party lines when it comes to choosing their politicians.
But ballot measures, while often pushing policies favored by one party more than another, don't come with "D" or "R" labels. Voters can make their choices without feeling like they're casting their ballots for one party or another.
Most Americans "aren't particularly ideological," said Lilliana Mason, a government professor at the University of Maryland and author of a recent book, "Uncivil Agreement," about identity in politics.
Though Americans are polarized around "who you are, what your identity is," polling shows that "the public holds fairly liberal positions" on a lot of issues, Mason said.
Democrats seized the U.S. House on Tuesday but lost seats in the U.S. Senate, while flipping 330 Republican-held seats in statehouses across the nation, short of the average loss of 424 seats by the president's party in midterm elections since 1902, according to the National Conference of State Legislatures.
Few races stung Democrats as much as the one for governor in Florida, a key swing state. The Democratic candidate, Andrew Gillum, lost to his Trump-backed Republican opponent, Ron DeSantis. Democratic U.S. Sen. Bill Nelson also trails his GOP challenger, Gov. Rick Scott, in a similarly tight race.
Down the ballot in Florida, however, one of the biggest stories was a major victory for liberals: passage of a constitutional amendment to do away with a law permanently stripping convicted felons of their right to vote.
It won big, 64.5% to 35.5%, a victory that will restore voting rights to more than 1 million people and probably have significant benefits for Democrats in future Florida elections, where the margins are often gossamer-thin.
An analysis by the Tampa Bay Times and the Miami Herald found that black voters were five times more likely than white voters to have lost their voting rights, with Democratic voters three times as likely as Republican voters to be affected.
Gillum said in his concession speech Tuesday night that he was proud of the amendment's victory: "That is one step closer to where we need to be."
State-level Medicaid expansion under Obamacare, a major Democratic-supported policy, also saw several victories in deep-red states.
Republican candidate Brad Little trounced Democrat Paulette Jordan 60% to 38% to become governor of Idaho, but voters there approved a Medicare expansion measure 60.5% to 39.5%.
It was a similar story in Nebraska, where voters expanded Medicaid while handily reelecting incumbent Republican Sen. Deb Fischer, another expansion skeptic.
In Utah, Republican Mitt Romney vaulted into the Senate as voters there approved Medicaid expansion and legalized medical marijuana. Romney opposed both measures, saying the issues should instead be addressed by elected officials.
In Arkansas, Gov. Asa Hutchinson cruised to reelection with more than 65% of the vote, and the state's four Republican U.S. representatives will return to their seats in Washington. At the same time, voters overwhelmingly approved a minimum-wage hike to $11 an hour by 2021.
Demonstrating their ideological flexibility, they also voted for a new voter-identification constitutional amendment with 79.5% of the vote.
Louisiana voters in large measure lived up to the state's right-wing history, reelecting all of their congressional incumbents — five out of the six are Republican — and voting to ban felons from holding public office less than five years after completing their sentences.
But they also passed a measure requiring unanimous verdicts in felony conviction cases, overturning an unusual rule that required only 10 out of 12 jurors — and that the left-leaning Southern Poverty Law Center called "a racially-charged remnant from the Jim Crow era."
Lack of ideological consistency cut the other direction too.
In West Virginia, Democratic Sen. Joe Manchin III won reelection as voters also ushered in a constitutional amendment that says "nothing in this Constitution secures or protects a right to abortion or requires the funding of abortion."
Alabama voters, who less than a year ago elected a Democrat, Doug Jones, to the Senate over conservative firebrand Roy Moore, approved an antiabortion constitutional amendment Tuesday to "recognize and support the sanctity of unborn life and the rights of unborn children, including the right to life."
And abortion is one of the major culture-war issues that made McCaskill a soft target in Missouri, even as the state's voters opted to support several liberal-friendly policies.
David Lauter contributed to this report from Washington.
Matt Pearce is a national reporter for The Times. Follow him on Twitter at @mattdpearce.
---
Must-read stories from the L.A. Times
Get the day's top news with our Today's Headlines newsletter, sent every weekday morning.
You may occasionally receive promotional content from the Los Angeles Times.