At the 2018 AFI Fest, the spotlight is on women from Ruth Bader Ginsburg to Mary, Queen of Scots
Last fall, the emergence of the #MeToo and Time's Up movements cast a harsh glare on rampant and pervasive gender inequity in Hollywood, among other issues.
In the year since, there has been a palpable cultural shift as the push for gender parity and inclusion has risen to the forefront of several industries in Tinseltown and beyond.
That's why for the 32nd edition of AFI Fest, Los Angeles' preeminent film festival, newly appointed director Michael Lumpkin chose to feature an all-female lineup of filmmakers for the festival's Cinema's Legacy program, which celebrates film history by screening recent restorations of classic and lesser-known films.
"I see the program as a foundation for where we are today around women in film," said Lumpkin. "Part of it certainly is creating change as we move forward, but I think it's also very important to look back and elevate work to show that there is a legacy of women filmmakers."
"In the past, Cinema's Legacy has functioned as a greatest hits-type section, these mega hits that everyone has already seen, and as it so happens, almost all of these classics are directed by men," said festival programmer Beth Hanna. "So we wanted to rewrite what Cinema's Legacy is and look specifically at women working in the independent film sector, both here and abroad."
The program will spotlight six indie filmmakers and their lesser-known films, which were originally released between 1978 and 1992: Kathleen Collins' "The Cruz Brothers and Miss Malloy," Cauleen Smith's "Drylongso," Nietzchka Keene's "The Juniper Tree (Einitreo)," Chantal Akerman's "The Meetings of Anna (Les Rendez-vous D'Anna)," Barbara Hammer's "Nitrate Kisses" and Nina Menkes' "Queen of Diamonds."
But AFI Fest's emphasis on women's stories this year extends beyond Cinema's Legacy. Of the 134 titles set to screen, 65 were directed by women and 23 are from women of color. Last year just 40 of the 137 films featured a woman at the helm.
"It wasn't that we set out for a quota," said Lumpkin of the numbers, which translate to roughly 48% of the festival's films. "It was not really an intentional programming decision at all."
"In meetings when we're discussing films, they just organically tend to be these more female-oriented stories," agreed Hanna. "It just felt like a year when we really needed to make a statement in terms of how female filmmakers are really a substantial part of this festival."
Running through Nov. 15 at the TCL Chinese Theaters, the Egyptian Theatre and the Hollywood Roosevelt, the 2018 AFI Fest will offer up films across the genres of comedy, drama, suspense and everything in between.
An expected 70,000 attendees will have access to 83 features, 47 shorts and four episodic projects running the gamut from big-budget blockbusters to smaller-scale indies and award contenders, as well as foreign-language films.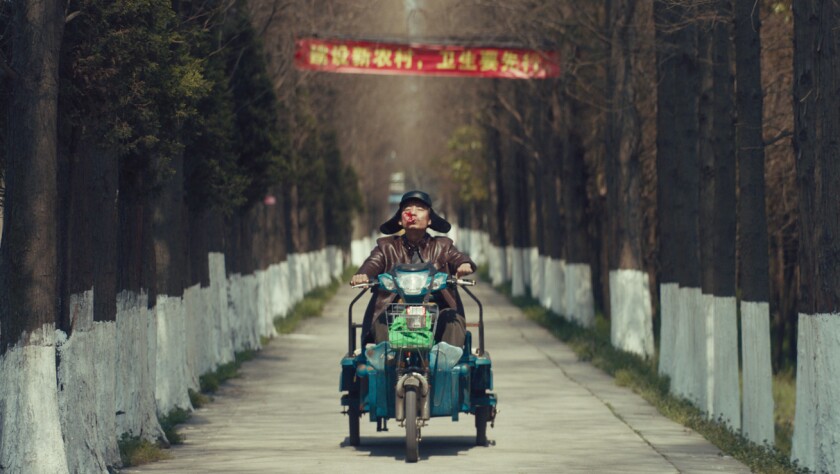 There are dramas like Mimi Leder's Ruth Bader Ginsburg biopic, "On the Basis of Sex," which serves as the festival's opening-night gala presentation; Susanne Bier's dystopian thriller "Bird Box," which will have its world premiere; and Cathy Yan's "Dead Pigs," which will screen in the festival's New Auteurs section.
Yan, who will attend for the first time this year, says she feels grateful that festivals like AFI have become more cognizant of the gender imbalance in the film industry and of the unique challenges faced by female filmmakers.
"I've been very lucky in the sense that 'Dead Pigs' was made in such a year of awareness," she said. "It's been great to see; it's been very empowering."
Positive reception to "Dead Pigs," Yan's debut about China's pig farms and the effects of Western influence on the country, has already helped the director snag her next gig at the helm of DC Comics' "Birds of Prey," a standalone Harley Quinn film starring Margot Robbie in a return to her "Suicide Squad" role.
"I saw 'Dead Pigs' before I knew that Yan had signed on to direct ['Birds of Prey']," said Lumpkin. "And [her appointment] makes sense, with her way of connecting with audiences and making her work very accessible. It plays like no other film I've seen from China. It's very new and fresh."
"Cathy just has this lyrical quality to her filmmaking that comes through so strong in her debut," said Hanna. "It's a very ambitious film that she really pulled off."
Among the other female-helmed films in the fest's New Auteurs section are Hungary's "One Day," about 24 hours in the life of an underappreciated mother from director Zsófia Szilágyi, and Kenya's "Rafiki," an uplifting love story between two young women from Wanuri Kahiu that caused waves, and was initially banned, in its home country.
Film and TV veteran Leder has been a Hollywood fixture for years now, but "On the Basis of Sex" will mark her first time bringing a film to the festival. As one of the first women accepted into AFI's cinematography program, she says the experience holds a particular significance for her.
"It's such a gift to be the opening night at AFI," she said. "I feel like I've come full circle. This premiere will feel like many others of my premieres, but it will be the most personal one because of the journey I have experienced from AFI to where I am now."
Her film, set for a theatrical release on Christmas Day, tracks the early life of Supreme Court Justice Ruth Bader Ginsburg and her landmark legal battles for gender equality, starring Felicity Jones as Ginsburg and Armie Hammer as her husband, Marty.
"This is a film about how change happens," said Leder. "This is the origin story of a modern-day superhero and also very much a story about how love prevails."
"'On the Basis of Sex' really speaks to where we are in the country right now on a lot of levels," said Lumpkin. "The festival is two days after the midterm elections, and we felt ... this was the perfect movie to show our opening-night audiences 48 hours later."
Female-centric storylines are also heavily represented among the festival's offerings. The closing-night gala is the world premiere of Josie Rourke's historical drama, "Mary Queen of Scots," starring Saorsie Ronan in the title role and Margot Robbie as Elizabeth I.
The festival will host a conversation with Natalie Portman on Friday in conjunction with a screening of "Vox Lux," in which she stars. Karyn Kusama's L.A. noir "Destroyer" makes its local debut Tuesday, accompanied by an extended career retrospective conversation with the film's star, Nicole Kidman.
Both films premiered at prestigious fall festivals to strong reviews. Unlike the recently shuttered L.A. Film Festival, AFI Fest's timing in the heart of awards season has helped it stand out as a crucial part of the local film scene.
Among the additional female-driven award contenders on tap at this year's fest are Alfonso Cuarón's Mexican family drama, "Roma," starring newcomers Yalitza Aparicio and Marina de Tavira; Yorgos Lathimos' cutting period romp, "The Favourite," starring Olivia Colman, Emma Stone and Rachel Weisz; and a gala presentation of Steve McQueen's heist thriller, "Widows," starring Viola Davis, Michelle Rodriguez, Elizabeth Debicki and Cynthia Erivo and co-written by "Gone Girl" author Gillian Flynn.
And the festival will highlight a broad range of female filmmakers from around the world, including Nadine Labaki, whose "Capernaum" is Lebanon's entry for this year's foreign language Oscar race; Italian auteur Alice Rohrwacher's "Happy as Lazzaro," which was acquired by Netflix out of this year's Cannes Film Festival; and the latest works from French filmmaker Mia Hansen-Love ("Maya") and Japanese director Naomi Kawase ("Vision").
"In our programming we are looking to represent as many different female stories as we possibly can," said Hanna. "I've noticed that in female-directed films, they're usually about women of varying ages, and I hope that adds a sense of inclusiveness to the festival. I hope audience-goers feel like their stories are being shown onscreen in a way that adds to a sense of community."
follow me on twitter @sonaiyak
---
Inside the business of entertainment
The Wide Shot brings you news, analysis and insights on everything from streaming wars to production — and what it all means for the future.
You may occasionally receive promotional content from the Los Angeles Times.