Newsletter: Today: The Withdrawal and the Wall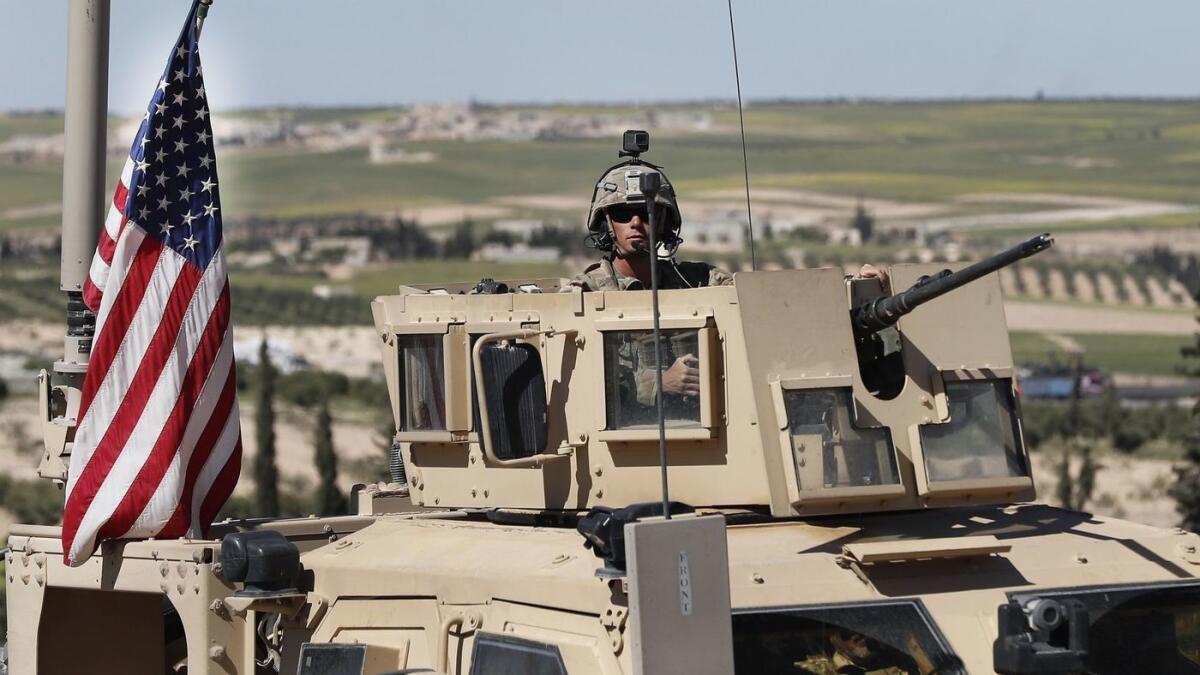 President Trump's calls to pull U.S. troops from Syria and use the military to build a border wall illustrate his worldview.
TOP STORIES
The Withdrawal and the Wall
Internationally, President Trump is declaring victory in Syria and saying it's time to bring American troops home. Domestically, he is vowing to use the military to build a wall along the border with Mexico. Taken together, those statements mark a key moment for his "America first" view. But neither is as clear-cut as it seems. "We have defeated ISIS in Syria," Trump tweeted as justification for his order to withdraw America's roughly 2,000 troops. Yet numerous fellow Republicans and foreign policy experts, including apparently some in his administration, think the decision opens the door for more Islamic extremism and cedes too much power to Iran and, especially, Russia. Some officials were working to slow the withdrawal timeline. As for the wall? American soldiers are unlikely to do much if any construction along the border, given legal and bureaucratic hurdles.
All They Want for Christmas …
Speaking of the wall, Congress is calling Trump's bluff on his demand for $5 billion to build that wall or else shut down the government. A budget bill to fund federal operations for about seven weeks sailed through the Senate (as some lawmakers sang Christmas carols), and is likely to make it through the House, despite grumbling from some Republicans that they should continue to fight for wall money. Will Trump sign it to avoid a shutdown? You'd better watch out.
More Politics
-- North Korea says it will never unilaterally give up its nuclear weapons unless the United States removes its nuclear threat first.
-- A federal judge ruled that a major Trump administration policy that sought to block victims of gang and domestic violence from claiming asylum in the U.S. is illegal.
-- Among the changes ahead when Democrats take control of the House in January, add this one: The switch will upend the balance of power in California's water wars.
What the Archdiocese Knew
In its efforts to address scandals in the Roman Catholic Church, the Archdiocese of Los Angeles has released several lists of names of clergy accused of wrongdoing. But it knew for at least 13 years that Bishop Alexander Salazar had been accused of sexual abuse and investigated by Pasadena police in 2002 — and it didn't inform the public. This week, the case became known only when Pope Francis accepted his resignation. Salazar has long maintained his innocence.
Many Warnings, but the System Failed
Army Corps district engineer Col. Norman E. Pehrson had warned Santa Barbara County officials about debris flows in the Montecito area during a storm: "The danger of loss of life and the menace of public health is great." The year was 1969. Flash-forward to January of this year, when mudslides in the fire-ravaged area killed 23 people and destroyed 130 homes. What happened in between? A Times investigation has found that government officials did not heed decades-old warnings to build bigger catch basins — and that the county failed to thoroughly empty the existing basins before the disaster, drastically reducing their capacity to trap debris.
Sign up to get Today's Headlines delivered to your inbox. »
MUST-HEAR PODCAST
On the latest episode of the "Arrive Early, Leave Late" podcast, writer Gary Klein shares stories from his three-decade career at the L.A. Times, including about coach Pete Carroll during the glory years at USC.
FROM THE ARCHIVES
In 1990, Times reporter Bob Pool went undercover for a series called "Secret Santa." Dressed in padding, a white wig and the appropriate red suit, Pool chronicled his adventures, including with Muriel Wuethrich, the Santa photographer at a mall in Torrance: "Among the professional North Pole crowd, those working like me as department store and mall Santas and elves for Western Temporary Services, Wuethrich's artistic Santa pictures are legendary."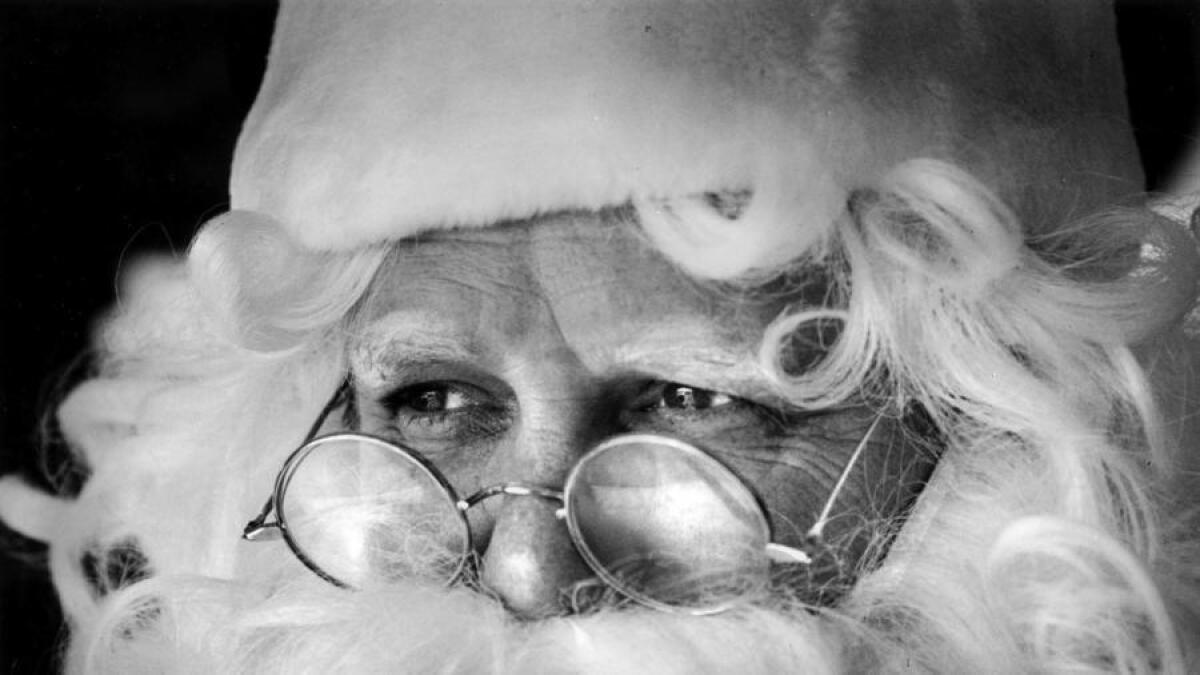 CALIFORNIA
-- As Gov. Jerry Brown gets set to leave office, he spoke with columnist George Skelton about what he accomplished in his long Sacramento career — and the big new house he's retiring to.
-- Teachers in the L.A. Unified School District are prepared to strike Jan. 10, and their union says it has no plans for more negotiating.
-- A disciplinary board has decided that a Los Angeles police commander who was charged with public intoxication after an altercation with Glendale police in April should lose her job. The police chief will weigh in on the ruling.
-- Columnist Steve Lopez checks in with a Lynwood woman desperate to get her four grandchildren out of foster care and with the stranger who is offering her help.
HOLLYWOOD AND THE ARTS
-- Best friends Jennifer Lopez and Leah Remini are acting together for the first time in the new romantic comedy "Second Act." They've been through a lot.
-- Eric Kripke, the creator of the long-running TV series "Supernatural" and the time travel drama "Timeless," details the inspirations behind them.
-- Yes, that's Julie Andrews you're hearing in "Aquaman." Here's how the writers made that happen.
-- First-look photos from Disney's live-action adaptation of the animated classic "Aladdin" have people wondering what's up with Will Smith's genie.
NATION-WORLD
-- A study has found more than 15% of childhood deaths in America are due to guns.
-- Hemp is about to be legal under the new farm bill. You can't get high from it, but you can wear it.
-- Why would drug traffickers testify against Joaquin "El Chapo" Guzman at his New York trial? Because it's a possible path to citizenship.
-- The European Union marked 100 days until Brexit on Wednesday by triggering an action plan to ensure planes can still fly and money can still flow between Britain and the bloc if the U.K. leaves the EU without a divorce deal.
-- South African police have issued a warrant for the arrest of Zimbabwe's former first lady, Grace Mugabe. She is accused of assaulting a young woman in Johannesburg last year.
BUSINESS
-- The data-sharing at the heart of Facebook's latest scandal isn't a bug. It's a feature of how Facebook does business.
-- Amid stock market turmoil and Trump's attacks on the Federal Reserve for raising interest rates, Fed officials announced another rate hike, but signaled a slower path of increases in the coming year.
SPORTS
-- On the first day of college football's early signing period, USC coach Clay Helton was fired up and defending his program, while UCLA's Chip Kelly was fine with his school's recruiting class being light on stars and heavy on offensive linemen.
-- Clippers coach Doc Rivers is about to pull even on the all-time wins list with Jack Ramsay, who gave him some sage advice when Rivers was just starting out as an NBA coach.
OPINION
-- The LAPD's pedestrian safety program is just a jaywalker's Get Out of Jail Free card.
-- What Penny Marshall did for girls.
WHAT OUR EDITORS ARE READING
-- William Barr, Trump's choice for attorney general, sent an unsolicited memo this year to the Justice Department excoriating special counsel Robert S. Mueller III's inquiry into potential obstruction of justice by Trump. (Wall Street Journal)
-- Actress Eliza Dushku writes: "I worked at CBS. I didn't want to be sexually harassed. I was fired." (Boston Globe)
-- It might sound like fun, but in China, you definitely don't want "to be touristed." (The New Yorker)
ONLY IN L.A.
Welcome to Beverly Hills ... sort of. The city has long encouraged selfie-snapping tourists to stroll into its shops and restaurants. But how they get there is another matter. For decades, there's been a fight over tour buses dropping off visitors among the high-end shopping destinations, with loading zones having been installed and removed several times. Now, a new stop is being proposed and the old battles are being fought. First World problems, indeed.
If you like this newsletter, please share it with friends. Comments or ideas? Email us at headlines@latimes.com.
Sign up for Essential California for the L.A. Times biggest news, features and recommendations in your inbox six days a week.
You may occasionally receive promotional content from the Los Angeles Times.