Fed raises key interest rate but signals slower pace of increases ahead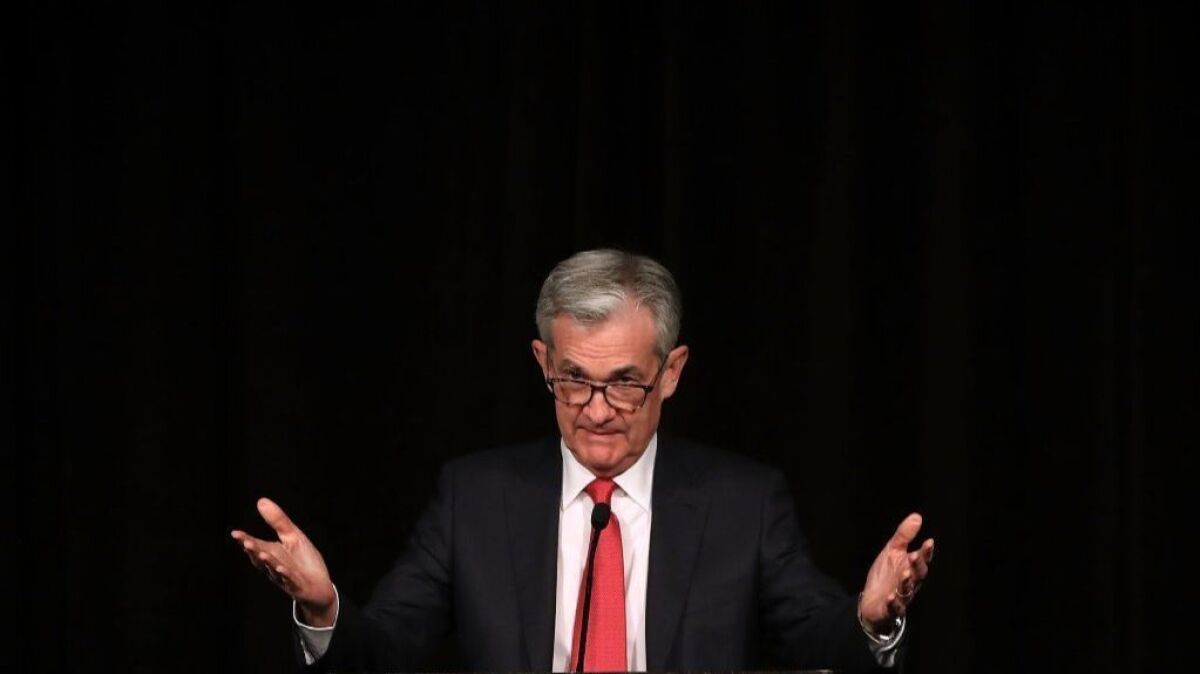 Reporting from Washington —
Amid stock market turmoil and President Trump's attacks on the Federal Reserve for raising interest rates, Fed officials announced another rate hike on Wednesday — but signaled a slower path of increases in the coming year.
The quarter-percentage-point boost in the Fed's benchmark interest rate was widely expected. And the central bank, acknowledging some clouds looming over the global economy and volatile financial markets, suggested a possible letup in a campaign that has now seen a rate increase in each of the last five quarters.
The more tentative approach was evident in new projections by Fed policymakers. In September, most officials saw at least three rate hikes for next year, with a few members expecting four and one official five increases. But now, most are looking for just one or two rate hikes next year, and no one thinks there will be more than three.
However, investors were not placated by the slower pace of future rate increases. They clearly wanted more from the Fed and its chairman, Jerome Powell, even though their policy action and projections fell in line with most economists' expectations.
Stocks that had been up earlier in the day turned sharply lower immediately after the release of the Fed statement and as Powell answered questions from the news media, continuing the sell-off momentum. The Dow ended down 352 points, or 1.5%, to 23,323.
"I'm flabbergasted," said Chris Rupkey, chief financial economist at MUFG Union Bank in New York, reacting to the market response. "No one saw that coming."
Apparently, he and other analysts said, investors were hoping that the Fed would make clear it was going to pause on raising rates, period. Nor did markets seem to buy Powell's statements at the news conference that the economy today was "very healthy" and that the outlook had not been "fundamentally altered" by recent events, whether trade tensions with China or tightening of financial conditions.
The Fed's policy statement, adopted unanimously and released after a two-day meeting, maintained the language that "risks to the economic outlook are roughly balanced." But as economist Carl Tannenbaum noted, just a week ago, Mario Draghi, president of the European Central Bank, described the risks as weighted to the downside.
"Implicit in what's been happening [in stock markets] is a much softer economy than the Fed is forecasting," said Tannenbaum, of financial services firm Northern Trust.
Fed officials made a tiny tweak in their policy statement on rates, adding the word "some" to their expectations for "further gradual increases."
But that small addition wasn't enough for the Fed to calm markets. While policymakers may have meant to convey that they could hold off raising rates in March or even later, with further action wholly dependent on economic data, investors were probably focused on "further gradual increases."
"I think it's more a reaction to a muddled message from the Fed," said Ryan Sweet, who covers the Fed for Moody's Analytics, referring to Wednesday's selloff.
But Sweet also noted that financial markets are clinging to an unrealistic expectation for zero rate hikes next year. "Markets are being a little bit disconnected with the economy," he said. "The economy is slowing, but there's no indication of a sharp slowdown or that recession risks are appreciably higher than a few weeks ago."
Since late 2015, the Fed has raised its key rate by a quarter of a point nine times, reflecting its confidence that the U.S. economy is growing solidly enough to absorb steadily higher borrowing costs. The so-called federal funds rate now stands at a range between 2.25% to 2.5%. Economic growth has picked up this year thanks in part to tax cuts.
Fed officials have sought to raise rates to more normal levels, closer to around 3%, to get ahead of potentially rising inflation as the labor market has tightened, and to have greater ability to lower rates in the future should the economy start faltering.
The latest statement, and an updated economic forecast also released Wednesday, shows that Fed policymakers remain bullish about the economy. They noted the strong job gains, consumer spending and the low unemployment rate.
"Wages have moved up for workers across a wide range of occupations, a welcome development," Powell said in his prepared statement. And he later added that he expected further acceleration in workers' earnings.
Despite the recent wage increases and strong economic growth, inflation, surprisingly, has been running a tad below the Fed's 2% target. That inflation has remained subdued should give the Fed greater latitude in setting interest rates.
Powell acknowledged as much, saying: "There's significant uncertainty about both the path and the ultimate destination of any further rate increases."
The Fed lowered its economic growth projections for this year and next. And in their latest statement, policymakers gave a nod to recent concerns about a slowdown outside the U.S. and the volatile stock market.
Stock markets have behaved recently as if recession were around the corner. The Dow is now down 14% from its peak in early October, and the broader S&P 500 is off about 15% from its September high — in the territory of a so-called correction but not yet a bear market.
The Fed said it "will continue to monitor global economic and financial developments and assess their implications for the economic outlook."
According to the latest forecast, the Fed expects the U.S. economy to grow at a strong 3% this year, but the slowdown in 2019 will be a little sharper, it said. The Fed's median economic growth rate for next year is now 2.3%, down from the 2.5% that officials had projected three months ago. Most private economists agree with that assessment, in part because stimulus from this year's tax cuts is set to fade.
Investors have become increasingly anxious about the economic outlook. Their fears seem to be coming from several fronts: the U.S. trade conflict with China; slowing global growth, particularly in China; and uncertainties about Britain's deal to exit from the European Union.
By most accounts, the U.S. economy remains solid, but there's been a widening in borrowing costs between highly rated corporate borrowers and those with less-stellar ratings — one key measure of financial tightening. There also are signs of a weakening housing sector, although long-term bond yields dropped further Wednesday, and that should help lower mortgage costs and boost home sales.
Some investors and observers, including President Trump, have blamed the stock market woes on the Fed having raised interest rates a little too much, too quickly.
Trump has been relentless in making his feelings on the issue public. In October he described the Fed as "crazy," "loco," "going wild" and "out of control" for gradually raising rates. And this week, he renewed his harangues, tweeting Tuesday that the Fed should not make "yet another mistake."
Powell, like others before him, has defended the Fed's independence, even as analysts have noted that it would be hard to ignore Trump's repeated criticisms.
Asked at the news conference about Trump's comments and the effect on the Fed, Powell said: "Political considerations have played no role whatsoever in our discussions or decisions about monetary policy. We're always going to be focused on the mission that Congress has given us.
"We have the tools to carry it about. We have the independence, which we think is essential to be able to do our jobs in a nonpolitical way," he added. "And you know, we are — we at the Fed are absolutely committed to that mission and nothing will deter us from doing what we think is — is the right thing to do."
Follow me at @dleelatimes
---
Sign up for the California Politics newsletter to get exclusive analysis from our reporters.
You may occasionally receive promotional content from the Los Angeles Times.