USC's Clay Helton is fired up on first day of early signing period and in defense of his program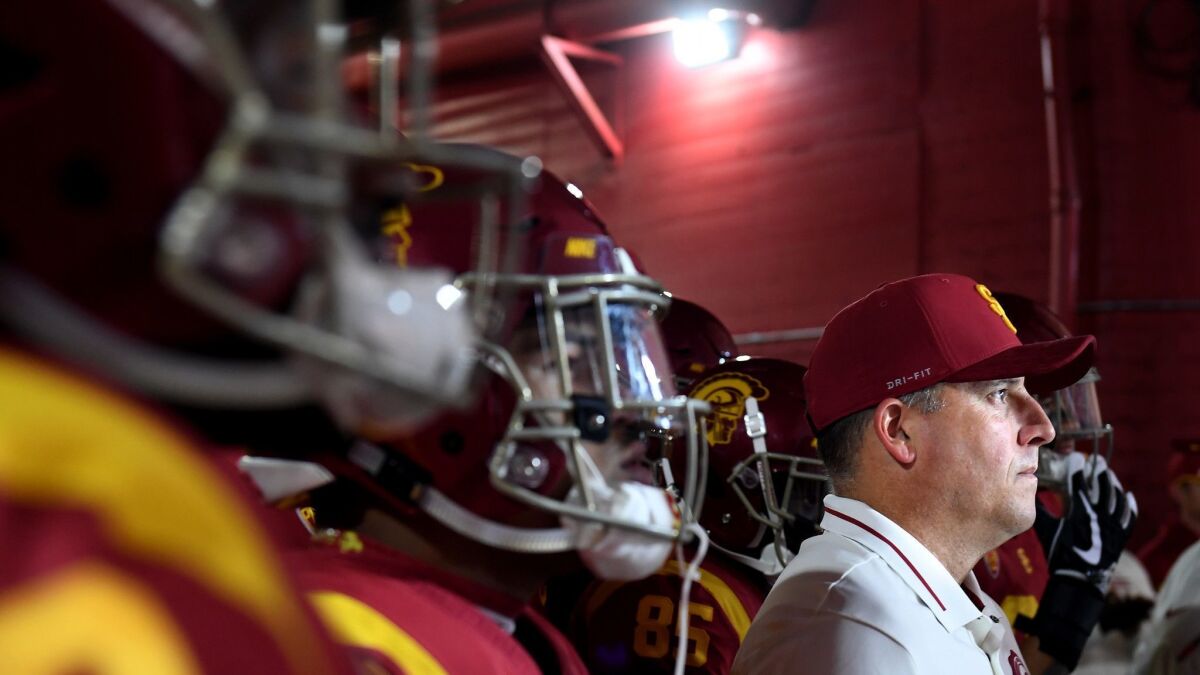 It had been four weeks since Clay Helton had taken questions from reporters, and he looked much better for the break Wednesday afternoon.
Eighteen young men had just signed away their futures to him and to USC, a majority of the group "staying true" to their commitments through the Trojans' 5-7 season while five new players chose to join up within the last day.
Helton honored the occasion with a fresh haircut and shave and by wearing crisply ironed khakis, a black USC polo and a spotless pair of gray sneakers. He presented the image of a man who had spent the last month trying to clean up a mess of his own making and who had emerged stronger, even more resolute from the effort.
"I've missed ya'll," Helton said as he entered a classroom at the McKay Center.
By the end of his 23 minutes back in the spotlight, though, he had every reason to be happy to go back to the tireless work of bringing USC football back to where he had once led it, to revered bowl games and a conference championship, and, hopefully, even further up college football's food chain.
The score that mattered Wednesday on the first day of the early signing period said USC's recruiting haul for the 2019 class had improved from 28th nationally to 21st in the span of a day as the Trojans bolstered their depth at each level of their defense. That was a touchdown improvement, one could say, but it wasn't long before the questions brought Helton back to all of the touchdowns left on the field in 2018.
One questioner wanted Helton to explain how this recruiting class addressed the matter of his program's culture, which USC athletic director Lynn Swann had said needed changing during the offseason. Helton said his philosophy is still faith, family and football, "the philosophy I've always had."
When pushed again on culture change, Helton's mood shifted. It was as if he had returned to the tense scene at the Coliseum after the season-ending loss to Notre Dame, when he had to defend once and for all the job he has done as the Trojans' coach.
"Like I said, I'm sorry that we lost some close games down the stretch, four of them by seven points or less," Helton said, "and those kind of determine whether you have a good season or a bad season, those close losses. But I'm going to say this: I have some really, really good kids and student-athletes on this football team and that will never change the way I feel about them.
"It's my job, and I put the heat on myself and our coaching staff to be able to get them to produce. That's why they put 'coach' in front of your name. As far as the men that are in that locker room, they're the best of the best. They're my family and I appreciate them."
It has been nonstop since the season ended, and Helton can hope his recent actions speak louder than his words, which did not address any specifics of a culture change within his program.
Two days after Swann announced he was keeping Helton as coach for a fourth season, Helton let go of offensive coordinator Tee Martin, defensive line coach Kenechi Udeze and defensive backs coach Ronnie Bradford.
A week later, Helton announced the hiring of recently fired Texas Tech coach Kliff Kingsbury as his offensive coordinator and quarterbacks coach, raising eyes across the nation that Helton was authentic in his desire to improve how the Trojans operate.
Surprisingly enough, it was the defensive side where USC got a boost Wednesday, adding four-star defensive end Drake Jackson of Corona Centennial (he picked USC over Arizona State), three-star linebacker Ralen Goforth of Bellflower St. John Bosco (USC over UCLA), three-star safety Briton Allen of IMG Academy in Bradenton, Fla. (flipped from Georgia Tech), three-star defensive tackle Dejon Benton of Pittsburg High near Oakland (flipped from Washington State) and three-star defensive lineman Nick Figueroa of Riverside City College (USC over UCLA and Tennessee).
The Kingsbury effect is likely to be felt in January and February leading into national signing day, when the Trojans will have their answers from five-star receivers Bru McCoy of Santa Ana Mater Dei and Kyle Ford of Orange Lutheran. McCoy did a TV interview with FS West on Wednesday in which he wore a USC shirt.
Helton was drawn to Kingsbury for the same reason he believes recruits will be. Helton said Kingsbury, who will bring his version of Mike Leach's "Air Raid" to USC, was the first name on his list and that he contacted him soon after he was let go at Texas Tech. Kingsbury flew to Los Angeles, where things progressed quickly.
"It was really a beautiful marriage," Helton said, "a great fit. The one thing I was amazed by was how effectively the ball gets spread around. Everyone thinks, 'Oh, it's a wide-receiver-happy offense,' but really, as you look at it, he's had 1,500-yard rushers, he's had tight ends catch 106 balls.
"It reminds you of some of the things the NFL is doing right now and is going to. I just felt like at this point in time with the quarterbacks and athletes that we have at wide receiver, at tight end, at running back, this is a natural fit, and really felt that if we got this guy, you're winning the lottery."
Helton has moved on from the disappointment of the season the only way he knows how — with his jaw set, as he likes to say. With the run of defensive additions Wednesday, it is possible with McCoy, Ford and others still out there that the Trojans could finish around the top 10 come February.
Given this season, that would be an accomplishment for the brand just as much as the coach who represents it.
"This is an easy product," Helton said. "It's USC. It's the 15th academic-ranked university in the country, and you look at all the majors that are here, the strength of the Trojan family, it's not a hard sell. … At the end of the day, people see the big picture, and the people that signed with us today get it. They're into it for the 40, 50, 60 years of what it means to be a Trojan and part of the Trojan family."
Twitter: @BradyMcCollough
Get the latest on L.A.'s teams in the daily Sports Report newsletter.
You may occasionally receive promotional content from the Los Angeles Times.