South Africa seeks to arrest Grace Mugabe, wife of Zimbabwe's former leader, on assault charge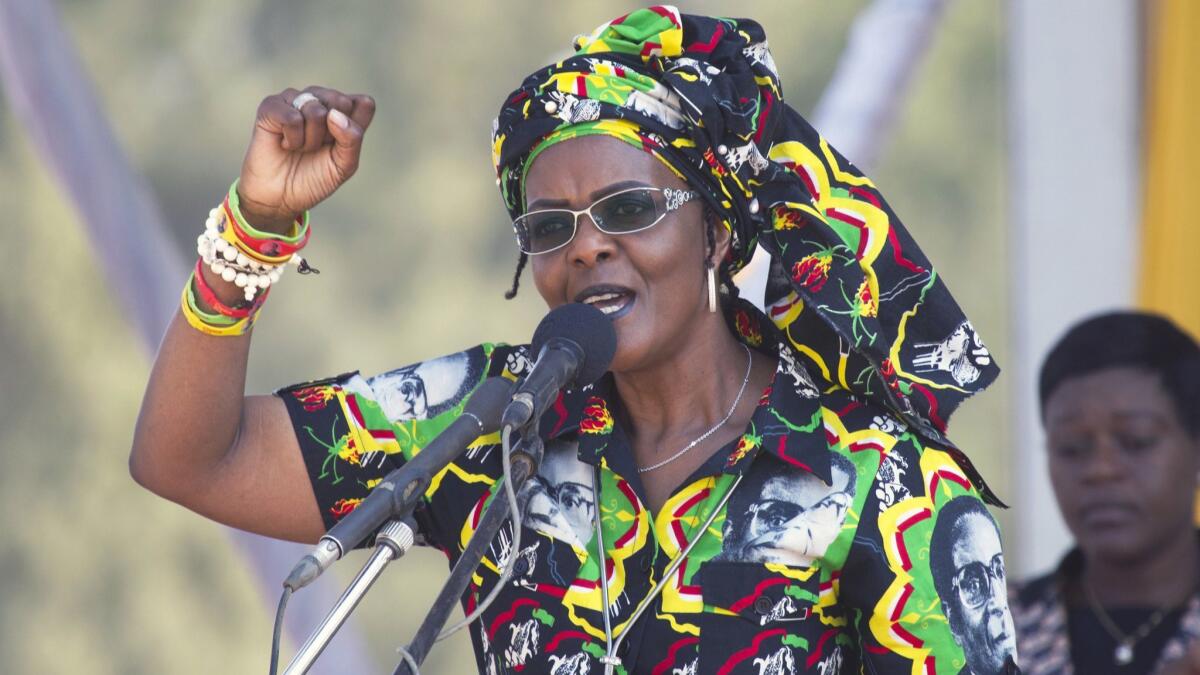 Reporting from Johannesburg, South Africa —
South African police have issued a warrant for the arrest of Zimbabwe's controversial former First Lady Grace Mugabe, who is accused of assaulting a young woman in Johannesburg last year.
In August 2017, just three months before President Robert Mugabe was forced to step down from decades in power, model Gabriella Engels, then 20, accused the first lady of beating her with an extension cord in an upscale hotel room where Engels was socializing with friends of the Mugabes' sons.
Days after the incident, the South African government granted Grace Mugabe diplomatic immunity, but a court overturned that decision in July.
AfriForum, a South African group that lobbies for the rights of Afrikaners, had sought to have Grace Mugabe's immunity overturned; it announced Wednesday that a warrant for the former first lady's arrest had been issued.
South African police spokesman Vishnu Naidoo confirmed it had been issued on Dec. 13.
Grace Mugabe, 53, cultivated a high-profile public persona during her husband's time in power and was even seen as his possible successor, but the couple has laid low since the then-93-year-old president was ousted by Zimbabwe's military in a coup in November 2017.
A widely unpopular figure, the first lady was sometimes referred to as "Gucci Grace" for her extravagant shopping habits while millions of Zimbabweans struggled in the country's sinking economy.
Mugabe was also resented by members of the ruling party, ZANU-PF, as she sought to consolidate her own power in the organization. She repeatedly verbally attacked Emmerson Mnangagwa until her husband fired him as vice president in November 2017. The move, seen as a signal that the first lady was positioning herself to succeed her husband as president, triggered the Mugabes' ouster and paved the way for Mnangagwa to become the country's next leader.
The Mugabes have been isolated at their home in Harare, Zimbabwe's capital, since the coup, with the increasingly frail ex-president traveling to Singapore for medical treatment. At a news conference before Zimbabwe's national elections in July, Grace Mugabe sat to the side of her husband, audibly coaching him as he responded to reporters' questions.
Engels' vivid account of an allegedly unhinged Grace Mugabe attacking her in a hotel room in Sandton, a tony Johannesburg suburb, enraged many South Africans, particularly after the former first lady was granted immunity and permitted to leave the country in a hurry without answering to police.
"We believe that this sends a strong message that no one is above the law, even if your surname is Mugabe," said AfriForum Chief Executive Kallie Kriel, who drew criticism this year after saying on a radio show that he did not think apartheid was a crime against humanity.
It's not yet clear whether South Africa will now seek Mugabe's extradition.
Mahr is a special correspondent.
Mahr is a special correspondent.
Sign up for Essential California for the L.A. Times biggest news, features and recommendations in your inbox six days a week.
You may occasionally receive promotional content from the Los Angeles Times.