UCLA's recruiting class is light on stars, heavy on offensive linemen and that's just fine with Chip Kelly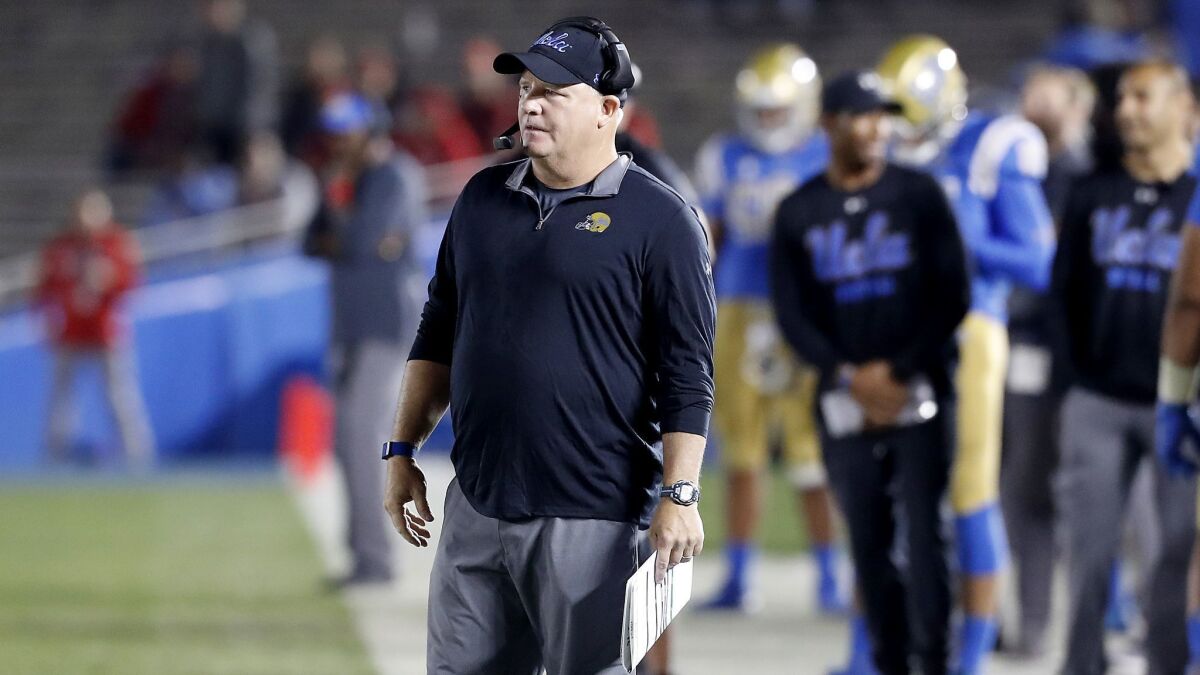 UCLA beat out Yale and the Colorado School of Mines, unlikely competitors for major-college prospects, for two of the final players it added to its recruiting class.
All that matters to Bruins football coach Chip Kelly is whether those largely unheralded players can help his team defeat the Pac-12 Conference powerhouses standing in the way of an elusive Rose Bowl berth.
"There's going to be some kids that maybe no one had ranked as high," Kelly said Wednesday on the first day of the early signing period, "and then you're like, 'Oh my God, look at them.' "
The Bruins hope they unearthed some under-the-radar gems in a class that was light on star power but heavy on offensive linemen to plug the team's biggest need.
Sean Rhyan, an offensive tackle from San Juan Hills High in San Juan Capistrano, was the only one of the 16 players who signed with the Bruins who was given four stars by 247Sports on its five-star scale. Every other player was given three stars except for linebacker Hayden Harris and offensive lineman Josh Carlin, who were each rated as two-star prospects and recruited by mostly Division II and III schools.
"We feel really good about the group that we just got," Kelly said of a class ranked No. 8 in the Pac-12 and No. 51 nationally by 247Sports. The class rose two spots in the Pac-12 rankings after adding a handful of players who were recently undecided.
Kelly said he expected to add six or seven players to the class by the regular signing day in February and would do so by seeking the best available players instead of filling needs based on position. Among those expected to join the class are Michael Martinez, a tight end from Santa Ana Mater Dei High who has long been committed to UCLA.
The Bruins have already signed five offensive linemen, including guards Duke Clemens and Beau Taylor and two-way lineman Siale Liku in addition to Rhyan and Carlin. Kelly said Liku, who picked UCLA on Wednesday after also considering California and Oregon State, could play on whichever side of the ball gives him the best chance to succeed.
The slew of offensive linemen will help the Bruins offset attrition, recruiting misses and a few departures. Graduate transfer guard-tackle Justin Murphy recently announced he would use his final season of eligibility at another school and left tackle Andre James announced Wednesday that he was giving up his final season of eligibility to enter the NFL draft.
UCLA had hoped to sign another offensive lineman but Satao Laumea, a guard from Rialto Eisenhower High, picked Utah.
The Bruins snagged an elite pass rusher when Datona Jackson, a defensive end from College of the Desert, flipped from USC at the final hour after the Trojans reportedly pulled their scholarship offer.
UCLA brought in a powerful running back in Jahmon McClendon, a 6-foot-2, 211-pound standout from Monte Vista High in Spring Valley, and a speedy one in Keegan Jones, a 5-9, 175-pounder from Cleveland (Tenn.) High. The Bruins also signed a quarterback who might have a future as a world leader if football doesn't work out.
"Chase, I've been told by more than one person that he's going to be president of the United States someday," Kelly said of Chase Griffin, who was lightly recruited despite being the Gatorade Texas high school player of the year out of Hutto High.
Kelly makes no apologies for wanting players more focused on results than rewards. When he asked Rhyan how he was going to celebrate his signing, the new Bruin said he was headed to lift weights.
"So he's just dialed in 100% into football and school," Kelly said of a player who also may make some time for track in college as a shot putter.
Kelly has a history of developing little-known players into stars. Among the two-star players he coached at Oregon, linebacker Spencer Paysinger went on to play for the New York Giants and offensive lineman Mark Asper started in four straight bowl games before going on to the NFL.
The ultimate judgment on UCLA's class won't be rendered for several years.
"I don't get caught up as much as some of the other things, you know, in terms of what people are ranked coming in," Kelly said. "It's really what their make-up is, and how hard are they willing to work when they get here."
Times staff writer Blake Richardson contributed to this report.
Follow Ben Bolch on Twitter @latbbolch
---
Get the latest on L.A.'s teams in the daily Sports Report newsletter.
You may occasionally receive promotional content from the Los Angeles Times.