Op-Ed: The LAPD's pedestrian safety program is just a jaywalker's Get Out of Jail Free card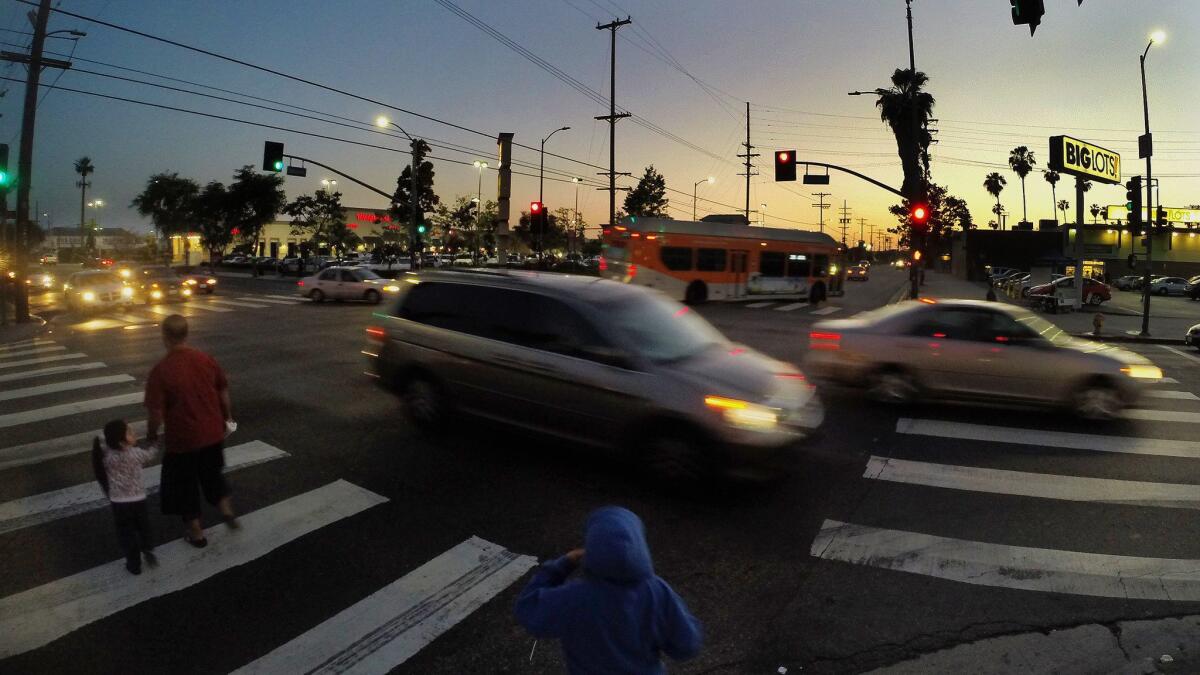 The Los Angeles Police Department announced a "Pedestrian Safety Initiative" last month, intended to reduce the city's high rate of pedestrian traffic deaths. When traffic officers catch jaywalkers, they will offer them reflector vests and LED clip-on lights instead of tickets.
As an inveterate and lifelong jaywalker myself, I want to take this opportunity to express my gratitude. With a reflector vest or clip-on light, I'll be able to cross streets anywhere with impunity, secure in the knowledge that I am visible to whatever vehicles might approach.
Instead of a ticket, I'll have the jaywalker's equivalent of a permanent Get Out of Jail Free card.
I'm joking, of course, but not so much. Vests and LED lights, after all, won't deter or even shame jaywalkers. They'll only encourage us.
Defensive walking? That isn't the antidote to 107 pedestrian deaths.
I grew up dodging traffic. When I was a kid in Manhattan, my friends and I used to play an urbanized version of the Running Bases game: waiting for a break on one of the borough's broad avenues, then dashing across all lanes as fast as we could. The reward was an adrenaline rush, heartbeat high in my chest.
In New York, jaywalking is part of the culture; no one waits for the light or goes to the corner. Shortly after I moved to Los Angeles, in the early 1990s, I jaywalked across an empty street downtown, only to be derided by a woman who had been standing on the curb beside me: "Oh," she called out. "We're playing by New York rules today."
I now live in Mid-City, not far from a major boulevard that has no traffic light or crosswalk on my corner. I dart across it several times a week. I do this not for the adrenaline rush but convenience. If there were a legal crossing, I would use it. The nearest crosswalk, however, is blocks away.
This points up my problem with the LAPD's initiative: It puts the onus for a safer, better pedestrian experience solely on the walker, and lets drivers and the city off the hook. Drivers are constantly bigfooting walkers' territory — cutting us off in crosswalks or speeding along residential streets. And just try getting a traffic light or a stop sign installed at an intersection that could be lethal for pedestrians or bicyclists. Neighborhood activists can attest to the herculean effort involved.
"If someone is jaywalking — or 'outside crosswalks' according to the LAPD — chances are good there should be a protected crosswalk there," Emilia Crotty, executive director of Los Angeles Walks, an advocacy group for pedestrians, told LAist.
The problem is particularly acute in neighborhoods the Los Angeles Department of Transportation refers to as "underserved communities." According to the website for the city's Vision Zero project, which seeks to eliminate all traffic deaths in Los Angeles by 2025, "65% of all deaths and severe injuries involving people walking occur on just 6% of our streets." It should come as no surprise that the majority of these streets can be found in downtown, South Los Angeles, East Hollywood, Koreatown.
This year, pedestrians have accounted for 107 of the 200 or so traffic fatalities in the city, despite being involved in only a small percentage of accidents. Many of those killed, LAPD Chief Michel Moore noted at the news conference announcing the Pedestrian Safety Initiative, were "outside crosswalks." The numbers are as bad as those of any city in the United States.
The initiative offers tips for what Moore calls "defensive walking": Stay in crosswalks, and cross only when it's safe. Stay off your phone while crossing. And if it's dark, well … there's always that reflective vest.
I'd certainly rather get a warning and a vest than a jaywalking ticket, which in Los Angeles can cost as much as $250. And, as the chief indicated at the news conference, we can be grateful to Farmers Insurance for funding 1,200 vests and 700 LED lights for officers to distribute. Still, defensive walking? That isn't the antidote to 107 pedestrian deaths.
Enter the Fray: First takes on the news of the minute from L.A. Times Opinion »
"Even if the street were entirely empty, of course, you couldn't be sure of a safe crossing, for a car could appear suddenly over the rise four blocks further on and be on and past you before you had taken a dozen breaths," Ray Bradbury wrote in his 1953 novel "Fahrenheit 451," describing a dystopia in which, among other atrocities, drivers actively attempt to strike pedestrians for sport.
Bradbury was an Angeleno, riding his bike and walking thoroughfares given over to cars; this is the landscape that inspired him. That sequence in "Fahrenheit 451" might have occurred to him when he was trying to cross Pico, near Cheviot Hills (where he lived), or Wilshire Boulevard (an incident while he walked there led to his 1950 short story "The Pedestrian") without hiking half a mile to a traffic light.
Moore wants to "open up a dialogue with pedestrians as our traffic officers move about the city." It's a lovely thought. But to make over Los Angeles for walkers requires that drivers lose their false belief that they own the road. Not to mention paying for more lights and crosswalks to complement our vests and LEDs.
David L. Ulin is a contributing writer to Opinion.
Follow the Opinion section on Twitter @latimesopinionand Facebook
A cure for the common opinion
Get thought-provoking perspectives with our weekly newsletter.
You may occasionally receive promotional content from the Los Angeles Times.