Analysis: Pullout from Syria weakens U.S. hand in the Middle East and boosts Russia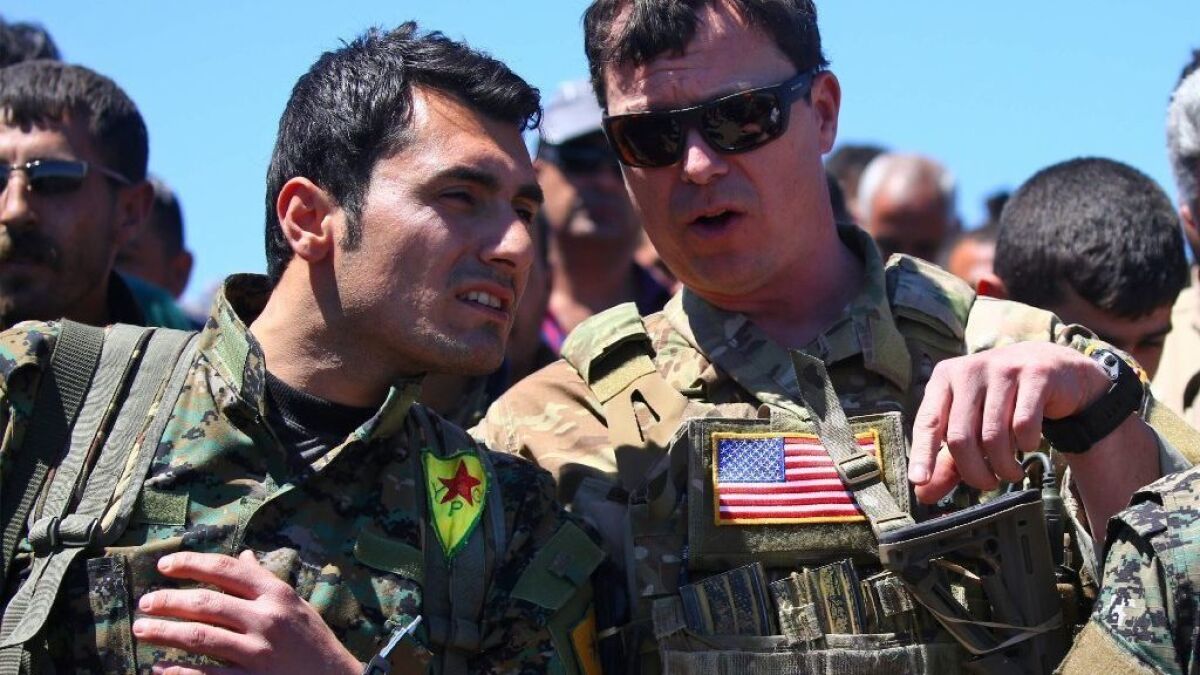 Reporting from Washington —
President Trump's decision to withdraw troops from Syria robs the United States of key leverage in the Middle East, may clear the way for a return of Islamic extremist groups and boosts an expanding Russia.
Numerous foreign policy experts and former officials and diplomats branded the decision a mistake, in part because the defeat of the Islamic State militancy — Trump's stated reason to have troops in Syria — is not yet complete or, to use the administration's word, "enduring."
"Like walking away from a forest fire that is still smoldering underfoot," said retired Adm. James Stavridis, former NATO commander.
For many, the withdrawal also represents the United States ceding its traditional dominance in the Middle East. Already, Iran, Russia and Turkey were months into negotiations on Syria's political future — excluding the United States.
As if on cue, Iranian President Hassan Rouhani traveled to the Turkish capital Ankara on Wednesday and lavished praise on the country, especially as a counter-force to the United States.
The withdrawal hands victories to two of the United States' most fierce adversaries, Iran and Russia, who have been steadily carving out parts of the country for their own purposes and in cooperation with Syrian President Bashar Assad.
If Iran moves in to fill the vacuum that a U.S. pullback would leave, it will finally have its pathway to the sea. And Russian President Vladimir Putin will be able to add to the foothold he has been building in the Middle East.
Ally Turkey, long uncomfortable with U.S. support for Kurdish fighters in Syria, will be appeased. But those Kurds, who have been trained by and fought alongside U.S. special forces, are likely to feel abandoned by their American sponsors and left vulnerable to a full Turkish military assault east of the Euphrates River. They may feel forced either to flee or cut their own deal with Assad.
Washington will be left without leverage in Syria, which in turn will weaken its hand in other Middle East negotiations and trouble spots — chief among those, Iran, a top priority for the administration.
"America's hand at a negotiating table and in any regional containment strategy will be much diminished," said Charles Lister, a senior fellow at the Middle East Institute, a Washington think tank, who specializes in Syria.
"Demanding Iranian forces leave Syria as part of a negotiated settlement was a boldly unrealistic demand in the first place, but to stick to that position now would look absurd," Lister said.
Moscow, especially, stands to benefit. Countries in the Middle East, including Israel, are increasingly turning to Russia. Before, the United States was their partner in aid, weapons and trade. But the Trump administration is seen as inconsistent, experts say, with the Syria withdrawal the latest example.
"This fundamentally undercuts U.S. credibility. Again," said Ilan Goldenberg, who heads the Middle East program at the Center for a New American Security. "It shows how fickle we are."
Goldenberg points to what he calls Washington's "yo-yo" policy in the Middle East: withdrawing troops until a disaster happens and then sending them back in. President Obama, for example, pulled most U.S. forces out of Iraq, which in turn eventually gave rise to Islamic State — which required renewed U.S. presence. There are pockets in Syria that Russia and Iran don't have control over, Goldenberg noted, that will revert to fertile territory for extremist groups like Islamic State.
"For the past 20 years, our policy in the Mideast has resembled a yo-yo diet," Goldenberg said. "We declare we are leaving. We shed a lot. Too much. It's unhealthy and we are vulnerable."
To the list of victors, Stavridis, the former commander of the North Atlantic Treaty Organization, adds Assad, whose ability to maneuver will be greater now; Washington can no longer play a decisive role in forcing a political agreement on Syria that might have ushered Assad from power.
"Pulling troops out of Syria in an ongoing fight is a big mistake," he said via Twitter. "Big winner is Iran, then Russia, then Assad. Wrong move."
There was speculation that Trump's decision was influenced by Turkish President Recep Tayyip Erdogan. The Turkish leader has fumed over U.S. support for the region's Kurdish fighters, whom he sees as an extension of a Kurdish separatist group that has fought a decades-long guerrilla war against his nation. Erdogan recently announced the launch of a broad offensive against militias east of the Euphrates River, heretofore a no-go zone for the Turkish military, which has the potential of endangering American troops.
"Each day the U.S. remained in northern Syria, for Trump this was a risk [because] it could have led to a conflict with Turkey," said Can Acun, a researcher at the Ankara-based Foundation for Political, Economic and Social Research.
Erdogan and Trump spoke several times in recent days, including a phone call on Friday and a face-to-face at the Group of 20 summit in Buenos Aires late last month. Persistent reports in the Turkish press had hinted at some sort of agreement between the two leaders.
"Trump is withdrawing from Syria under Turkish threat, ceding one third of Syria and any influence over the political outcome," Martin Indyk, a former U.S. assistant secretary of State and former ambassador to Israel, said on Twitter. "The days of American dominance in the Middle East are over. All hail Putin, Erdogan (and Khameini)," he wrote, referring to Ayatollah Ali Khamenei, the supreme leader of Iran.
Trump officials say the U.S. remains engaged in the Middle East, primarily in its very close relationship with Israel. Trump has said he wanted to forge the "ultimate deal," a peace agreement between Israel and the Palestinians. But two years into his administration and despite the special attention of his son-in-law and advisor, Jared Kushner, no deal has materialized.
The Trump administration's Mideast policy has also focused on sanctioning Iran for its production of ballistic missiles and support of regional militant groups while building stronger economic and diplomatic ties with Saudi Arabia, despite the gulf kingdom's dismal human rights record.
As, arguably, the other big loser in the Trump withdrawal, Israel sought to downplay its significance Wednesday.
Trump and Secretary of State Michael R. Pompeo "made it clear they had other ways to exert influence in the region," said Israeli Prime Minister Benjamin Netanyahu, a steadfast ally of Trump. Netanyahu said he was notified ahead of time of the decision to leave Syria.
Retired Israeli Maj. Gen. Yaakov Amidror, Netanyahu's former national security advisor, was less sanguine. Amidror described U.S. actions against Iran in Syria — Israel's main concern — as negligible, but said that withdrawal from the tiny southern Syrian enclave of Tanf, a critical position in the Iran-Iraq-Syria axis, could be disastrous.
"The effect of the U.S. decision is primarily psychological and diplomatic: With this withdrawal, the United States abandons Syria and leaves Israel alone," he said. "In those arenas, this is a very significant decision."
From the battlefield, meanwhile, there was evidence that the fight against Islamic State is not yet over.
Despite a weeks-long Kurdish-led campaign backed by hundreds of U.S. airstrikes, and although Islamic State has lost almost all territories under its control, the extremist group has still been able to mount counterattacks against the Kurds. On Tuesday, Amaq, an agency affiliated with Islamic State, reported that its militants had lobbed dozens of mortar rounds on Kurdish positions near Hajin, the last significant stronghold of the extremists.
With Trump issuing several threats in the last year to withdraw from Syria, Kurdish leaders have made cautious overtures to Damascus with the intent to negotiate a settlement that would give them a measure of control over northeastern Syria. So far, Assad and his government have rebuffed the Kurds.
Times staff writer Nabih Bulos in Amman, Jordan, and special correspondents Umar Farooq in Istanbul, Turkey, and Noga Tarnopolsky in Jerusalem contributed to this report.
For more on international affairs, follow @TracyKWilkinson on Twitter
---
Must-read stories from the L.A. Times
Get the day's top news with our Today's Headlines newsletter, sent every weekday morning.
You may occasionally receive promotional content from the Los Angeles Times.