Democrats' House takeover could mean big changes for California water policy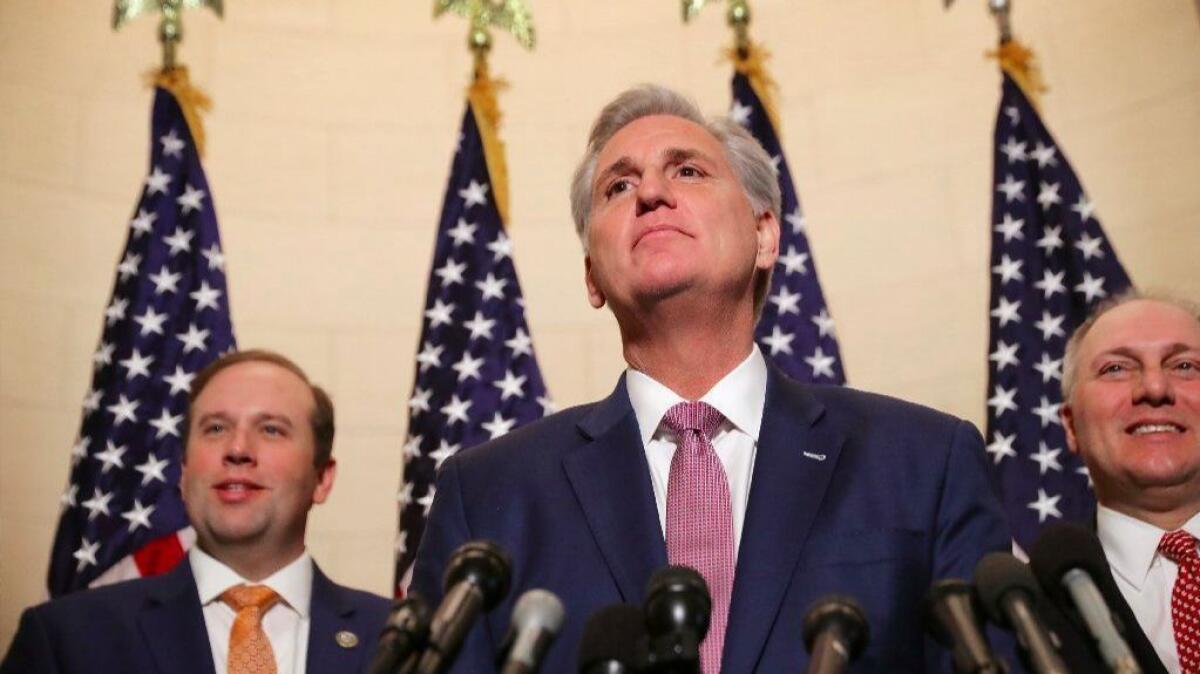 Reporting from Washington —
Among the changes ahead when Democrats take control of the House in January, add this one: The switch will upend the balance of power in California's water wars.
In the two years since Republicans' 2016 election triumphs, party members from the Central Valley led by the current House majority leader, Rep. Kevin McCarthy of Bakersfield, have gotten several water bills for their area through Congress. Those included the first significant California-specific policy in decades, as part of the Water Infrastructure Improvements for the Nation Act, also called the WIIN Act.
Come January, however, two of those Central Valley Republicans won't be in Congress any more, and — more crucially — McCarthy will lead a minority party, giving him little say over what legislation the House considers. And the Democrat expected to take the reins of the water-policy subcommittee at the House Natural Resources Committee is Rep. Jared Huffman of San Rafael, a fierce opponent of the WIIN Act.
"It does seem like a pretty dramatic change in the congressional landscape," said Doug Obegi, a senior attorney for the Natural Resources Defense Council in San Francisco.
California's House Republicans have maneuvered to exert their power before they lose it, but time is running out: The next two days are likely their last chance to influence state water policy for at least the next two years.
McCarthy has pushed in recent weeks to include a seven-year extension of the WIIN Act in a government-funding bill that Congress needs to pass by midnight Friday to avoid a partial government shutdown. While it's possible to add the water-law extension to that budget measure, the window to do so is nearly closed.
California's battles over how its water is used and diverted aren't necessarily between Democrats and Republicans. They have long pitted rural and urban communities against one another, created tension between northern California and southern California and left every politician muttering the old adage that whiskey is for drinking and water is for fighting over.
With Republicans in control of the House, Senate and White House since 2016, the four Republican congressmen from the Central Valley — McCarthy and Reps. David Valadao, Devin Nunes and Jeff Denham — have been able to pass bills favoring water flows to the region's farmers and residents.
None were as substantial as the WIIN Act, which temporarily increased how much water is pumped from the Sacramento-San Joaquin Delta to San Joaquin Valley farmers and Southern California. It also provided millions of dollars for new dams and other water storage projects, and allowed waivers of environmental studies required by the decades-old Endangered Species Act.
It took McCarthy and Sen. Dianne Feinstein (D-Calif.) years to negotiate the California provisions of the WIIN Act. Feinstein said that while the law doesn't expire until 2021, proponents needed to take the chance to extend it now.
"This bill took three years and 27 drafts to get done, and I'm convinced it's the best we can do," said Feinstein, who broke with most other California Democrats to support the act. "It's important to extend it now because it is there, it is passed."
On the other side, opposing Democrats from the Delta area have had eight years — since their party lost the House majority in 2010 — to prepare for their chance to craft water policy that they consider best for the state. They vehemently opposed the WIIN Act in 2016.
Huffman, who is expected to become chairman of the House's Water, Power and Oceans Subcommittee, is a well-known environmental advocate and thorn in California Republicans' side. His career has focused on water policy, including five years as senior attorney for the Natural Resources Defense Council. In Congress for the last few years, he has been the California delegation's most vocal critic of Republicans' water proposals.
Westlands Water District, which provides water to over 1,000 square miles of farms in Fresno and Kings counties, is bracing for a fight with Huffman. They've clashed before.
"I'm sure Representative Huffman will continue his bizarre and inexplicable lifelong crusade against the farmers and farmworkers that grow the food that graces his table and the tables across the nation and the world. And we will be glad to defend what we do," said Johnny Amaral, Westlands Water District's Deputy General Manager for External Affairs.
Huffman signaled that the WIIN Act will be closely scrutinized before Congress extends it — assuming McCarthy doesn't win an extension this week.
"The hearings on this issue are long overdue and I'm not sure why the folks who push these things in the final days of [the] session are so afraid of hearings and scrutiny," he said.
Huffman said he will hold hearings on a comprehensive Western water bill that he has introduced in the past, focusing on reclamation and water recycling infrastructure, refilling groundwater sources and drought response.
"Unfortunately, in the last six years folks have been much more interested in pitting fisherman against farmers and fighting that same old fight," Huffman said. "Some of the folks who have done business this way for so long are going to have to adjust to more transparency, and that could be threatening to some of the special interests that quite frankly have had the run of the place."
Yet Republicans aren't without leverage. Their party's continued control of the Senate and the White House means it will be difficult for Democrats to get bills signed into law.
"I don't think any environmental legislation will come out of this Congress because it won't be able to get out of this Senate," said Holly Doremus, an environmental law professor at UC Berkeley.
Instead, she said, Democrats can use their House majority to draw attention to issues including climate change that haven't gotten friendly public hearings in a Republican Congress, Doremus said. "They have an opportunity to reframe some debates," Doremus added.
The most noticeable change will be increased oversight of the federal agencies that oversee water and the environment, said Peter Gleick, president emeritus of the Pacific Institute for Studies in Development, Environment, and Security.
"Maybe the best we can hope for is some of the worst retreats from environmental protections will be slowed down," Gleick said.
Obegi, the Natural Resources Defense Council lawyer, said it's the bills that likely won't get a hearing in the next Congress that he's excited about.
In a House controlled by Democrats, he expects a dead end for Republican bills to preempt the Endangered Species Act or exempt major construction projects from environmental reviews.
With Huffman in charge, and Denham and Valadao gone, attention could shift from the needs of the Central Valley. In the past, water policy has united Central Valley politicians across party lines; Rep. Jim Costa (D-Fresno) consistently joins Republican colleagues in backing pro-Valley water legislation. But Denham's and Valadao's replacements are Democrats without much experience with local politics or farming.
Yet Amaral, of the Westlands Water District, said hopefully, "Thankfully, water issues in the Central Valley are not partisan issues, and we look forward to working with all the members of the Central Valley delegation to help secure a reliable water supply for the valley."
More stories from Sarah D. Wire »
Follow @sarahdwire on Twitter
Get our Essential Politics newsletter
The latest news, analysis and insights from our politics team.
You may occasionally receive promotional content from the Los Angeles Times.