The Sports Report: Marcus Peters and Bill Plaschke are not best friends forever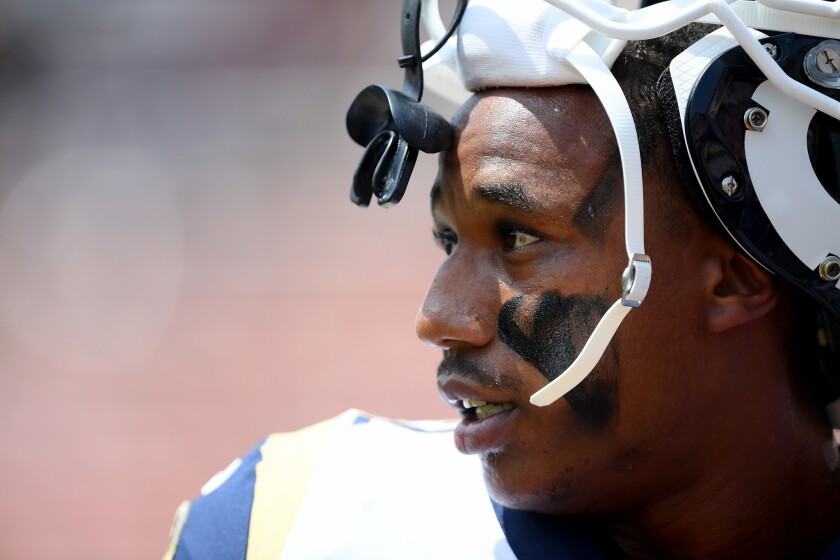 Howdy everyone, and welcome to the Thursday edition of the Los Angeles Times daily sports newsletter. My name is Houston Mitchell and I'm your host for the festivities.
Let's get to it.
Marcus Peters doesn't love Bill Plaschke
OK, I don't want to ruin the story for you, but let's just say this: Times columnist Bill Plaschke asked Rams cornerback Marcus Peters a question Wednesday. Peters did not like the question and let Plaschke know of his unhappiness. But, instead of getting mad back, Plaschke thinks this is a great sign for the Rams' chances on Sunday against the Saints.
Just go read his column. It's a fun read.
More Rams
The Rams are one win away from the Super Bowl, not that quarterback Jared Goff is thinking about it.
"Always something you dream about growing up is being able to play in the Super Bowl," Goff said. "Try not to think about it too much because you know you have to focus on this game and get this one won and then you can focus on that."
Making his job that much tougher is his counterpart on the New Orleans Saints, Drew Brees.
As Gary Klein writes in his story, "At last year's Pro Bowl, Goff studied Brees — 'You see just how professional he is and why he's been doing it at such a high level for so long,' he said — and the communication between the quarterback and coach. He also received tips from Brees about game preparation.
"Little things here and there that he was helpful with." Goff said
Let's hope Goff showed him just enough that Goff learned how to beat him.
Vote in our poll!
So, it will be Rams-Saints for the NFC title and Patriots-Chiefs for the AFC title. Who do you think will win those games? Vote in our polls and the results will be revealed at the end of the week. A random voter will win a free subscription to the newsletter!
For the Rams-Saints poll, click here.
For the Patriots-Chiefs poll, click here.
Lakers
Did you hear that distant bugle call Wednesday morning? The cavalry is coming! The cavalry is coming!
LeBron James has been cleared to practice, the team announced. He strained his groin on Christmas Day in a game against Golden State. He was originally listed as day-to-day, of course as Vin Scully once said, "Aren't we all."
James' agent, Rich Paul, said the 14-time All Star did not have any setbacks during his rehab, but rather is "right on schedule" in his recovery. I'm not sure what that means.
The Lakers play at Oklahoma City tonight, then at Houston on Saturday, then home against Golden State on Monday. Those will be three tough games to win without James.
Clippers
Jazz guard Donovan Mitchell scored 28 points to lead five in double-figures scoring for Utah, which routed the Clippers, 129-109. The Clippers have lost four straight, matching their longest losing streak of the season.
Perhaps coach Doc Rivers put it best after the game when he said, "I don't have a lot of positives."
Read Andrew Greif's game story here.
NFL
For those of you with kids, do you remember what you did the day after your child was born? The father of Kansas City Chiefs quarterback Patrick Mahomes did something none of us did: He pitched 3 1/3 scoreless innings for the Minnesota Twins to earn a save in the second game of a doubleheader in Kansas City against the Royals.
The day after my daughter was born, I lapsed into a catatonic state because of a panic attack. So, two ends of the spectrum there.
This Sunday in Kansas City, Mahomes will try to lead the Chiefs to the Super Bowl. And his dad's baseball background may be his secret weapon.
"The thing that struck me about Mahomes is just his calm and collectedness with any situation," punter Dustin Colquitt told The Times' Kevin Baxter. "He reminds me of a baseball player. His mentality and his love for the game turned football into a pastime in Kansas City."
UCLA basketball
Bruins guard Keith Wilkes is in one of the worst slumps of his career. Is it because the Bruins fired Steve Alford, the coach who recruited him?
"Of course it's going to be on your mind a little," Wilkes said of the departure of Alford, a fellow former Mr. Basketball in Indiana. "Coach Alford, he recruited me and he was one of the big reasons I came here, so that's always going to be hard to lose a family member, as he was to me. But I try to keep looking forward because we've got to win games, period, and I'm trying to move forward with that and win."
Which is pretty much all you can ask for. Read more in Ben Bolch's story.
Golf
Hey, I didn't know we covered golf when Tiger Woods wasn't involved. I learn something new every day doing this newsletter.
The Desert Classic, known once upon a time as the Bob Hope Desert Classic, is in La Quinta this week, and the top-ranked golfer in the world, Justin Rose, will be there.
"I'm looking forward to this week and really getting out there," Rose said Wednesday. "The swing feels good."
My knowledge of golf is limited to whether I should pick the green ball, the purple ball, or the yellow ball, but former Times sports editor and all-around good guy Mike James knows golf as well as anyone, and he lays out all you need to know in this story.
Angels
I wish this was an item about the Angels signing Mike Trout to a lengthy extension, but it's not. Instead, the Anaheim City Council, by a 5-2 vote, approved a one-year lease extension, assuring the Angels of a home field through the 2020 season.
When the Angels opted out of their stadium lease in October, they left themselves with no place to play beyond the 2019 season. Now they are covered through 2020.
But not every member of the council, nor some Anaheim residents, were thrilled with the extension. Read Bill Shaikin's story to see why.
Tennis
The Australian Open is underway, and while most of the tennis world rightfully focuses on Serena Williams, there are several other stories that you may miss. One is former UCLA player Mackenzie McDonald, who turned pro after winning the 2016 NCAA singles and doubles tennis titles.
McDonald has had it tough on the men's tour, being a small guy, at 5-10 and 160 pounds, but he is slowly making his way up the rankings. After winning his first-round match against Andrey Rublev at this year's Australian Open, he pushed 2018 runner-up and No. 6 seed Marin Cilic, going to the net often and saving five set points in the second set before Cilic used 25 aces to prevail, 7-5, 6-7 (9), 6-4, 6-4 in 3 hours and 37 minutes.
As Times columnist Helene Elliott puts it in her story, "Progress takes time and patience. McDonald, ranked No. 81, has the skill and tenacity to rise in the rankings."
Horse racing newsletter
If you are a horse racing fan and haven't subscribed to our horse racing newsletter written by John Cherwa, you are missing out on a treat. Not only do you get betting advice and behind-the-scenes stories, you get to take part in polls, like this one where you can vote on who you think is the horse of the year for 2018. Is it Justify, who won the Triple Crown and then retired? Or Accelerate, who seemed to win everything else? Or Monomoy Girl, who is there because you need to have three horses listed?
Click here to vote in the poll.
Click here to read the latest newsletter
Click here to subscribe to the newsletter and have it emailed to you.
Bob Costas
It's hard to think about NBC Sports without thinking about Bob Costas. But stop thinking it, because he's no longer with them.
Costas announced Wednesday that he has made an amicable departure from his 40-year home. He will continue to work with the MLB Network and has other options. "I have some possibilities," Costas said, "but I have to decide what I want to do."
Read more in Chuck Schilken's story.
Times podcast
Yes, we have a podcast! No, I'm not on it, so it should be entertaining. In the latest edition, boxing writer Lance Pugmire interviews Manny Pacquiao, who is gearing up for his Jan. 19 match against Adrien Broner in Las Vegas.
Among the questions posed to Pacquiao: Does he want to run for president of the Philippines? Is he considering a rematch with Floyd Mayweather Jr.?
Ask a Times sportswriter
A new feature of this newsletter will be you, the loyal subscriber, being able to ask any Times sports reporter a question. Just click here to send me an email. Include in the email who you want to ask a question of and what your question is. I'll pass it on and it will be answered in a future newsletter. Ever wanted to ask Bill Plaschke a question? Want to ask Tania Ganguli a question about the Lakers? Have a question for Sam Farmer about the NFL? Click here and ask away. But make sure you let me know which sportswriter you want answering the question.
And finally
That concludes the newsletter for today. If you have any feedback, ideas for improvement or things you'd like to see, please email me here. If you want to subscribe, click here.
---
Get our high school sports newsletter
Prep Rally is devoted to the SoCal high school sports experience, bringing you scores, stories and a behind-the-scenes look at what makes prep sports so popular.
You may occasionally receive promotional content from the Los Angeles Times.