Column: What gets the Rams' Marcus Peters upset? Apparently, it's me
Marcus Peters is annoyed.
It's four days before the NFC championship game, his Rams are preparing to travel to the nightmarish Superdome to play the favored New Orleans Saints, it's raining outside their Thousand Oaks practice facility, they might have to practice later this week under a giant makeshift tent, and he's wearing a windbreaker with the hood wrapped about his face.
But Marcus Peters is not annoyed with any of that. He's annoyed with me.
I asked the tempestuous cornerback to evaluate his season Wednesday afternoon, and he quickly barked into the microphone sitting atop the news conference lectern.
"I think we ain't done yet,'' he said.
"But you, personally,'' I said.
He closed his eyes and moved his mouth to within inches of that microphone.
"I. Think. We. Ain't. Done. Yet,'' he said.
With that final pronouncement, it appeared the news conference would shift to the next questioner. But just as Peters promised, he wasn't done yet.
''So what are you getting at?" he asked me.
"According to the stats, you've had a season below your normal standards,'' I said.
I didn't recite how he's had the fewest interceptions of his four-year career with three, the fewest passes defended with eight, and the fewest tackles with 43.
I didn't note how, after being trumpeted as one of the Rams' shining offseason defensive acquisitions via a trade with the Kansas City Chiefs, he has responded by playing like one of the league's leakiest cornerbacks for much of the season, and a strong resurgence is vital against the Saints.
I didn't need to say it because Peters already knew what I meant.
"I mean, that's cool,'' he said, but apparently it wasn't cool, and his voice thickened with emotion.
"I come from a place, you're going to have ups and downs, as long as your ass don't stay on the ground, you pick yourself up, you look yourself in the mirror, you keep striving, you keep building, to become the best player that you can be, become the best person you can be, I think all the rest will take care of itself, my resume speaks for itself,'' he said.
He was just getting started.
"Everybody has bad days,'' he said. "I mean, you come to work, you wake up some days, you don't feel like going to work, right?''
He was glaring at me now, looking at me to address his question, and, knowing that I might have ticked off a stormy dude who climbed into the Coliseum stairwell this year to curse a fan, this was suddenly one of those bad days.
"Today, yeah,'' I said with a smile, and some folks laughed, but not Marcus Peters.
"It's a bad day and you ask a bad question, so, next?'' he said. "Next?''
Next is the Saints, and, maybe it's just me, but I think Marcus Peters is ready. I think he's working himself into a season-defining lather. If he gets this fired up when a reporter questions his stats, think about how hard he'll play against a coach who questions his ability?
That would be Saints' Sean Payton and, make no mistake, the subplot of this game focuses squarely on the rematch between Payton and Peters.
Payton started it by throwing some immense shade at Peters after he was beaten by Michael Thomas on a 72-yard touchdown pass from Drew Brees that provided the dagger in the Saints' 45-35 victory back in November.
The ensuing exchange was hilarious. It was also biting.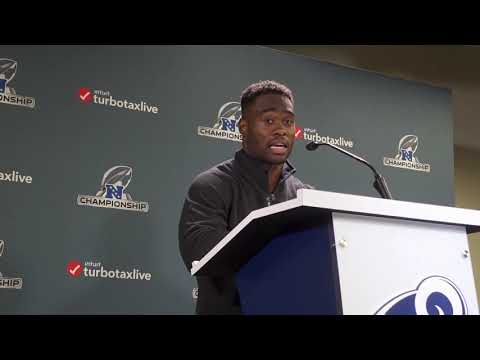 The Rams exude quiet confidence as they prepare to face the New Orleans Saints in Sunday's NFC Championship Game at the Superdome.
Said Payton of the pass to Thomas: "They were going to travel Marcus to him, and that was fine by us, we really like that matchup. A lot.''
Replied Peters a few days later: "Tell Sean Payton, keep talking that …we're going to see him soon. You feel me? Yeah, because I like what he was saying on the sideline too. So tell him keep talking that … and I hope to see you soon. You feel me? And then we're going to have a good little, nice little bowl of gumbo together.''
And Gumbo Bowl was born, a game featuring such a poignant rematch that earlier this week Peters crowed about it.
"It's gumbo week let's eat,'' he tweeted.
He has since deleted the tweet, and he did his best Wednesday to disavow any Gumbo Bowl inspiration, once again blaming the media for asking the question, but he wasn't fooling anybody.
"I see you all trying to make it to be something that it's not,'' he said Wednesday. "All respect to Sean Payton and what he does …I love the fact that he's a competitor … I was [angry] , I didn't have the game that I wanted to have … we are going to give them all the respect.''
Sign up for our daily sports newsletter »
The media persisted, and Peters resisted.
"Me, personally, I didn't have an excellent game that game so you look forward to those rematches … but … I didn't know it was going to turn out to be this,'' he said. "You didn't know it would turn out like this … you all have fun spinning the gumbo thing all week.''
This head fake almost worked, until his head coach interrupted from the back of the room, laughingly spinning the gumbo thing.
"Let me get some of that soup,'' shouted Sean McVay.
Peters finally smiled.
"My coach is a fiery coach, I'm a fiery player, we have fun with these things internally,'' he said. "We're gonna try to leave you all to be the media so you all are going to do with you all are going to do with it.''
He was reminded that not only did his coach laugh about it, but also that Peters had actually tweeted about it.
"We're trying to play a game, we ain't trying to talk about no gumbo, talk about all that stuff afterward,'' he said. "I am having fun with it, we're laughing about it, but I don't think that it's something that we need to push over the top of the NFC Championship."
As long as Marcus Peters can push away a few Drew Brees passes, the Rams will be good with whatever emotion he shows. He will be greatly helped by the presence of previously injured Aqib Talib, who will probably cover Thomas. He will be hurt by the fact that Payton probably likes a nice little bowl of gumbo.
Get more of Bill Plaschke's work and follow him on Twitter @BillPlaschke
Get our high school sports newsletter
Prep Rally is devoted to the SoCal high school sports experience, bringing you scores, stories and a behind-the-scenes look at what makes prep sports so popular.
You may occasionally receive promotional content from the Los Angeles Times.