Jared Goff and Drew Brees: One will go to the Super Bowl, the other to the Pro Bowl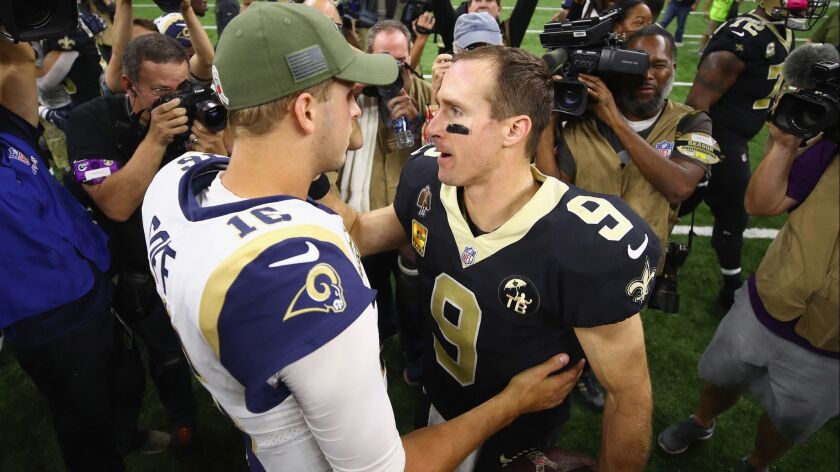 They were Pro Bowl teammates after last season, and both again were voted onto the NFC roster for the NFL's annual All-Star exhibition that is played the week before the Super Bowl.
But Rams quarterback Jared Goff and New Orleans Saints quarterback Drew Brees won't be sharing a meeting room, practice reps and a sideline next week in Orlando, Fla.
One of them will be busy preparing for the Super Bowl.
On Sunday, Goff and Brees will square off in the NFC championship game at the Mercedes-Benz Superdome in New Orleans. The winner advances to play the Kansas City Chiefs or the New England Patriots in the Feb. 3 Super Bowl at Mercedes-Benz Stadium in Atlanta.
"Always something you dream about growing up is being able to play in the Super Bowl," Goff said Wednesday. "Try not to think about it too much because you know you have to focus on this game and get this one won and then you can focus on that.
"Even playing in the NFC championship is a dream come true."
Brees, 40, passed for 32 touchdowns with five interceptions this season and became the NFL's all-time leader in passing yardage. The Saints finished 13-3, won the NFC South and advanced to the championship game with a victory over the defending Super Bowl-champion Philadelphia Eagles.
Brees and coach Sean Payton have been together since 2006. They won a Super Bowl in the 2009 season.
At last year's Pro Bowl, Goff studied Brees — "You see just how professional he is and why he's been doing it at such a high level for so long," he said — and the communication between the quarterback and coach. He also received tips from Brees about game preparation.
"Little things here and there that he was helpful with," Goff said.
Goff, 24, continued the ascent that began last season under then first-year coach Sean McVay. Goff passed for 32 touchdowns with 12 interceptions while leading the Rams to a 13-3 record and their second consecutive NFC West title.
"He's smart, he's got a great arm," Payton said. "Sean and his staff have done a great job with what they do offensively to really challenge you."
Goff struggled during a late-season three-game stretch against the Detroit Lions, Chicago Bears and the Eagles. But he rebounded with efficient performances against the Arizona Cardinals and the San Francisco 49ers, and in a 30-22 divisional playoff victory over the Dallas Cowboys.
"Every once in a while you have a bad game or two — I think that was the situation there," Goff said. "There was various reasons why we weren't doing more offensively, and why I wasn't my sharpest, and I feel like we fixed those four weeks ago and I feel pretty good now."
This is the fourth time Goff will play against Brees.
In his second start as a rookie in 2016, Goff passed for three touchdowns in the first half but struggled in the second of the Rams' 49-21 defeat at the Superdome.
Last season, Goff passed for 354 yards and two touchdowns as the Rams defeated the Saints 26-20 at the Coliseum.
This season, on Nov. 4 at the Superdome, Brees led the Saints to a 21-point second-quarter lead before the Rams rallied to tie the score on a touchdown pass by Goff. But Brees sealed a 45-35 victory with a 72-yard touchdown pass to receiver Michael Thomas.
Goff, who passed for 391 yards and three touchdowns in that game, said the Rams have learned a "bunch of stuff" about operating in the noisy Superdome, where silent snap counts are standard practice for visiting teams.
The Rams do not have an indoor training facility, but with rain forecast for the week, they erected a giant tent-structure in the players' parking lot. The Rams held two walkthroughs Wednesday and could practice under cover again Thursday and Friday, possibly with crowd noise piped in.
McVay said Goff was ready to step into a championship situation.
"I don't ever really feel like any moment's too big for him," McVay said. "It's a great challenge, but you do feel confident in his ability to perform and lead our offense at a high level on Sunday."
Goff said he felt the same.
Sign up for our daily sports newsletter »
"There's a lot on the line going to the Super Bowl and everything like that, but got to approach it the same way," he said. "I rely on a lot of the successes I've had, and understand that I didn't do that on accident.
"It's part of my process and part of what I do routinely."
Etc.
Offensive tackle Andrew Whitworth won three Louisiana state high school football championships, and also a Bowl Championship Series title with Louisiana State in the Superdome. "Superdome is probably, to me, the place that I'll always have the best emotional ties just because of my athletic career there," Whitworth said. "So, I'm excited for this opportunity because it's going to be a challenge, but man, that's why you play the game. What a cool place to have the opportunity to go try and win it."… Running-game coordinator Aaron Kromer said Whitworth, 37, center John Sullivan, 33, and left guard Rodger Saffold, 30, "hit a fountain of youth," against the Cowboys as the Rams rushed for 273 yards.
Follow Gary Klein on Twitter @latimesklein
---
Get the latest on L.A.'s teams in the daily Sports Report newsletter.
You may occasionally receive promotional content from the Los Angeles Times.