UCLA's Kris Wilkes takes aim at breaking out of his shooting slump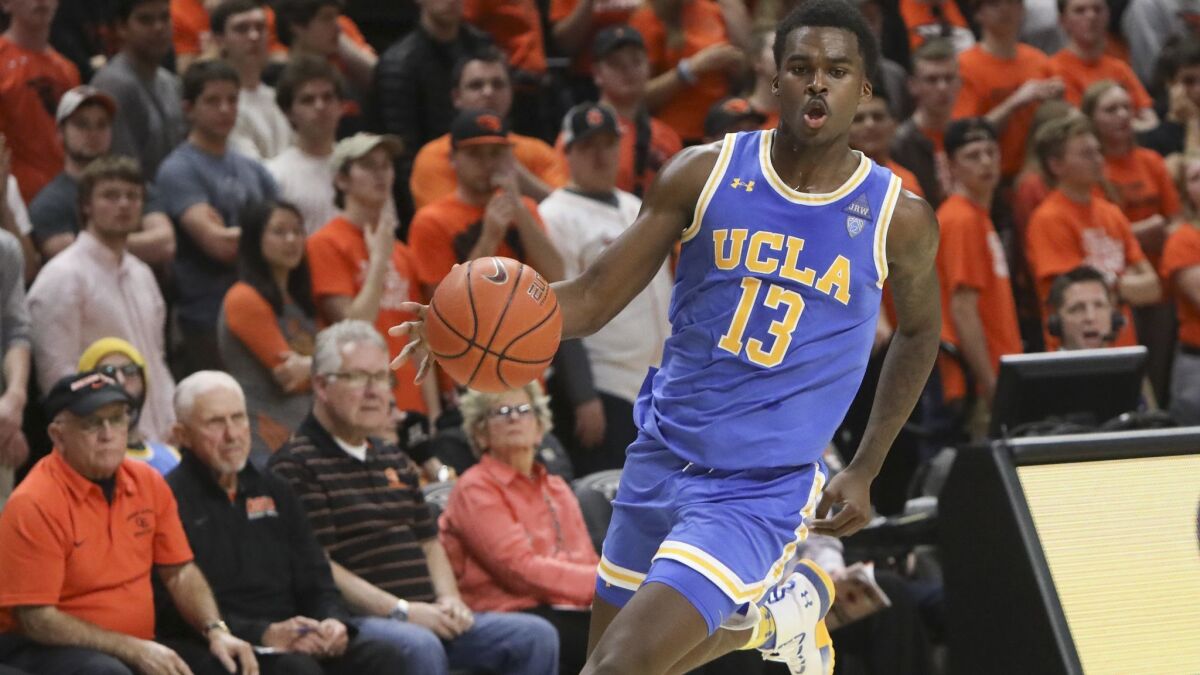 In the final minutes of a taut first half Sunday, Kris Wilkes found himself in an unexpected spot for a top scorer who was not in foul trouble.
He was on the bench.
It was a not-so-subtle message from UCLA interim coach Murry Bartow to his starting small forward. Wilkes had made only one of seven shots to that point, collecting three points to go with zero assists. It wasn't so much that the shots didn't go in but that they were largely forced and he was doing little else to help his team.
Wilkes rebounded for a more well-rounded effort in the second half, his four assists exceeding his total from any previous game this season. But the message was reinforced Tuesday when Bartow met with Wilkes to show him game footage, illustrating his hopes for how he wants the sophomore to play.
"The big thing we're trying to sell to him is we want him to score, we want him to shoot it a lot," Bartow said Wednesday, "but he's gotta be efficient in his shots. We've gotta make sure he's getting good looks."
A player Bartow described as a "bucket-getter" hasn't been getting many amid the worst shooting slump of his career. Wilkes has made 37 of 94 shots (39.4%) over his last six games, including only 10 of 40 three-pointers (25%). Even his free-throw shooting has dipped, Wilkes making 15 of 27 attempts (55.6%) over this cold stretch.
Wilkes said the primary culprits were an inability to sustain adequate lift with his feet as well as a focus that has drifted. His struggles have mirrored those of a young team that has failed to meet expectations, leading to the dismissal of coach Steve Alford last month.
But Wilkes' issues have lingered even as Bruins, 10-7 overall and 3-1 in the Pac-12 Conference, won three of their first four games under Bartow, suggesting that the transition has not been as seamless as the team's recent record may suggest.
"Of course it's going to be on your mind a little," Wilkes said of the departure of Alford, a fellow former Mr. Basketball in Indiana. "Coach Alford, he recruited me and he was one of the big reasons I came here, so that's always going to be hard to lose a family member, as he was to me. But I try to keep looking forward because we've got to win games, period, and I'm trying to move forward with that and win."
Wilkes nearly moved on to the NBA after his first college season before returning to college with hopes of nudging himself into the first round of the draft. But he's generated more questions than answers about his game amid a season dotted with performances like the one against Oregon State, when he made only eight of 22 shots.
Jonathan Givony, an NBA draft analyst for ESPN, has Wilkes listed at No. 72 in his ranking of draft-eligible players. That would likely put Wilkes somewhere in the middle to latter portion of the second round, depending on how many players remove their names from draft consideration.
"He's putting up points," Givony said of a player averaging 16.5 points per game, "but he's doing it in a very inefficient way; it's a little bit of empty calories there just in terms of doing the things that help you win games. Obviously, he's talented and has some physical talents with his body type and all that. I think there are some things to like there long term, but I think he's still trying to figure out how to be a complete basketball player."
Wilkes' slump has left him with statistics that compare unfavorably with those from his freshman season, at least in terms of efficiency. His shooting percentages — 43.7% on field goals, 31.5% on three-pointers and 63.8% on free throws — are all down from last season, even if his scoring average is up from the 13.7 points he averaged as a freshman on a more balanced team.
Wilkes has tried to remain upbeat, concealing his feelings as if hiding the string of tattoos on his left arm under a long-sleeve shirt. He was buoyant during a three-point competition with teammate Cody Riley before practice Wednesday, swinging his ball to tap the one Riley was holding before they both hoisted shots.
During one round, when their shots fell through the net in unison, Wilkes let out a high-pitched whoop.
Sign up for our daily sports newsletter »
There hasn't been much celebrating this season with the notable exception of Wilkes' fighting through leg cramps to make the game-winning three-pointer with less than a second to play against Notre Dame. Fans who cheered that moment have mostly groused about Wilkes' inefficiency and the quantity of his shots.
"My god all he does is shoot," one fan wrote on a message board during the Oregon State game. "And miss."
Wilkes appeared to get the message that he needed to be more team-oriented after his benching against the Beavers. He scored 15 points after halftime, but it was the assists that were most encouraging. Wilkes drove toward the basket on one possession before passing the ball to Jaylen Hands for a three-pointer that gave the Bruins a brief lead.
Fortunately for Wilkes, nobody's epitaph is written in midseason. He has two months to change perceptions and maybe lead the Bruins to a surprise NCAA tournament bid.
"Really, the best thing I can do is win games," Wilkes said, "and to win games, I've got to shoot better, take smarter shots, get the team more involved and just be a leader for this team."
Follow Ben Bolch on Twitter @latbbolch
---
Get the latest on L.A.'s teams in the daily Sports Report newsletter.
You may occasionally receive promotional content from the Los Angeles Times.