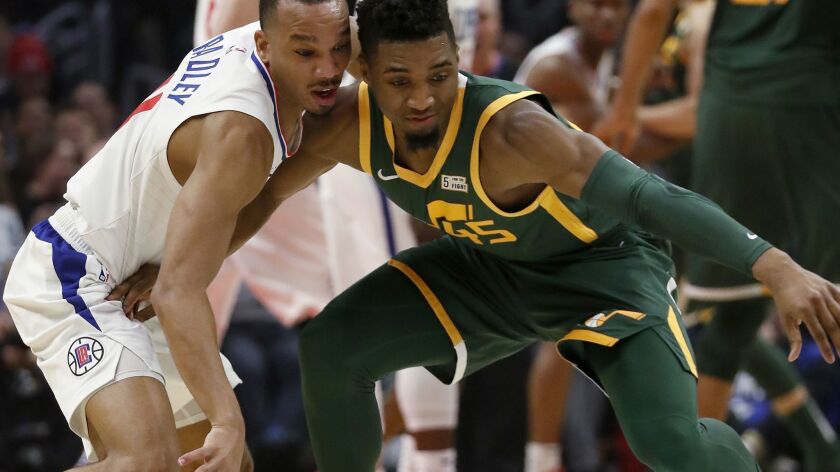 When Clippers coach Doc Rivers worries about an upcoming matchup, his mind tends to return to the same question.
Will his team be able to rebound?
The concern took on a big-picture meaning following Wednesday's 129-109 loss to Utah that was the Clippers' fourth consecutive and matches their longest losing streak this season.
With Golden State up next, in the season debut of center DeMarcus Cousins, and a four-game trip following that, when exactly will the Clippers rebound and break their slide?
"When you go through tough stretches it's not the end, it's where you are right now," Rivers said. "We have to keep plugging through."
That will be difficult if the Clippers continue to play like this. Their issues were myriad.
Jazz guard Donovan Mitchell continued the form that earned him Western Conference player of the week honors, scoring 28 points to lead five in double-figures scoring for Utah (25-21). Rudy Gobert added 23 points and 22 rebounds and Jae Crowder matched him with 23 points off the bench, making five three-pointers.
Rebounds and turnovers, the other statistics Rivers considers to be an indicators for success, weren't the issue Wednesday. The Clippers were outrebounded by seven and turned the ball over 12 times to Utah's 13. That the Clippers were solid in key categories and still were blown out almost made it worse.
"I don't have a lot of positives," Rivers said.
The defense that allowed Utah to shoot 51% from the field? "God-awful," Rivers said. By that standard, the offense was better but only marginally so. Too often, the Clippers opted to drive toward the rim where Gobert, the shot-blocking specialist, awaited.
Instead of driving into the paint and drawing defenders inward in order to create open shots for perimeter shooters, the Clippers challenged Gobert, who finished with four blocks.
"I thought that was silly," Rivers said.
To be clear, Rivers finds what has ailed the Clippers (24-20) to be no laughing matter. Only New York and Cleveland have worse defensive ratings since Dec. 1 and the Clippers are middle of the pack in offense in that span too.
Signs of progress in Wednesday's defeat were washed away by reasons to wonder if this will be remembered as a galvanizing stretch amid a playoff run or an indication of future struggles to come.
After combining for nine points in a loss Monday against New Orleans, starting guards Avery Bradley and Shai Gilgeous-Alexander combined for 11 points less than six minutes into Wednesday's first quarter.
Sign up for our daily sports newsletter »
Such a start was encouraging for a pair who have struggled to score consistently in recent weeks, but they alone couldn't keep the Clippers close. Not with Tobias Harris and Danilo Gallinari, the Clippers' two best offensive options in the starting lineup, unable to find their rhythm in a rare joint off-night. Making matters worse, the Clippers team that entered the game leading the NBA in free throws made (23) and attempted (28.8) a game attempted only two by halftime and finished nine of 14.
"I thought offensively we were an individual team a lot tonight and defensively we had just too many breakdowns," Rivers said.
Gallinari made one of his first eight shots and finished with nine points on three-of-14 shooting. Harris scored 17, on 14 shots.
Lou Williams scored a team-high 23 points and added six rebounds and six assists. Montrezl Harrell had 11 points but, in a rarity, was rarely involved offensively after halftime. Bradley finished with 15 points and Gilgeous-Alexander had eight.
Tied at 15 in the first quarter, the Jazz scored 13 of the game's next 15 points. Early in the second quarter, the Clippers' bench unit sparked a 12-0 run and they were within range of a streak-stopping victory at halftime, trailing 56-49.
Trailing by 23 points in the fourth quarter, the Clippers trimmed that deficit to 13 less than halfway through the quarter. But out of a timeout, Crowder made a corner three-pointer and Gobert followed with a layup to pad the lead and keep the Clippers wondering when things will turn.
Said Rivers: "I just don't like how we're playing."
Twitter: @andrewgreif
---