LeBron James cleared to practice for Lakers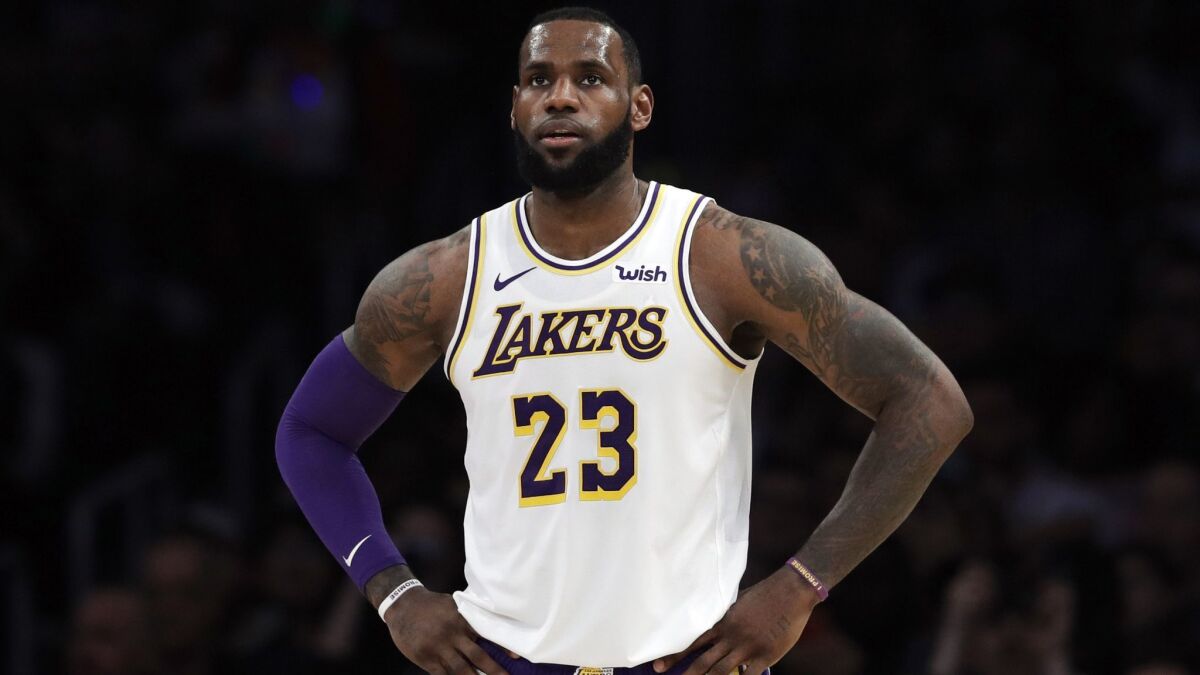 The Lakers got some good news Wednesday about LeBron James' progress, but they'll still have to weather an arduous stretch of games without him.
James has been cleared to practice after being examined by Lakers doctors, the team announced. He didn't travel with the Lakers for a two-game trip to Oklahoma City and Houston, and his status is uncertain for Monday's game against the Western Conference-leading Golden State Warriors.
Rajon Rondo, who is still recovering from surgery on his right ring finger, joined the Lakers for the trip, traveling with them for the first time since his Dec. 28 surgery.
In their announcement, the Lakers said that once James returns to practice, he will make "progress toward game play."
James suffered a groin strain Dec. 25 in the third quarter against the Warriors. He was originally listed as day to day, but that kind of injury typically takes weeks to heal.
James' agent, Rich Paul, said the 14-time All-Star did not have any setbacks during his rehab and is "right on schedule" in his recovery.
The Lakers have struggled without James. They are 4-7, including a loss Sunday to the Cleveland Cavaliers, who arrived in Los Angeles with a 12-game losing streak.
That game was part of why the Lakers felt an urgency to beat the Chicago Bulls, who have the second-worst record in the league after Cleveland. Another reason was what came next.
"We've been losing and we wanted to hit the road trip with some momentum," Lonzo Ball said. "Like I said, we've got three tough games, it's good to start off with a win at home."
The Lakers traveled to Oklahoma City on Wednesday and will play the Thunder on Thursday. The Thunder have the third-best record in the Western Conference and beat the Lakers by seven points in L.A.
After playing Oklahoma City, the Lakers will fly to Houston and play the Rockets on Friday. The Lakers lost to the Rockets, who have the fourth-best record in the conference, twice this season with James. They suffered a nine-point loss in their home opener and last month lost by 15 points in Houston.
In Houston last month, James Harden scored 50 points and had a triple-double against the Lakers. Since then, Harden has scored at least 32 points in every game.
"It's a tough three-game stretch," Kyle Kuzma said. "Super tough. Top five teams in the league if you were to look at it from a year ago and even how they're playing right now. So, for us, we got our hands full and it's just more adversity we got to face, especially road games and coming home and playing on Martin Luther King Day."
There were signs this week that James was getting closer to a return. He had been working out primarily away from the team, but on Tuesday participated in shootaround with the Lakers in a limited capacity.
"Shooting and passing," coach Luke Walton said. "He didn't do the up-and-down stuff, he did the half-court shooting and passing."
Sign up for our daily sports newsletter »
Although James has been present at shootarounds at other points during his injury, he was a more active participant Tuesday than he had been.
James will return to practices after the Lakers get back from the trip, but it's unclear whether that practice time will be enough to prepare him to play. The Lakers typically do not practice the day after returning from a trip, which would make their first official practice on Tuesday.
Walton has hesitated to play players who haven't been through a full practice before returning from injury.
James, of course, will have more autonomy on returning with or without an official practice than another player might.
TONIGHT
AT OKLAHOMA CITY
When: 6:30 PST Thursday.
On the air: TV: TNT; Radio: 710, 1330.
Update: The Thunder have been playing well but are coming off a double-digit loss to the lowly Atlanta Hawks on Tuesday.
Follow Tania Ganguli on Twitter @taniaganguli
---
All things Lakers, all the time.
Get all the Lakers news you need in Dan Woike's weekly newsletter.
You may occasionally receive promotional content from the Los Angeles Times.